Introduction
It hasn't been that long since we last examined the HTPC scene, and afterwards, we were starting to wonder if anyone knew just exactly what it took to engineer a perfect HTPC case. We say this not because the last four cases we reviewed were poor performers, but simply because it seems like each one managed to just barely miss something that, when it comes right down to it, is pretty important in an home theater case.
Zalman hasn't had much of a history in case design
per se
, but their presence in the cooling industry is now practically ubiquitous. Starting especially with the fantastic 7000 series CPU coolers, and also with the outlandishly extreme TNN500A 100% passive case, they've made a name for themselves as the forefront proponents of silent computing.
Now going directly after the HTPC market, Zalman has recently released the HD-160 case, a moderately sized, mid-to-high priced, 100% aluminum ATX compatible chassis available in black and silver, and accompanying our review of the case, we'll be looking at their latest power supply, the ZM460-APS, their latest CPU cooler, the CNPS-9500, and their popular GPU cooler, the VF700-Cu.
First, we'll examine the case and test it using the same hardware that we've used to test our other HTPC cases, but then we'll switch our standard ATX test bed's CPU and GPU coolers for Zalman's and analyze how the performance changes.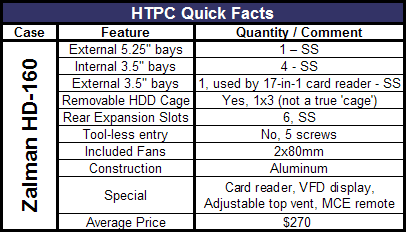 (TL: Tool-less, TS: Thumbscrews, SS: Standard Screws)
Hopefully, the HD-160 will get everything right and be a perfect fit for people who would like to build a home theater computer. This might be a tall order, but if Zalman's track record is any indication, then perhaps the "experts in silent computing" have the best shot at doing just that.
For more information on the HD-160 and the other products in this review, please check out
Zalman's website
.