Intel is very excited about its new Core architecture, especially with Conroe on the desktop. It's not really news to anyone that Intel hasn't had the desktop performance crown for years now; its Pentium 4 and Pentium D processors run hotter and offer competitive or lower performance than their AMD competitors. With Conroe, Intel hopes to change all of that.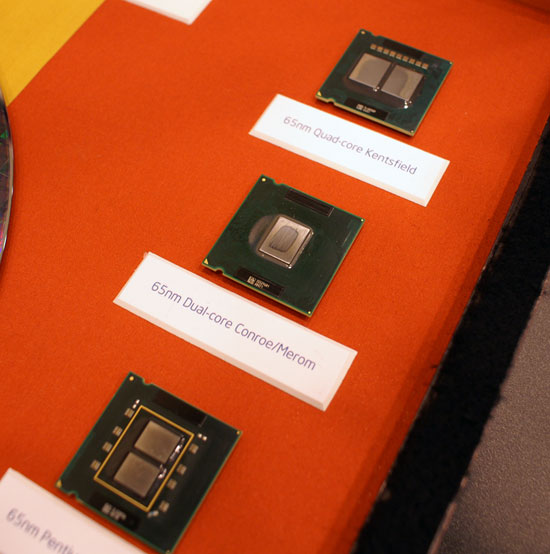 From top to bottom - Quad-core 65nm Kentsfield, dual core 65nm Conroe and 65nm Pentium D
Intel setup two identical systems: in one corner, an Athlon 64 FX-60 overclocked to 2.8GHz running on a DFI RD480 motherboard. And in the other corner, a Conroe running at 2.66GHz (1067MHz FSB) on an Intel 975X motherboard.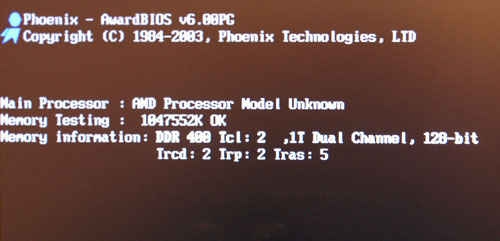 The AMD system used 1GB of DDR400 running at 2-2-2/1T timings, while the Intel system used 1GB of DDR2-667 running at 4-4-4. Both systems had a pair of Radeon X1900 XTs running in CrossFire and as far as we could tell, the drivers and the rest of the system setup was identical. They had a handful of benchmarks preloaded that we ran ourselves, the results of those benchmarks are on the following pages. Tomorrow we'll be able to go into great depth on the architecture of Conroe, but for now enjoy the benchmarks.
As far as we could tell, there was nothing fishy going on with the benchmarks or the install. Both systems were clean and used the latest versions of all of the drivers (the ATI graphics driver was modified to recognize the Conroe CPU but that driver was loaded on both AMD and Intel systems).
Intel told us to expect an average performance advantage of around 20% across all benchmarks, some will obviously be higher and some will be lower. Honestly it doesn't make sense for Intel to rig anything here since we'll be able to test it ourselves in a handful of months. We won't say it's impossible as anything can happen, but we couldn't find anything suspicious about the setups.