Gaming Performance
The one area where AMD has been the clear leader for years has been in gaming performance - Conroe changes everything.
Updated: In Don MacDonald's keynote he also provided us with another reference point for Conroe's performance, this time under Call of Duty 2. We have no idea what settings they ran at but the results we saw were Conroe at 111 fps and a Pentium Extreme Edition 3.73GHz scoring 90 fps. But the most interesting gaming tests are below:
First off we've got Quake 4 running the 1.0.5.0 patch at 1280 x 1024 with High Quality settings. The only demo available was Intel's own demo but nothing looked out of the ordinary with the recording. We tested with both r_useSMP enabled and disabled, first the SMP disabled numbers. Updated: The Quake 4 scores have been updated as mentioned in our follow-up article.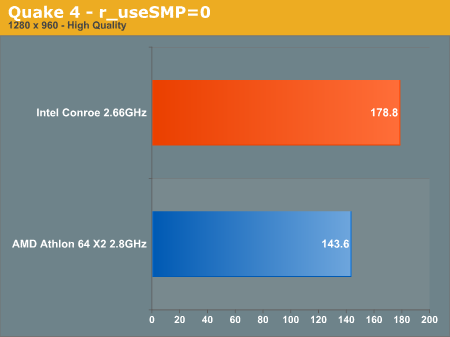 With SMP disabled, Conroe holds a 25% performance advantage over the 2.8GHz Athlon 64 X2. Enabling SMP provides a similar 24% performance advantage.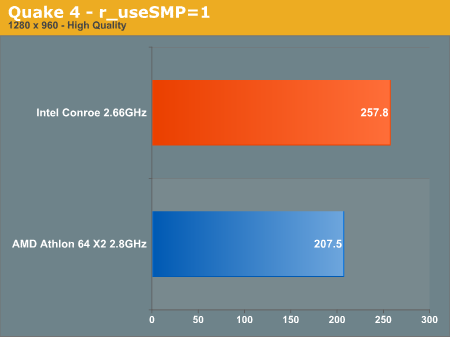 Next up is a Half Life 2 Lost Coast demo, once more an Intel supplied demo but there's only so much you can do to a demo recording to make it favor one CPU maker over another: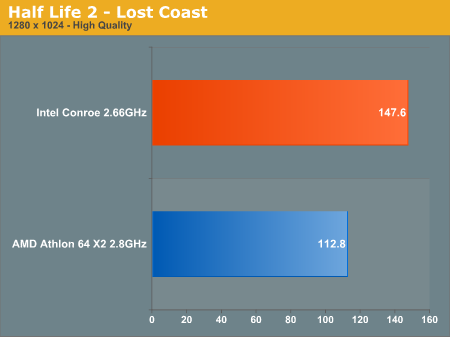 Conroe's performance advantage extends to 31% under Half Life 2, talk about a complete role reversal here.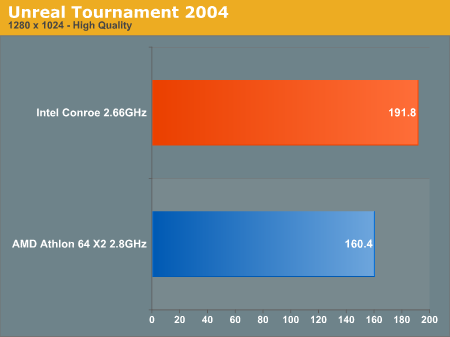 We finish off this page with Unreal Tournament 2004 and a 20% performance advantage for Conroe.