The Card
We've already taken a first look at NVIDIA's 7300 GS and you can read the article
here
. For this review, we will offer a brief recap of the card's features for reference, and look at some performance tests with our EVGA e-Geforce 7300 GS.
The GeForce 7300 GS was introduced by NVIDIA to take the place of the 6200 TurboCache on their budget end of graphics cards, and it does the job well, we've found. As the name implies, the 7300 GS is based on the GeForce 7 architecture, but it's been stripped down quite a bit.
There is a half-size version of the card which only has DVI and TV-out connections, but the EVGA 7300 GS that we have is full size and includes a VGA D-sub as well. The card is quite small and light, which makes sense given its budget classification. There are no external power connectors, and there is a very small fan on the GPU to keep it cool, with the EVGA logo in the center of it.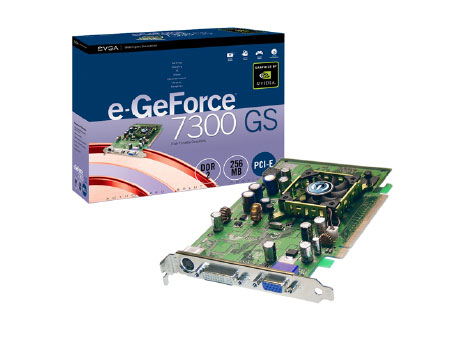 Like the 6200, the 7300 GS uses TurboCache technology, which basically allows the card to "page" memory into system RAM in order to extend the card's memory. The 7300 GS also has higher clock speeds than the 6200 (550MHz/350MHz vs 350MHz/350MHz), which will give it a boost in performance over this card.
The 7300 GS also has 3 vertex and 4 pixel pipelines, the same as the 6200, but our EVGA 7300 GS has a larger memory size of 256 MB verses 16-64 MB of the 6200TC. Currently, SLI with this part is not supported, but we would be surprised if we don't see this feature enabled at some point later on. DVD decoding is another feature of this card, and it will likely include high definition video capabilities in future driver updates.
As we mentioned earlier, EVGA is a company with which we've had good experiences in the past, as their prices and warranty policy set them apart from the others. For those not familiar with their warranty policy, EVGA provides a lifetime warranty and will replace your card for any reason other than physical damage (this means damage due to things like power surges, and user-overclocking is covered). If you are looking for a 7300 GS, the EVGA version would be a good part to consider.