Mushkin 2GB Redline XP4000
Mushkin is a very well-known brand of Enthusiast memory. Most computer hobbyists know Mushkin for their web-based direct memory sales, based in Denver, CO. Direct sales have always been a large part of Mushkin's business, but today, you can buy Mushkin memory at Newegg and other web e-tailers as well.
Several months ago, Mushkin introduced their new Redline heatspreader. With large slots in the top of the heatspreader, it was designed to better dissipate heat than the older closed heatspreaders, which often caused higher temperatures than no heatspreader at all.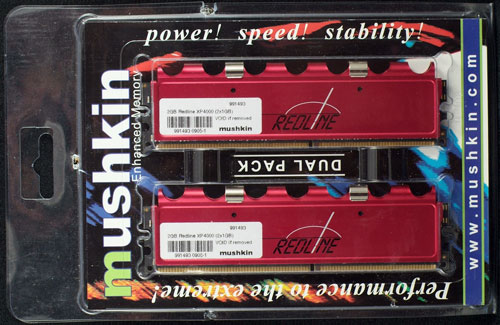 There's no mistaking that this is REDline memory; the fire engine red heatspreaders announce this loudly. Under the heatspreaders, you will find Infineon memory chips again, just like almost all the other memories in this roundup. Rated at DDR500, the memory chips used in the Mushkin Redline 2GB kit are Infineon C die, which has a wider overclocking range than B die.
Specifications
Mushkin rates their DDR500 2GB Redline kit at 3-3-2 timings at DDR500. Those are exactly the timings that we would expect with Infineon C die memory.
Mushkin 2GB Redline XP4000 Memory Specifications
Number of DIMMs & Banks
2 DS
DIMM Size
Total Memory
1GB
2GB
Rated Timings
3-3-2-8 at DDR500
Rated Voltage
Standard (2.6V) Voltage
SPD
3-3-2-8
Voltage is rated at standard 2.6V, so you will not need a board with super high vCore to get the most from these memory chips.
Test Results
Mushkin 2GB Redline XP4000 (DDR500) - 2x1GB Double-Bank
CPU Ratio at 2.4GHz
Memory
Speed
Memory Timings
& Voltage
Quake3
fps
Sandra UNBuffered
Sandra Standard
Buffered
Super PI 2M places
(time in sec)
Wolfenstein - Radar - Enemy Territory fps
12x200
400DDR
2-3-2-7
2.5V
538.5
INT 2516
FLT 2658
INT 6027
FLT 6027
82
117.5
11x218
436DDR
2-3-2-7
2.7V
545.0
INT 2687
FLT 2831
INT 6448
FLT 6375
81
118.5
10x240
480DDR
2.5-3-2-7
2.6V
549.0
INT 2852
FLT 3017
INT 6721
FLT 6651
80
119.6
9x267
533DDR
3-3-2-7
2.7V
557.3
INT 3090
FLT 3165
INT 7005
FLT 6923
80
120.8
9x293
(2.64GHz)
Highest Mem Speed
DDR 586
3-3-2-7
2.8V
593.0
INT 3299
FLT 3536
INT 7658
FLT 7548
73
129.6
To be considered stable for test purposes, Quake3 benchmark, UT2003 Demo, Super PI, Aquamark 3, and Comanche 4 had to complete without incident. Any of these, and in particular Super PI, will crash a less-than stable memory configuration.
The performance of the Mushkin Redline was typically Infineon C, except it was always at the better end of expected C die performance. Mushkin managed DDR436 at CAS2, where some other Infineon chip memory requires CAS2.5. Even at the very top, the Redline ran with complete stability at 3-3-2 timings and never required more than 2.8V for best performance.
The highest overclock with Mushkin Redline was an outstanding DDR586 - the highest overclock of any Infineon based 2GB kit in this review. In fact, only the impossible to buy Crucial Ballistix could reach further. All-in-all, Mushkin Redline was a top performer, achieving the kind of performance and overclocking that will likely satisfy even the most jaded new user of 1 GB DIMMs. Mushkin, like OCZ in Part 1 of the 2GB kit roundup, makes the most of the memory chips used in their memory kits. Effective binning and good quality assurance pay off in a consistent, high-performing 2GB memory kit.