Kingston KHX3200AK2/2G
Kingston is the world's largest manufacturer of computer memory, with manufacturing plants around the world. If it's memory, Kingston has it in their catalog. That even includes high-end, enthusiast memory that Kingston markets under the HyperX name.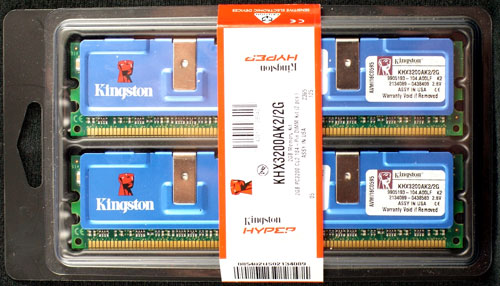 The clear blue heatspreaders with the HyperX logo identify this as enthusiast memory, and Kingston rates their 2GB kit at DDR400. We would expect, based on this speed rating, that the memory is Infineon B die, but we are not certain which chips Kingston uses for this Hyper X part.
Specifications
Kingston rates their 2GB kit conservatively at 2.5-3-3 at DDR400, at standard voltage.
Kingston KHX3200AK2/2G Memory Specifications
Number of DIMMs & Banks
2 DS
DIMM Size
Total Memory
1GB
2GB
Rated Timings
2.5-3-3-7 at DDR400
Rated Voltage
Standard (2.6V) Voltage
SPD
3-3-3-8
When we first saw these published specifications, we suspected that Kingston might be using a new memory chip for this 2GB kit. However, you will see in the test results that the actual performance is a mirror of how we have come to expect Infineon B die to perform.
Test Results
Kingston KHX3200AK2/2G (DDR400) - 2x1GB Double-Bank
CPU Ratio at 2.4GHz
Memory
Speed
Memory Timings
& Voltage
Quake3
fps
Sandra UNBuffered
Sandra Standard
Buffered
Super PI 2M places
(time in sec)
Wolfenstein - Radar - Enemy Territory fps
12x200
400DDR
2-3-2-7
2.6V
539.2
INT 2511
FLT 2648
INT 6040
FLT 6008
82
117.6
11x218
436DDR
2.5-3-2-7
2.6V
541.9
INT 2648
FLT 2811
INT 6435
FLT 6382
82
118.0
10x240
480DDR
3-3-3-7
2.8V
550.1
INT 2830
FLT 2908
INT 6675
FLT 6602
81
119.1
11x240
(2.64GHz)
Highest Mem Speed
DDR 480
3-3-3-7
2.8V
561.7
INT 2846
FLT 3001
INT 7079
FLT 6984
77
125.3
To be considered stable for test purposes, Quake3 benchmark, UT2003 Demo, Super PI, Aquamark 3, and Comanche 4 had to complete without incident. Any of these, and in particular Super PI, will crash a less-than stable memory configuration.
While rated at 2.5-3-3, our Kingston 2GB HyperX performed at DDR400 at 2-3-2 timings - much better than rated. Performance was good all the way to DDR480, but we could not achieve stable performance at any setting above DDR480. This was the poorest overclock among the nine 2GB kits tested in this roundup.
In the range from DDR400 to DDR480, the Kingston HyperX 2GB kit is competitive with any of the other memories. If that range is all that is required, the HyperX will do an excellent job. If you want greater overclocking abilities, however, you need to look at one of the other eight memories tested in this roundup. Kingston HyperX is often an excellent value in the memory market. It is also worthwhile to compare pricing of the Kingston 2GB kit to competitors' pricing.