Team XTreem TXDR 1024M400HC2
Team will be another new name to our readers, but the company already has a world-wide presence with manufacturing in Asia and US Sales Offices.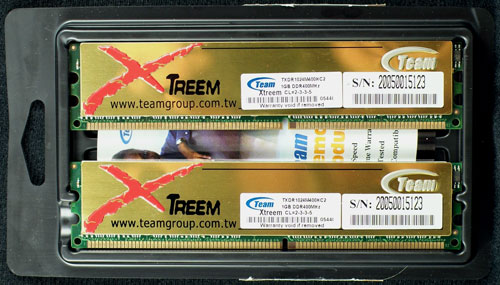 The Team Marketing group lavished quite a bit of attention on the heatspreader design for the Xtreem product line. The heatspreaders are 3 dimensional gold colored with a huge raised "X" and Team logo. The top of the heatspreader is completely open for better heat dissipation.
Specifications
The Team 2GB kit is another DDR400 rated memory kit, which, as expected, features Infineon chips.
Team XTreem TXDR 1024M400HC2 Memory Specifications
Number of DIMMs & Banks
2 DS
DIMM Size
Total Memory
1GB
2GB
Rated Timings
2-3-3-5 at DDR400
Rated Voltage
Standard (2.6V) Voltage
SPD
2-3-3-5
As we have seen with all the new 2GB kits, high memory voltage is not required to get the most from the 2GB kits. Team also rates their kit at standard voltage, and we never required more than 2.8V to get the most performance from the 2GB kit.
Test Results
Team XTreem TXDR 1024M400HC2 (DDR400) - 2x1GB Double-Bank
CPU Ratio at 2.4GHz
Memory
Speed
Memory Timings
& Voltage
Quake3
fps
Sandra UNBuffered
Sandra Standard
Buffered
Super PI 2M places
(time in sec)
Wolfenstein - Radar - Enemy Territory fps
12x200
400DDR
2-3-2-7
2.5V
540.9
INT 2502
FLT 2630
INT 6034
FLT 6018
82
117.9
11x218
436DDR
2-3-2-7
2.7V
545.0
INT 2661
FLT 2825
INT 6462
FLT 6372
81
118.6
10x240
480DDR
2.5-3-2-7
2.6V
554.3
INT 2853
FLT 3040
INT 6722
FLT 6650
81
120.2
9x267
533DDR
3-3-2-8
2.8V
558.0
INT 3044
FLT 3247
INT 7003
FLT 6941
80
121.2
10x267
(2.67GHz)
Highest Mem Speed
DDR 533
3-3-2-8
2.8V
590.9
INT 3175
FLT 3388
INT 7868
FLT 7857
76
132.2
To be considered stable for test purposes, Quake3 benchmark, UT2003 Demo, Super PI, Aquamark 3, and Comanche 4 had to complete without incident. Any of these, and in particular Super PI, will crash a less-than stable memory configuration.
The DDR400 rating would lead us to believe that these are Infineon B die chips, and if they are, Team has done an excellent job in binning chips and designing their PCB and SPD. That's because Team Xtreem reaches the highest overclock that we have seen with a DDR400 rated 2GB kit.
Memory timings are what we would expect with a well-designed Infineon chip-based memory, and the Team overclocks all the way to DDR533. To repeat, this is the highest overclock in the roundup for a memory rated at DDR400.
The Team name may not be familiar to you, but you should definitely add Team to your shopping list. These are solid DDR400 Infineon DIMMs and if the price is right, you will not be disappointed in your new memory purchase. It is true that Infineon C die reaches a bit further if properly binned, but the difference between the TEAM at 533 and C die at 550 or higher is not that big. Other DDR400 rated Infineon DIMMs in this roundup often struggled to even approach DDR500 in their overclocks.