Battlefield 2 Performance
Battlefield 2 is still one of the best (and best looking) of the games to come out over the past six months. Popular with just about everyone who can stand to play a first person shooter, and stressful on hardware at the same time, Battlefield 2 is an important game on our list of tests. We use a custom demo and the DICE supplied demo.cmd (modified to suit our needs) in order to benchmark this game. We also manually compute the average framerate based on the useful frames in timedemo_frametimes file rather than relying on the (flawed) summary output. Unfortunately we seem to have some problems testing SLI using this setup, so we have omitted SLI results for this title.
As we can see in our tests without AA, the 7800 GTX is locked in a dead heat with the X1800 XT, and the 7800 GTX 512 simply dominates both by more than 30%. This is a huge win for NVIDIA's new part given the popularity of this game.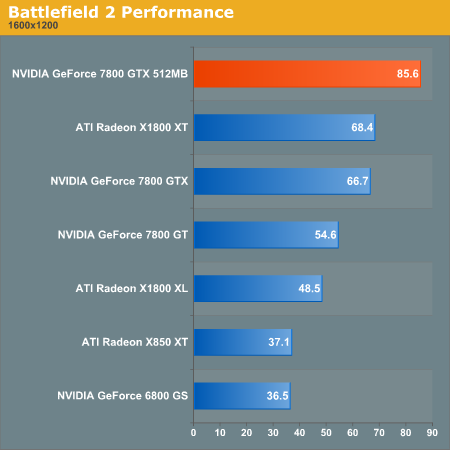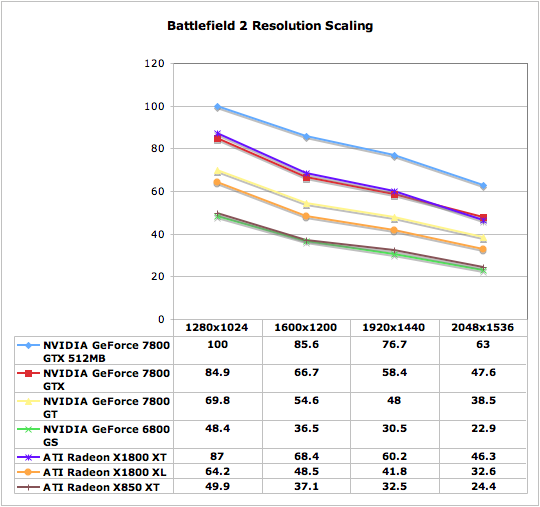 The 7800 GTX 512 still leads the way with 4xAA enabled. The X1800 XT makes up quite a bit of ground here as it takes a significantly smaller hit from enabling AA than either the 7800 GTX or the 7800 GTX 512. The new 512 part leads the original 7800 GTX by over 60% at 2048x1536, which is incredible. This indicates that Battlefield 2 is really reaping the benefits of both the increased core and memory clock speed of the 7800 GTX 512 under 4xAA.