Introduction
This card should have gotten a different name. With hugely increased clock speeds, more memory, a beefy heatsink (the one used on the Quadro FX 4500), and a new board layout, the GeForce 7800 GTX 512 is one very powerful card. Oh yeah, and it's got more RAM too.
Earlier this month we started seeing ATI's new Radeon X1800 XT show up for sale. Today, ATI's high end part gets some revamped competition from NVIDIA's new offering. And even though we don't like the name, the 7800 GTX 512 is an excellent performer. Will the increased core and memory clock speed be enough for NVIDIA to topple ATI's high end monster? Will the additional memory make a tangible difference? The answers may not be as straight forward as they could be, but we were certainly excited to get our testing done and find out.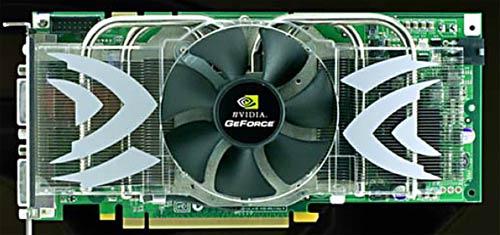 As we can see, the heatsink has had quite a change and the new card is now a two slot design. This is a small price to pay for the performance boost we see with the new GTX, as most people who will be shelling out the money for this card will likely want to drop it in very performance oriented systems (which usually throw space restrictions out the window). The competition (the Radeon X1800 XT) is also a two slot solution, so neither camp has the advantage on this point.
Before we get into the thick of it, it is important to note that ATI released drivers last week that greatly improve OpenGL performance with 4xAA. One of the suprises we will see from this new ATI creation is that the X1800 XT actually bests the current 7800 GTX in Doom 3 when 4xAA is enabled. This driver is a welcome development from ATI (whose OpenGL drivers have been somewhat lacking for quite some time), but with the new 7800 GTX 512 coming up to bat, it may be too little too late.
In any case, this is the
second card in as many weeks
that NVIDIA has brought out in response to new ATI parts. We found the 6800 GS to be quite a good fit for it's price point, and the 7800 GTX 512 is no slouch either. But
with our price engine showing a $700 barrier to entry
at the time of publication, we aren't quite as excited about price/performance ratio potential. Of course, the Radeon X1800 XT is still running between 600 and 700 at the moment, so the competition is still in the same ball park price wise.
Let's take a look at what we actually get for all that cash before we decide whether it's worth it or not.