After 24 months of construction, today AMD's first 300mm semiconductor fab, Fab 36, celebrates its grand opening. Built adjacent to AMD's 200mm Fab 30 in Dresden, Germany, Fab 36's grand opening takes place 6 years after Fab 30's introduction. The name Fab 36 comes from its existence 36 years after the founding of AMD.
The announcement for Fab 36's site in Dresden came in November 2003, with first ground breaking at the end of that month. Approximately 12 months later, the building was ready for equipment, and another 12 months after that, Fab 36 began preparations for mass production.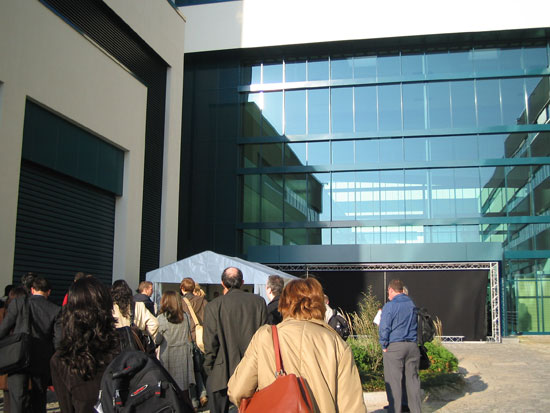 Over 150 members of the press enter AMD's press conference at Fab 36 in Dresden
Unfortunately, at its grand opening, Fab 36 is still a 90nm-only fab; throughout the next year, AMD will begin the transition to 65nm production. The first CPUs built at Fab 36 will be shipping in the first quarter of 2006, with the first 65nm chips leaving Fab 36 by the end of 2006.
Sometime in 2007 AMD will have performed a "substantial amount" of the transition of Fab 36 to a 65nm semiconductor fab, bringing the grand total for the cost of Fab 36 to an astounding 2.5 billion US dollars. There is no word when Fab 36 will be completely converted to 65nm manufacturing.
By 2008, Fab 36 will be able to produce more than 2x the number of processors as Fab 30 (potentially 100M processors per year based on current die sizes).
The first 300mm wafer produced at Fab 36 actually took place back in March, but preparation for mass production continues up to and beyond today. Today's grand opening of Fab 36 marks a huge step in AMD history, as it will hopefully alleviate a number of the supply issues they have been plagued with in recent history.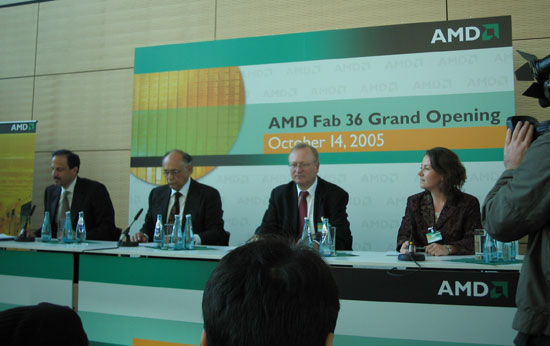 The two individuals in the middle kicked off the day at Fab 36, AMD's CEO, Dr. Hector Ruiz is the second on the left, and VP/GM of AMD Dresden, Dr. Hans Deppe is to the right of Dr. Ruiz.
The day started off with a press conference kicking off the grand opening of the fab. Below we've got a picture of a clean room engineer (or someone dressed as one) posing with AMD's Dr. Hans Deppe, the Corporate VP and General Manager of AMD in Dresden.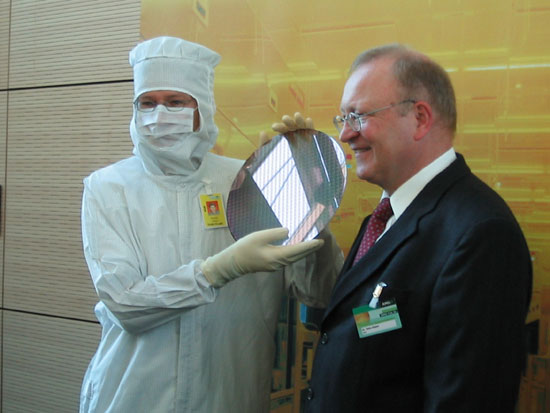 While we don't have a 200mm wafer here to compare sizes with, imagine the wafer pictured above, but smaller.
After some brief words about the opening of Fab 36, a brief Q&A period started. One of the first questions was what will happen to Fab 30 in the future now that Fab 36 is ready to start mass production. Dr. Ruiz mentioned that Fab 30 could be used for more x86 microprocessor production, it could potentially become a chipset manufacturing fab (possibly indicating AMD's intentions to eventually return to chipset manufacturing), or it could be upgraded to future semiconductor technologies for use in the future (e.g. 65nm).
One other important question that was asked was "why Dresden" for Fab 36, to which the answer was obviously multi-faceted:
1) First and foremost, AMD has invested a lot in the people of Dresden, when it comes to training and expertise in semiconductor manufacturing. It was simply easier to leverage the existing human investment.

2) Obviously government subsidies played a large role in AMD's decision to bring Fab 36 to Dresden. Dr. Hans Deppe listed the total amount of government subsidies for Fab 36 as 500 million US dollars.
The final question of the press conference was about AMD's future fab plans, which Dr. Ruiz answered with a timeframe of 2008 for the start of production on the next major fab plant.