AMD Draws a Crowd: German Chancellor Schröder Arrives
After the initial press conference we took a short bus ride to an outside tent where both Dr. Deppe and Dr. Ruiz gave a few words about Dresden and Fab 36, before handing the mic off to German Chancellor Gerhard Schröder.
One point to note was the constant mentioning of "fair competition" in all of Dr. Ruiz speeches, obviously referring to AMD's recent lawsuit against Intel. Dr. Ruiz also mentioned AMD's 50-by-15 goal; that by 2015, 50% of the world will be "connected", partially in thanks to an increase in production of AMD's products. Intel has also outlined their plans for 2015, which we've covered in the past.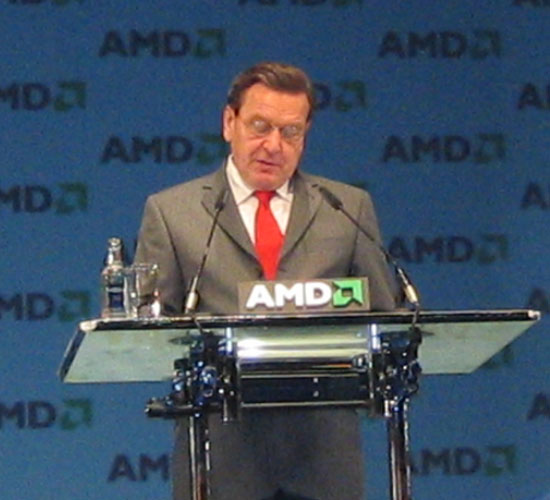 German Chancellor Gerhard Schröder
Chancellor Schröder also made it a point to mention the importance of such a large investment in Dresden, being a part of former East Germany, while stressing that the incoming German government should make it a point to encourage similar investments in the future.
Chancellor Schröder also briefly touched on the topic of fair competition and how Germany's cooperation with AMD has been in the spirit of fair competition, also clearly in reference to AMD's recent lawsuit.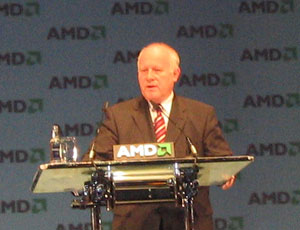 Governer of Saxony, Professor Dr. Georg Milbradt
Dresden is located in the German state of Saxony, and next up was the Governer of the State of Saxony, Professor Dr. Georg Milbradt. Professor Milbradt spoke of the history of Saxony from its humble beginnings to being a center for semiconductor manufacturing thanks to companies like AMD and Siemens.
Professor Milbradt's speech also took a political tone, as he stressed the importance of the new federal government to do even more to encourage investments such as AMD's in Dresden. He stressed that the investments are necessary in order to make Saxony and Dresden competitive in the EU and in the world.
Both Milbradt and Schröder hinted that AMD should definitely consider Dresden for their next fab plant, which Dr. Ruiz mentioned could potentially begin construction as early as 2008.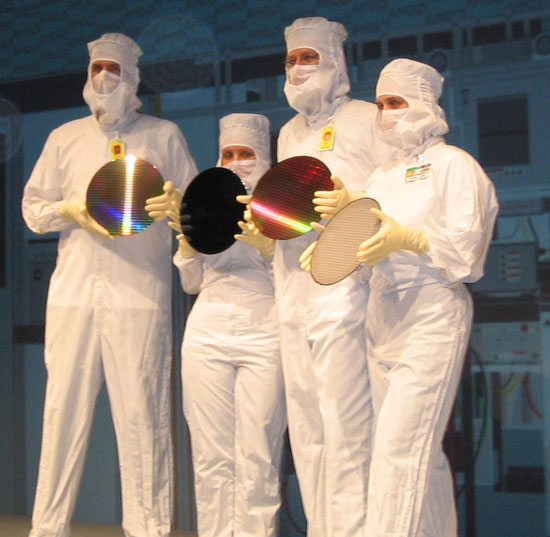 More 300mm wafers, we counted at least 5 today, that should be enough for at least a few Athlon 64 X2s.
The speeches were concluded with a ceremonial "raising of the wafer" as a 300mm wafer rose from the stage and was presented to Dresden, the state of Saxony and Dresden.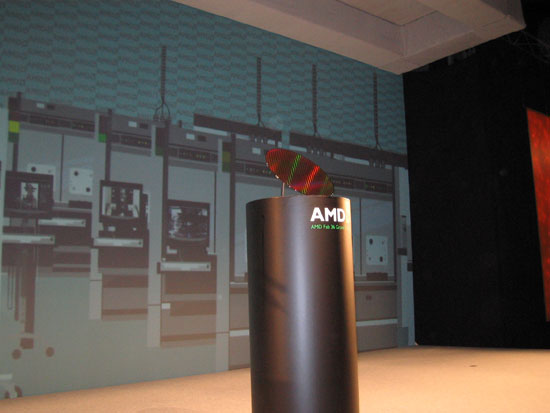 The events at Fab 36 in Dresden are just beginning, we're about to head to a Q&A session followed by some technical tracks and tours of the new plant.
AMD is hopefully going to present us with their future plans later today, which we've been looking forward to ever since Intel's IDF announcements. We'll see if AMD can deliver a more interesting look at their future than the ambiguity that we've been given in the past; stay tuned.