SanDisk Cruzer Micro with Skins
If you like the form factor of PQI's I-Stick, but want a device that looks and feels a little more like a normal USB drive, there's SanDisk's Cruzer Micro.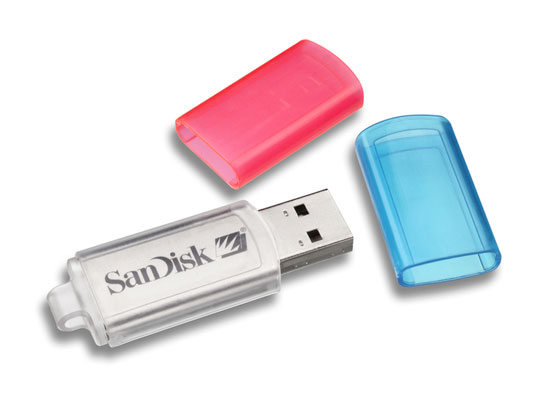 The Cruzer Micro is a little longer and
a lot thicker
than the I-Stick, but it features a regular USB connector and a loop for a lanyard. The Cruzer Micro also ships with removable and interchangeable rubber cases, so you can either just use the metal drive itself, or you can slip on a rubber case to keep your finger prints off the drive.


The Micro comes with a total of three cases: one clear, one red and one blue. Switching them is no big deal at all - you simply pull off the cap and slide off the rubber case. Since the case is rubber, it grips onto the metal body of the Micro quite well, so it's not going to just slide off if you happen to have the cap off. All three cases come with a matching cap.
Even though the Micro is a lot bigger than PQI's I-Stick, it is still much smaller than the rest of its competitors.
There is a little label on one side of the Micro that you can use to write information about what's stored on the drive, in the spirit of the good ol' days of floppies and their labels. Although with a minimum of 256MB of storage, you'll probably need a lot more space to truly characterize what's on that tiny little drive.
SanDisk ships a lot of software with their Cruzer. Unfortunately, the vast majority of it comes in trial versions for which you have to pay extra in order to get the full versions.
SanDisk Cruzer Micro
Sizes Available
128MB - 2GB
Lanyard Included
Yes
USB Extension Cable Included
No
Data Encryption
No
Password Protection
Yes (Windows Only)
Secure + Public Partitions Simultaneously Accessible
No
Flash Controller
SanDisk
Flash Memory
K9F2G08U0M
Warranty
2 years