SanDisk Cruzer Mini
Despite its name, the SanDisk Cruzer Mini isn't really mini; instead, we'd call it more average sized, as it is no smaller than OCZ's Rally drive, nor is it any smaller than Kingston's DataTraveler II drives (although it is a bit thinner). There is some justification for the name, as the Cruzer Mini is quite well proportioned - it isn't too thick, it isn't too long, it's not too thin and not too short. In other words, it's pretty much the right size for a normal USB flash drive.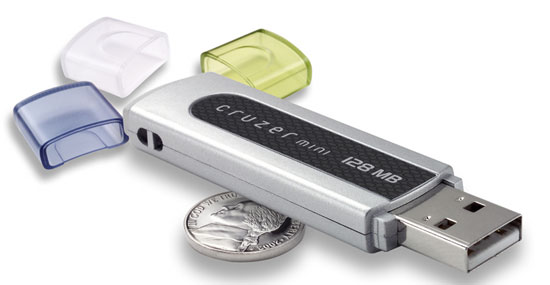 The Mini comes with a lanyard like the Micro, but it doesn't have any exchangeable cases, although it does come with three caps: one clear, one green and one blue.


The Mini ships with the same software as the Micro.
SanDisk Cruzer Mini
Sizes Available
128MB - 4GB
Lanyard Included
Yes
USB Extension Cable Included
No
Data Encryption
No
Password Protection
Yes (Windows Only)
Secure + Public Partitions Simultaneously Accessible
No
Flash Controller
SanDisk
Flash Memory
Samsung K9F2G08U0M
Warranty
2 years