Seagate's Momentus 5400 FDE - Real Time Hardware HDD Encryption
Seagate was proudly displaying their Momentus 5400 FDE (Full-Disk Encryption), a 2.5" hard drive with an ASIC on the PCB that performs real time encryption and decryption of data on the drive from the minute you plug it in.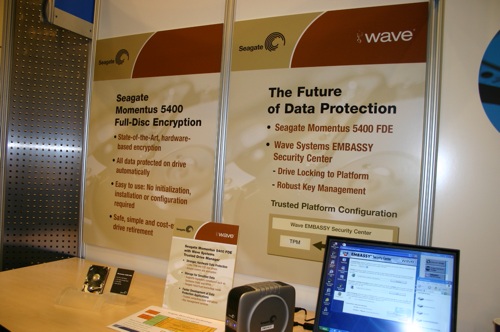 Seagate claims that the encryption/decryption ASIC imposes no performance penalty on the drive itself, even during times of peak sequential transfer rates.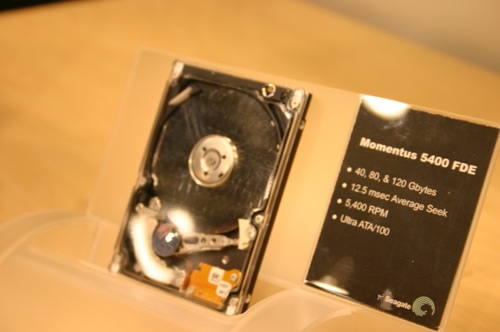 The encryption engine is active when you first turn on the drive and begin using it, although no encryption key is generated (the drive comes with a factory-installed key that is inaccessible by the user). A derivative key (not the actual encryption key) can be generated by manually setting the ATA password field, the password is cryptographically combined with the encryption key to create a derivative key that is stored in non-addressable memory, making the encryption key accessible. Wave Systems' Embassy security center was on display as an application that could be used to manage security settings of the FDE drive: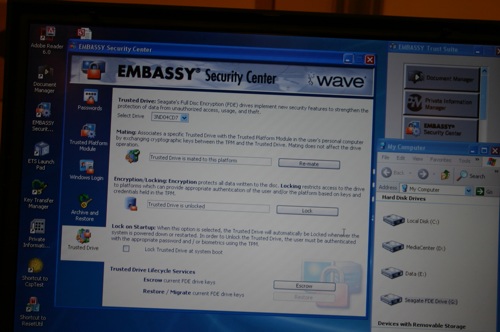 Software like Embassy can make backing up and gaining access to encrypted disks on different computers possible and seamless.
Seagate plans to ship the Momentus 5400 FDE in the first quarter of next year, although no pricing information has been announced. As of now Seagate is only committing to releasing the drive, any third party security software would have to be purchased separately.