Although this morning was made interesting by the rush of a new microprocessor architecture, the second keynote of the day was far less engaging - albeit concerning a very important topic: mobility.
Intel had a quick slide up about Napa, the platform for Yonah in the first half of next year: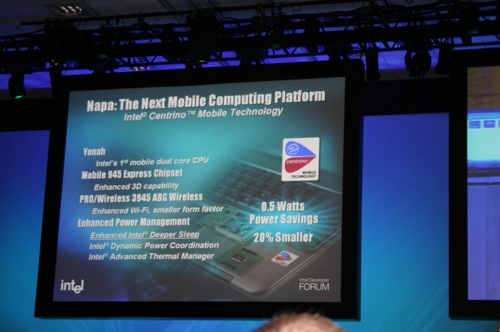 There's not much new here, but Napa did end up occupying a few more minutes of the keynote. Intel was proud to announce that the development and design wins of Napa are proceeding at a better rate than Sonoma, the current Centrino platform.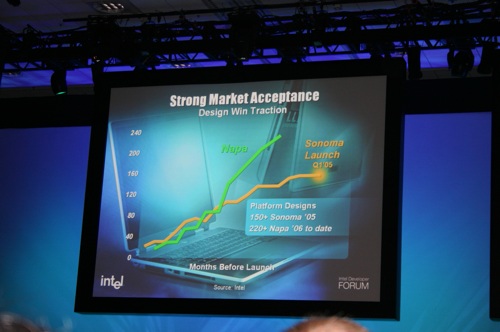 Obviously, Napa and Yonah are still about half a year away from their release (Intel has indicated that they will ship in the first quarter of next year), so we'll have to wait until next year to see how quickly Intel truly moves to Napa.
One thing that we found very interesting is that Napa also appears to be the platform of choice for Merom. In fact, Intel's platform for Merom is listed in their literature as either being Napa or a Napa Refresh, not a brand new design. We are hoping this means that Merom will work in Yonah motherboards, also hopefully meaning that Conroe will work in the next-generation Pentium D motherboards. The wish is that if you were to buy an Intel motherboard early next year, that you'd be able to use a next-generation CPU in it. While it is far from Intel's style to do so, so far the indications of such a scenario being possible are looking quite good.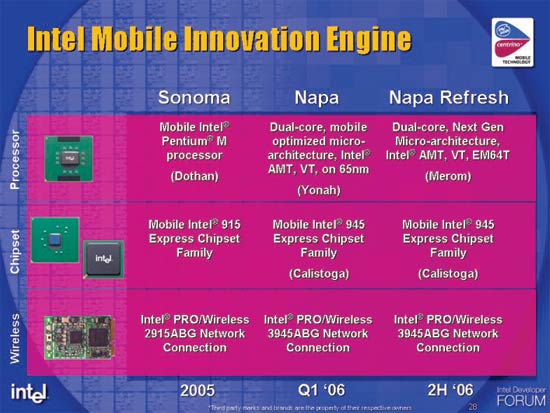 Intel indicated that they would supply design guidelines to motherboard makers early in 2006 so that their early '06 platforms could potentially support the new processors released in the second half of 2006. Maybe Intel has indeed learned from AMD when it comes to backwards compatibility, or then again maybe we're reading far too into this and we are hoping for more than reality.
Intel also demoed a 1.2GHz Xscale CPU, although they didn't commit to shipping it at 1.2GHz, this demo was more of a proof of concept.
Intel talked about their partnership with Panasonic in developing new notebook batteries which should help them meet their 8-hour battery life in 2008 goal.