Doom 3 Performance
One of the most demanding games that we test in terms of graphics, Doom 3 shows some impressive gains. Let's take a look.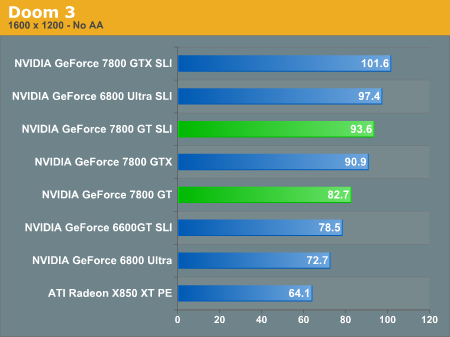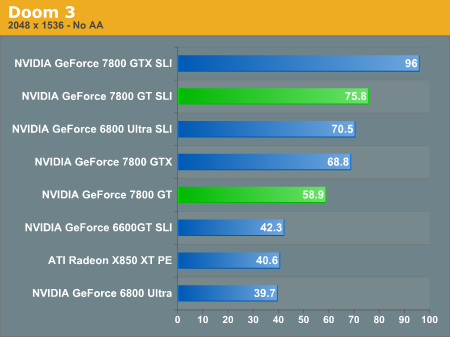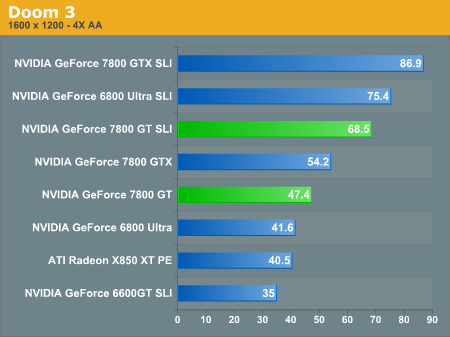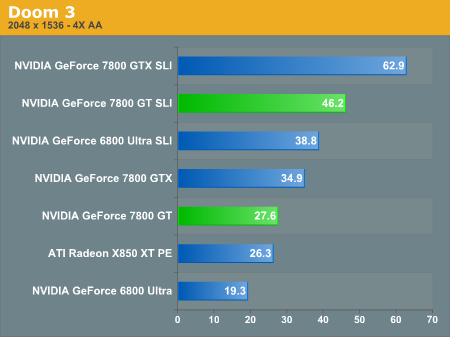 We'll start by comparing the 6800 Ultra and the 7800 GT. The most notable increase here is at 2048x1536 with AA enabled, where we see a 43% improvement in fps with the 7800 GT. We get a similar increase (48.4%) at that resolution without AA enabled, but with AA, we went from 19.3 fps, an unplayable framerate, to 27.6, which is borderline-playable. At 1600x1200, both AA and no AA see only about a 14% increase.
As expected, we see higher gains than this when we compare one 6800 Ultra to two in SLI mode. Without AA, the framerates for both resolutions increase by around 30 fps, a 34% increase at 16x12, and a 77.6% increase at 20x15. The gains are even more impressive with AA enabled. 16x12 AA goes from 41.6 to 75.4, an increase of 81.3%; and at 20x15 AA, from 19.3 to 38.8 - an impressive 101% increase.
The gains that we see with the 7800 GT will definitely make a difference in performance with this game, but unfortunately, the GT still struggles at 20x15 with AA enabled. Two 6800Us in SLI mode don't have this problem, and in fact, they handle 20x15 with AA fairly well. This might not matter however, to those who don't care about AA at high resolutions.
It's interesting to note that Doom 3 appears more dependent on GPU memory bandwidth than GPU processing speed, at least in certain scenarios. Notice how the 6800 Ultra SLI configuration actually beats the 7800 GT SLI configuration in several of the tests. The 6800 cards do seem to have more problems with the 20x15 resolution, however.