Everquest 2 Performance
EQ2 is still probably the most demanding game that we test in terms of graphics, which is interesting because it is an MMORPG. Like the Ultra High quality setting in Doom 3, the highest quality settings in EQ2 put even the best graphics cards out there to the test.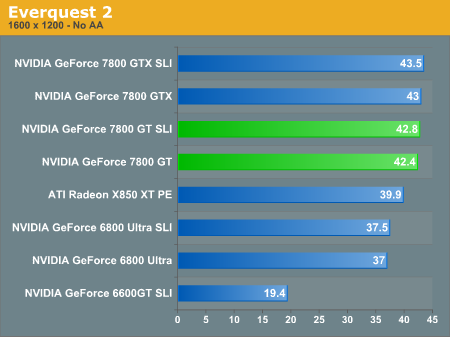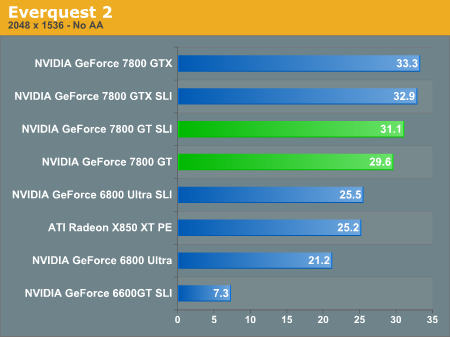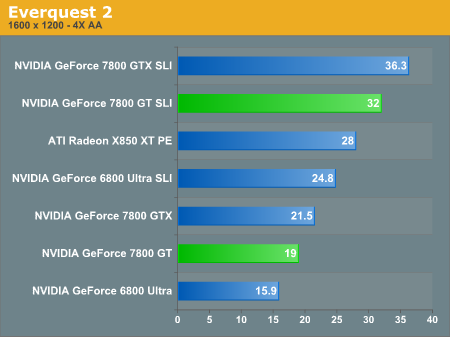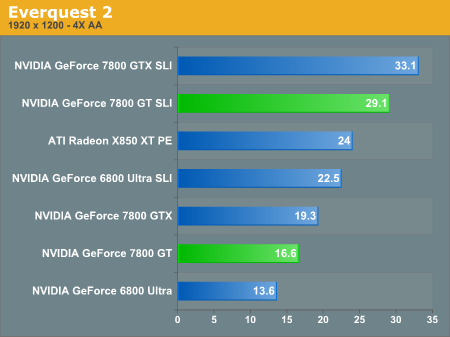 With the settings that we used, the 6800 Ultra couldn't provide playable framerates with AA enabled, and struggled to run smoothly even without AA. The 7800 GT results aren't much better in some cases. Compared to the 6800 Ultra framerates, the 7800 GT is around 20% faster in both resolutions with AA enabled, but at 19 and 16.6 fps it, it is hardly playable. Without AA, 2048x1536 gets a 40% increase from 21.2 fps to 29.6, which may offer an acceptable level of smoothness. There's only about a 14% increase between the two cards at 1600x1200 without AA, and it's clear that we're becoming CPU bound as all the G70 configurations perform within 3% of each other. The 7800 GT is still better than the 6800 Ultra, though (37 fps to 42.4 fps).
For some reason, the 7800 GT handles these two resolutions better than the 6800 Ultra in SLI mode without AA enabled, while the opposite is true when AA is 4X. While the framerates are still quite low (EQ2 seems to have a tough time with AA), there is a 56% increase in fps with the 6800U SLI at 16x12, and a 65.4% increase at 20x15. However, it would still be a challenge to have an enjoyable gameplay experience with framerates of 24.8 and 22.5, respectively.