Battlefield 2 Performance
Battlefield 2 is a graphically demanding game, and framerate really counts here due to the "twitch-shooter" gameplay element. That being said, the 7800 GT will run the game relatively well. However, if you like playing at 2048x1536 (and you have the monitor for it) with AA enabled, you might want to go with the 7800 GTX instead.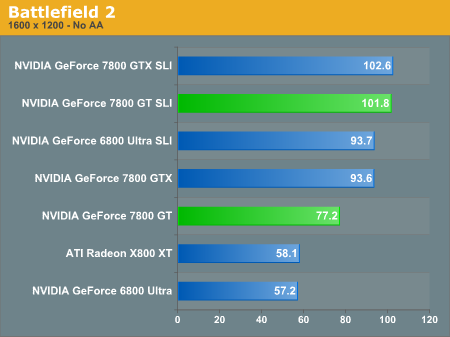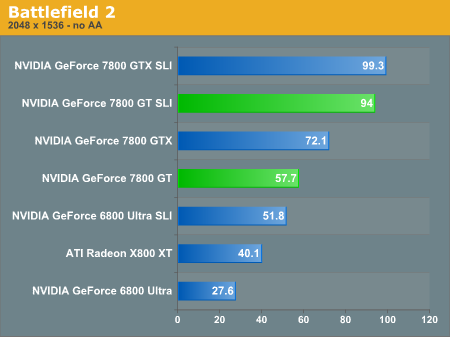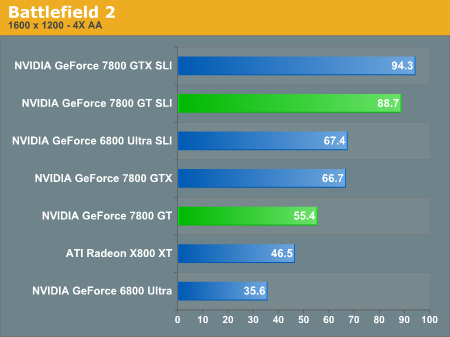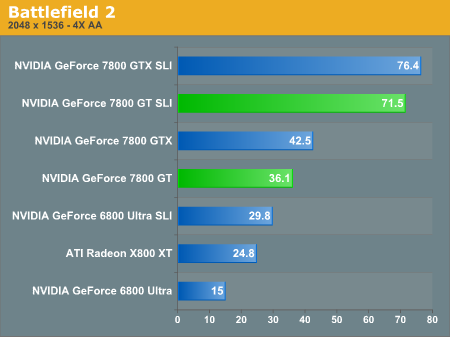 At 20x15 with AA enabled, the 7800 GT gets 36.1 fps, as opposed to 42.5 fps on the 7800 GTX. While this is only about an 18% gain, it will still mean a big difference in gameplay. 1600x1200 with both AA enabled and disabled saw about a 20% increase from the GT to the GTX and 20x15 without AA gained a 25% increase, going from 57.7 fps to 72.1 fps.
Taking a quick look at SLI performance, it's difficult to justify getting 7800 GTX SLI over 7800 GT SLI. The performance difference is only 7% at best with 4xAA enabled. Of course, if you're already spending $800, what's another $150 for 7% more performance?