HD Everywhere
The most welcome requirement of the Xbox 360? That all games must support 720p.
The Xbox 360 was undoubtedly made for HDTVs, with all games supporting 720p, you will truly be missing out without a HDTV. The support for 720p in all games is quite important as it marks the first time that a game console will have games that renders frames internally at resolutions greater than 640x480. The resolution gap between PC and console gaming has been huge, remembering that 640x480 was a resolution that PC gamers were enjoying back in the Voodoo1 days. Especially on larger TVs, the very low resolution of 640x480 is even more pronounced - but with Xbox 360 (and presumably, Sony's Playstation 3) the days of low resolution gaming on large screens is over.
The MTV special started with a 3D rendered performance of the band - The Killers. The rendered graphics of that performance were better than anything we've seen on the PC thus far, even better than what we've seen in tech demos by ATI and NVIDIA. Not surprising given the level of the GPU in the Xbox 360, there was only a short part of the performance that was 3D rendered but it was quite convincing.
In a stroke of genius, Microsoft managed to demo their first console with a minimum of 720p support on a standard definition cable channel. It looks like we'll have to wait for E3 to see the Xbox 360 in its 720p glory.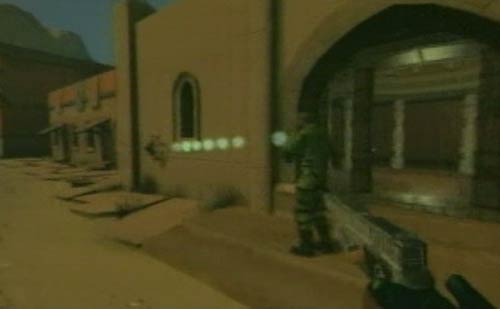 ugh...displaying a 720p game over SD cable
The rest of the games demoed looked extremely PC like, thanks to their 720p resolution. Of course we won't see the best use of the Xbox 360 hardware (in particular the physics capabilities of that 3-core PowerPC CPU) until well after the console has launched. Until then, we will most likely have to rely on fancy graphics and extensive online support as the main attractions to the new console.