Mail 2.0
Mail was one of my original favorites of OS X, although the application itself looked extremely simple. It quickly proved to be much more robust and much less of a resource hog than my previous client, Outlook.  As one of my favorite applications under OS X, I was curious to play with Mail 2.0 in Tiger, which has had a handful of changes. 
When starting up Mail for the first time, it will take a few minutes to import all of your old emails into the new version of Mail.
The most noticeable change in Tiger is that Mail has a brand new interface. The new interface is strange - I'm not totally sure what Apple's trying to do with it.  It looks good, but it definitely stands out from the rest of the OS.  Although the look and feel of Mail has changed, the icons haven't really, which makes them feel somewhat out of place in this new version.  I may get used to them over time, but at this point, I'm not.  The new top toolbar is quite possibly one of the biggest positive visual improvements to Mail over its predecessor. 
Mac OS X Panther Mail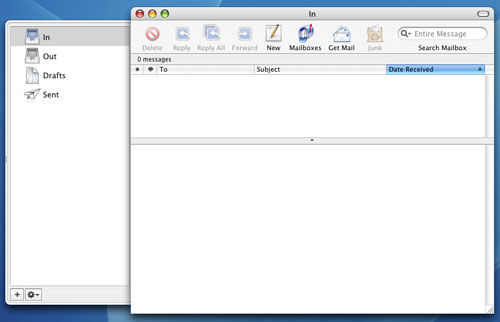 Mac OS X Tiger Mail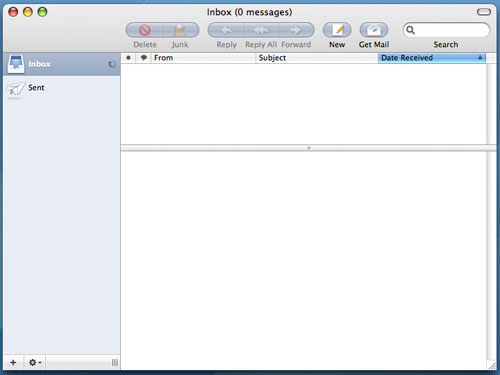 The location of the Get Mail status indicator has moved from the right hand side of the Message Viewer to the left pane, next to each individual account.  While I don't mind the location, the speed of the spinning indicator has been slowed down significantly, which gives you the impression that Mail 2.0 is working slower than you may be used to.  In reality, it's tough to notice any performance difference in checking Mail, although there may be other areas where the new Mail is slower than its predecessor.  Mail is one area in Tiger where I'm not totally sure if there's any tangible performance increase/decrease under the new OS, but the slower indicator just seems like a change that was made for no good reason. 
There are smaller interface changes that are nice, such as the new save attachment button.  The new button is a lot cleaner/simpler looking now, mostly because it's small. It's a minor change, but I like it. 
Mac OS X Panther - Mail Save Attachment button



Mac OS X Tiger - Mail Save Attachment button



The new save button does behave somewhat strangely; you can actually right-click the Save button to save any one of the attachments individually as you can see from the shot below: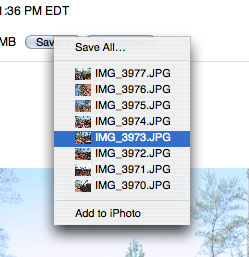 Next to the new save attachment button is a Slideshow button (if the attachments that you've received are images, that is).  I tend to get a lot of pictures emailed to me, whether it's new hardware or watching the progress on our house under construction. This is where Mail 2.0's Slideshow feature really comes in handy.  Anytime I get an email with pictures in it, I just click slideshow and I get exactly what you'd expect.  It's a nice little feature, but there is one major complaint - the time between pictures in the slideshow is entirely too short by default and there's no way to adjust that time period.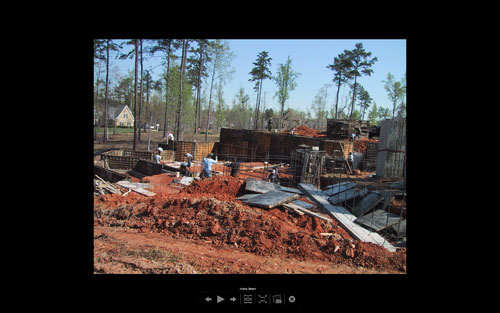 The slideshow is full screen and doesn't disrupt anything on your desktop as such.  You have the normal playback buttons (forward, backward, pause) as well as a couple of more interesting options.

You can click the index sheet button to get a screen tiled with all of the attached images.  You can scale the image to full screen, or you can add the photos directly to iPhoto.  There's no rotate image option, which I can guess was thrown out in an effort to keep the controls simple - but the absence of one is annoying when you get the occasional shot that needs to be rotated 90 degrees.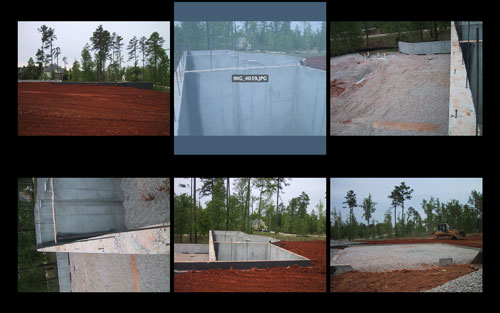 If you're sending images as attachments, Mail 2.0 will allow you to resize them to one of three presets: Small, Medium or Large.  The resizing is done automatically and without any additional effort on your part. 
The other major changes to Mail are Spotlight related, as all searching in Mail 2.0 is driven by Spotlight.  This comes as a huge relief to me as I found Mail's original search to be fast, but lacking in accuracy, not to mention that it was a pain to switch between the fields that I was searching.  With Mail 2.0, searching is infinitely more useful.  First of all, you no longer have to select where you want to search from a drop-down list. As soon as you start a search, a bar appears that lets you select where to search, and what to search.  Unfortunately, searching the "Entire Message" still doesn't catch items that are only in the Subject field and you can't select both, which is a bit of a pain.  You can also save your searches as Smart Mailboxes, which are similar to the Smart Folders in the new Finder.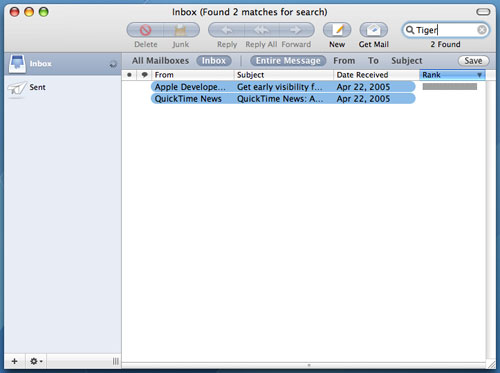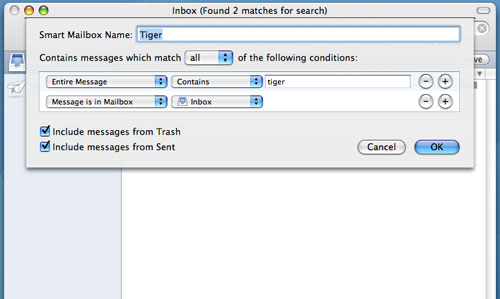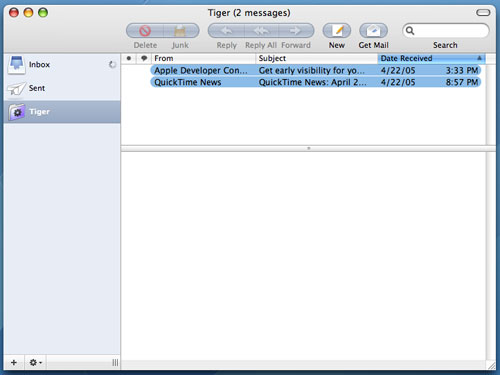 Smart Mailboxes are interesting in the slight behavioral differences between them and regular Mailboxes driven by rules.  I get a lot of email, so I have a Mailbox (Folder) for each manufacturer that I deal with.  I filter email from the various manufacturers into their specific folders using a set of rules, usually based on the domain name of email addresses in which they come.  The benefit of this approach is that it keeps my inbox relatively uncluttered (as all manufacturer email goes directly into their specific Mailboxes), but since the emails are moved, they don't trigger the new mail notifier in Mail's Dock icon. 
Smart Mailboxes, on the other hand, aren't actually physical Mailboxes - they are just saved searches (much like Smart Folders).  So in this case, Smart Mailboxes do still allow the new mail notifier in the Dock to be triggered by manufacturer emails coming in.  The downside is that my Inbox doesn't remain as clean and uncluttered.  But with a large number of Smart Mailboxes, I could theoretically get things to the point where I'd rarely have to check my main Inbox for email.  It's something I still have to play around with more at this point, but the flexibility of Smart Mailboxes is definitely appreciated. 
There are other minor functionality tweaks to Mail 2.0, such as a new compose window.  When composing emails, you now have the option of adding new fields directly from the compose window, such as a Bcc address field or a Reply-To address field.  Also, hitting Command + i in Mail 2.0 now brings up an Account Info pane that will give you a list of all messages on your mail server, as well as let you customize mailbox behaviors.  It's a neat panel that can be useful if you have your machine set to leave your POP email account messages on the server for a certain period of time. 
Overall, I'd say that Mail 2.0 in Tiger is a reasonable improvement, but mostly because of the features that Spotlight offers.  The addition of the slideshow viewing mode is also useful, but the interface tweaks aren't anything to get too excited about in my book. In some cases, I preferred the old, simpler look of Mail, while in others, I welcome the new client.  In the end, it still does the same great job that it always did; it's just that now, I can search a lot better and it's easier dealing with pictures in emails.