Gaming Tests: Chernobylite
Despite the advent of recent TV shows like Chernobyl, recreating the situation revolving around the 1986 Chernobyl nuclear disaster, the concept of nuclear fallout and the town of Pripyat have been popular settings for a number of games – mostly first person shooters. Chernobylite is an indie title that plays on a science-fiction survival horror experience and uses a 3D-scanned recreation of the real Chernobyl Exclusion Zone. It involves challenging combat, a mix of free exploration with crafting and non-linear story telling. While still in early access, it is already picking up plenty of awards.

I picked up Chernobylite while still in early access, and was impressed by its in-game benchmark, showcasing complex building structure with plenty of trees and structures where aliasing becomes important. The in-game benchmark is an on-rails experience through the scenery, covering both indoor and outdoor scenes – it ends up being very CPU limited in the way it is designed. We have taken an offline version of Chernobylite to use in our tests, and we are testing the following settings combinations:
360p Low, 1440p Low, 4K Low, 1080p Max
We do as many runs within 10 minutes per resolution/setting combination, and then take averages.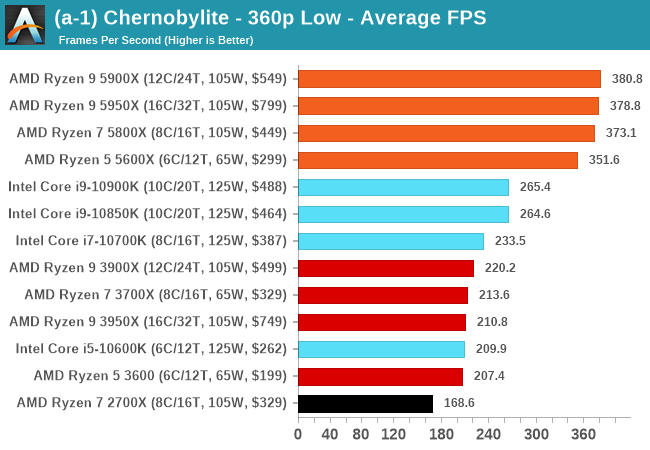 AnandTech
Low Resolution
Low Quality
Medium Resolution
Low Quality
High Resolution
Low Quality
Medium Resolution
Max Quality
Average FPS
All of our benchmark results can also be found in our benchmark engine, Bench.