Gaming Tests: Civilization 6
Originally penned by Sid Meier and his team, the Civilization series of turn-based strategy games are a cult classic, and many an excuse for an all-nighter trying to get Gandhi to declare war on you due to an integer underflow. Truth be told I never actually played the first version, but I have played every edition from the second to the sixth, including the fourth as voiced by the late Leonard Nimoy, and it a game that is easy to pick up, but hard to master.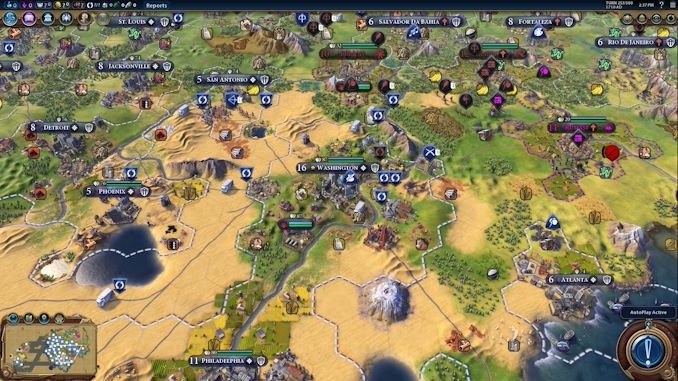 Benchmarking Civilization has always been somewhat of an oxymoron – for a turn based strategy game, the frame rate is not necessarily the important thing here and even in the right mood, something as low as 5 frames per second can be enough. With Civilization 6 however, Firaxis went hardcore on visual fidelity, trying to pull you into the game. As a result, Civilization can taxing on graphics and CPUs as we crank up the details, especially in DirectX 12.
For this benchmark, we are using the following settings:
480p Low, 1440p Low, 4K Low, 1080p Max
For automation, Firaxis supports the in-game automated benchmark from the command line, and output a results file with frame times. We do as many runs within 10 minutes per resolution/setting combination, and then take averages and percentiles.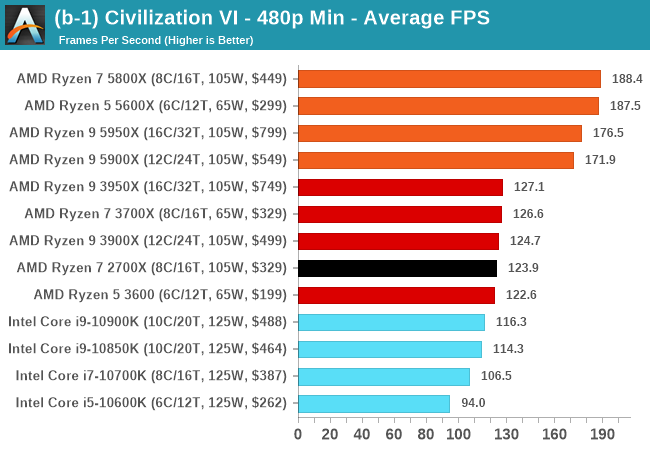 AnandTech
Low Resolution
Low Quality
Medium Resolution
Low Quality
High Resolution
Low Quality
Medium Resolution
Max Quality
Average FPS
95th Percentile
All of our benchmark results can also be found in our benchmark engine, Bench.