Mixed Random Performance
Our test of mixed random reads and writes covers mixes varying from pure reads to pure writes at 10% increments. Each mix is tested for up to 1 minute or 32GB of data transferred. The test is conducted with a queue depth of 4, and is limited to a 64GB span of the drive. In between each mix, the drive is given idle time of up to one minute so that the overall duty cycle is 50%.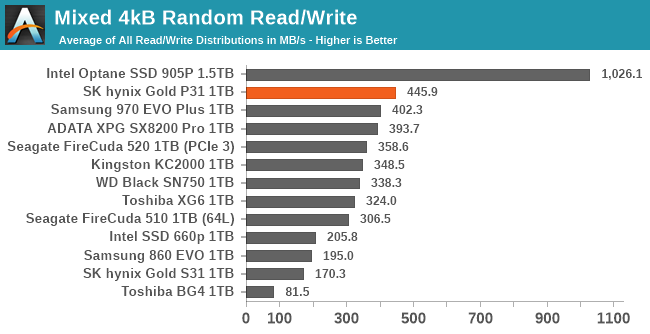 The Intel Optane 905P holds on to a very comfortable performance lead on our mixed random IO test, but the SK hynix Gold P31 raises the bar for TLC-based SSDs by about 10%.
The Gold P31 has the lowest average power consumption on this test out of all the drives in this batch, which naturally leads to a massive lead in power efficiency: it delivers twice the performance per Watt of the next best drive.
Compared to other high-end TLC-based SSDs, the Gold P31 performs best during the more read-heavy phases of this test. Several competitors catch up to it and a few surpass it during the most write-intensive portions of the test, but that also tends to be where the P31's power usage advantage is widest.
Mixed Sequential Performance
Our test of mixed sequential reads and writes differs from the mixed random I/O test by performing 128kB sequential accesses rather than 4kB accesses at random locations, and the sequential test is conducted at queue depth 1. The range of mixes tested is the same, and the timing and limits on data transfers are also the same as above.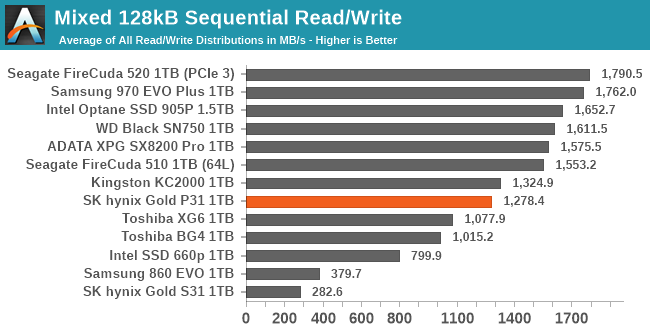 The mixed sequential read/write performance of the SK hynix Gold P31 is unimpressive. For once, its performance is about what we'd expect from a drive designed more for efficiency than raw performance. However, it still has an 18% lead over the slowest 8-channel drive in this batch.
The Gold P31 still completes this test with remarkably low power consumption (averaging less than 2W), but the relatively modest performance means its efficiency score is only about 33% above the next best drive in this bunch.
After starting out with a good sequential read speed, the SK hynix Gold P31's performance drops steeply when writes are added to the mix. It bottoms out just below 1GB/s with a 60% reads mix, and then gradually recovers performance to finish with a fairly typical sequential write speed. Power consumption from the P31 doesn't vary much across the test, and it's only above 2W at the very beginning of the test.