Does the 6258R Make Sense for Intel?
For this test, I wanted to compare the difference between Intel's Xeon Platinum 8280 and Intel's Xeon Gold 6258R. These processors are practically identical on paper for any regular 1P or 2P server, offering up 28 cores at 2.7-4.0 GHz, however the Gold 6258R has a list price that saves over $6000 compared to the Platinum 8280.
As per our regular testing procedure, I put both CPUs in our 1P LGA3647 test system and ran through our performance benchmarks. We also took power measurements, latency measurements, and idle-to-turbo measurements. Everything came out the same. Without the name of the CPU on the heatspreader, or a different CPU string when probed, no-one would be able to tell the difference in a 1P or 2P environment.
So if anyone is thinking of deploying Intel's high-end Xeon Platinum 8280s in anything less than a eight-socket system, don't bother. Save a few grand per CPU and gain the plaudits of your boss – unless they start asking questions about why the infrastructure doesn't have the latest 'Xeon Plutonium' things they're heard about.
Jokes aside, the pragmatic question to ask is:
Has Intel shot itself in the foot with the 6258R?
Intel often repeats (as does AMD) that the majority of its server customers exist in that 1P and 2P spectrum. An offering like the 6258R replaces the 8280 in all aspects for that, giving Intel an effective performance-per-dollar improvement of 2.5x, while at the same time lowering its selling price - when we compare the prices, Intel stands to lose $6000 per processor sold.
However, Intel launched the 8280 in April 2019 as the flagship – the 6258R only came out in February 2020. Anyone who wanted the perfromance of the 8280 in that time frame already purchased one. At the same time, a few months later, the company has launched its 3rd Generation Xeon Scalable platform, known as Cooper Lake. We've covered Cooper Lake in detail, but the short information is that it is an OEM platform designed for 4-socket and 8-socket servers. Any customer who needs servers that large are now going to look at Cooper Lake as the leading product, meanwhile the 1-socket and 2-socket customers are still on the Cascade Refresh options.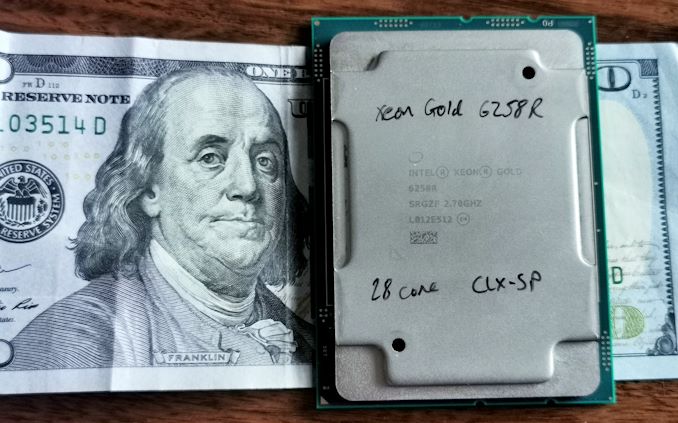 At this point, the 8280 is a dead product for Intel.
Users who want the 4-8 socket compatibility and performance can now get the 8380H/HL.
Users who want the 1-2 socket compatibility and performance will go for the 6258R.
If you're wondering where the 6258R stacks up against AMD, we're in the process of re-testing the parts we have on hand as we go through our regression testing. The EPYC 7542 is probably the best comparison point (32C, 2.9-3.4 GHz, 225W, $3400), however we'll have to look into getting one of those.