ASRock B550 PG Velocitá
The new Velocitá branding from ASRock, as started on Z490, is an attempt to define a high-end motherboard based on speed, but also style, hence the name 'Velocitá'. In previous incarnations, ASRock motherboards would often show pictures of high performance sports cars that eerily looked very close to the popular Lamborghini of the day, but those boards were focused on overclocking. This time Velocitá is more about the gaming, hence it falls under the Phantom Gaming family.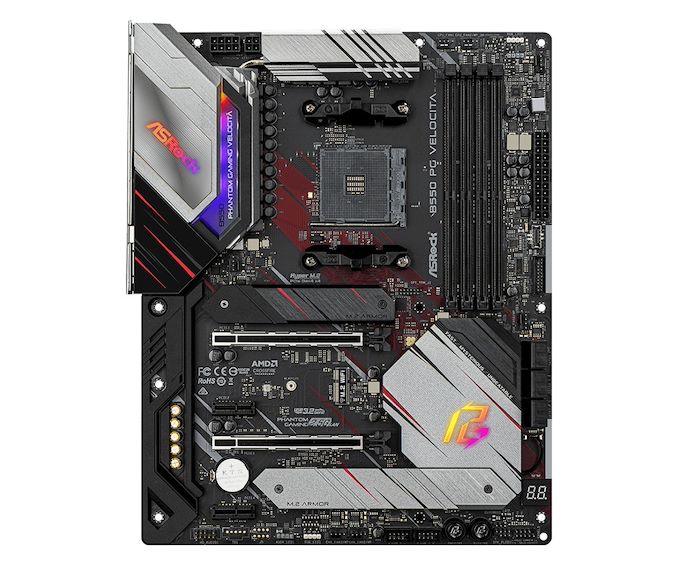 The PG Velocitá is a relatively clean board to look at, with the main style focused on a 45-degree downward slope from left to right, and a number of jagged edges on decals around the motherboard. As we can see, there is also some element of RGB here, on the chipset heatsink and on top of the rear panel. There is also a pair of onboard RGB headers at different ends of the board.
The power delivery heatsinks in the Velocitá are connected via a heatpipe, hiding a 12+2 phase design indicative of which market ASRock wants to push this product. Powering the CPU is an 8-pin and a 4-pin, while the socket area has access to five 4-pin fan headers within easy reach.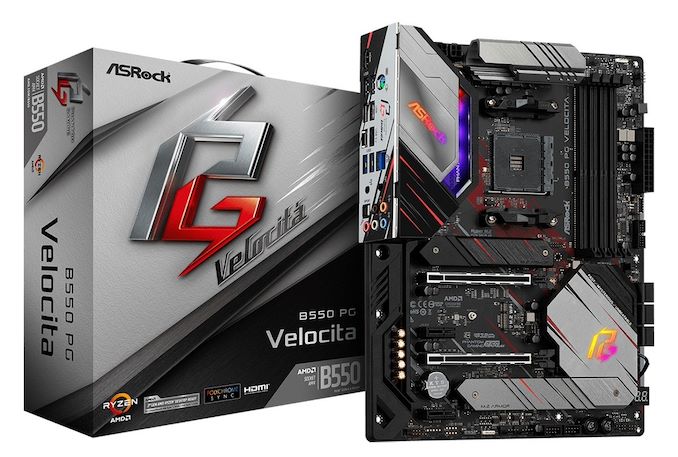 Down the right side of the motherboard is a Type-C front header, a USB 3.0 front header, six SATA ports from the chipset, and a two digit debug. Along the bottom are more fan headers, two USB 2.0 headers, power/reset buttons, and a front panel connector.
For the PCIe layout, the top full-length slot is a PCIe 4.0 x16 slot from the CPU, while the second full-length slot is a PCIe 3.0 x4 from the chipset. Surprisingly both of these have additional reinforcement. There is also a PCIe 4.0 x4 M.2 slot above the top PCIe slot for the main M.2 drive, and ASRock puts another PCIe 3.0 x2 M.2 slot on the bottom of the motherboard, and this heatsink is connected to the chipset heatsink.
The audio on the right of the motherboard is an enhanced Realtek ALC1220 design, featuring an NE5532 amp.

The rear panel gives the user a HDMI port, a combination PS/2 port, two USB 3.2 Gen 1 ports, four USB 2.0 ports, a Type-A USB 3.2 Gen 2 port, a Type-C USB 3.2 Gen 2 port, a Realtek RTL8125BG 2.5 gigabit Ethernet port, space for an add-in Wi-Fi antenna output, and the audio jacks.