GIGABYTE B550 Vision D
Aiming more towards content creators and resembling its Designaire models, the GIGABYTE B550 Vision D includes a mid-range set of features. Spearheading what the Vision D has to offer includes an Intel Titan Ridge Thunderbolt 3 interface which powers the two Type-C ports on the rear panel, with two M.2 slots, four SATA ports, a Realtek ALC1220 HD audio codec and two Intel-based Gigabit Ethernet ports.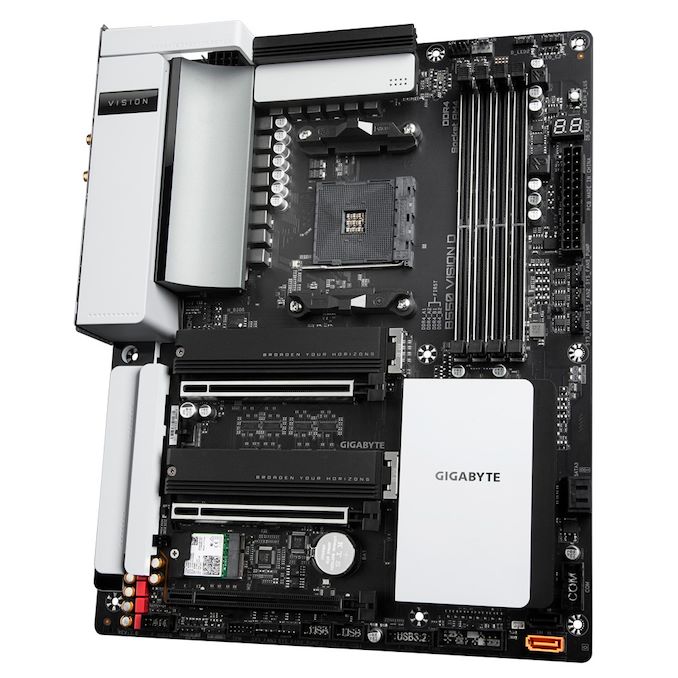 Opting for a clean-cut aesthetic, the GIGABYTE B550 Vision D uses a black and white contrasting design with white heatsinks on an all-black PCB. Dominating the lower portion of the board are two full-length PCIe slots which operate at PCIe 4.0 x16 and x8/x8, while the third full-length slot is locked at PCIe 3.0 x4. For storage is two M.2 slots with individual heatsinks with the top slot operating at PCIe 4.0 x4, and the second slot at PCIe 3.0 x4, while for SATA devices, a total of four SATA ports are included. The B550 Vision D has impressive memory support with speeds up to DDR4-5400 supported out of the box, and a maximum capacity of up to 128 GB across four memory slots.

On what is a pretty stacked rear panel are two Thunderbolt/USB 3.2 G2 Type-C ports which include support for DisplayPort output due to the presence of an Intel Ridge Thunderbolt 3controller, with a further two USB 3.2 G2 Type-A, four USB 3.2 G1 Type-A and two USB 2.0 ports. For the leveraging of Ryzen APUs with integrated graphics, GIGABYTE has included a DisplayPort 1.4 and HDMI 2.1 pair of video outputs, while an Intel AX200 Wi-Fi 6 interface and a pair of Intel Gigabit Ethernet controllers make up the Vision D's networking capabilities. A Realtek ALC1220-VB HD audio codec drives the five 3.5 mm audio jacks and S/PDIF optical output, while a PS/2 keyboard and mouse combo port allows users to use legacy peripherals.
The GIGABYTE B550 Vision D is an interesting board for a couple of reasons, some very positive and some a little confusing. Starting with what's good, it is advertised as featuring a robust 12+2 power delivery, with the inclusion of an Intel Titan Ridge controller for dual USB 3.2 G2 Type-C ports. It's also one of the best looking B550 models on the market and supports up to DDR4-5300 memory which is impressive. GIGABYTE's decision to opt for Gigabit LAN when cheaper boards include 2.5 GbE Ethernet is a tad confusing. It's also one of the only models, if not the only model to include Intel Gigabit as opposed to Realtek Gigabit Ethernet. The B550 Vision D also has a hefty price tag for a B550 model with an MSRP of $260, putting it as one of the most expensive B550 models on the market, but does benefit from Thunderbolt 3, and two full-length PCIe 4.0 slots which operate at x8/x8.