System Performance
AMD's new Renoir platform has already been showcased in our SPEC testing, which made a clear case that the new design provides a much-needed performance bump over the previous Picasso platform. Despite the individual cores having generally lower single-threaded performance than Intel's Ice Lake, they make up for that deficiency with sheer volume, doubling the core count of the competition. AMD's mantra for the entire Zen existence has been more for less, and that continues here again. Acer has positioned this laptop at an entry-level price, but with performance that should meet or exceed other devices in its class.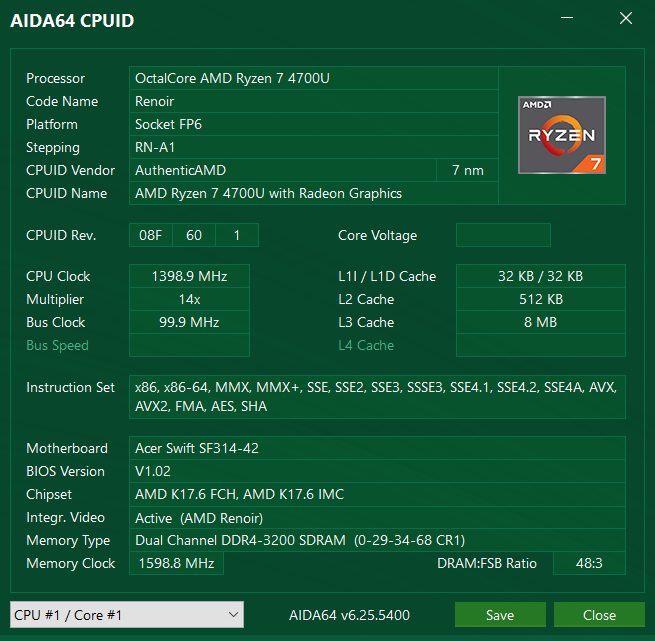 Both AMD based models of this 14-inch Acer Swift 3 come with 8 GB of RAM, in the DDR4-3200 flavor, which is where notebooks need to be these days for an entry position, so it was nice to see them offer 8 GB on both the Ryzen 5 and Ryzen 7 models. The company could have cut back to hit an even lower price point, especially on the Ryzen 5, but that would impact the performance too much to make it a worthwhile compromise. They've also started with a 256 GB SSD on the Ryzen 5 model, and bumped that up to 512 GB on the Ryzen 7 we have here, and still at just $649, which is fantastic value and should keep the target market happy for some time.
To see how the Acer Swift 3 with Ryzen 7 4700U performs, we have run it through our laptop test suite and compared it to several other similar systems. If you'd like to compare the Acer Swift 3 to any other laptop we have tested, please check out our online Bench.
PCMark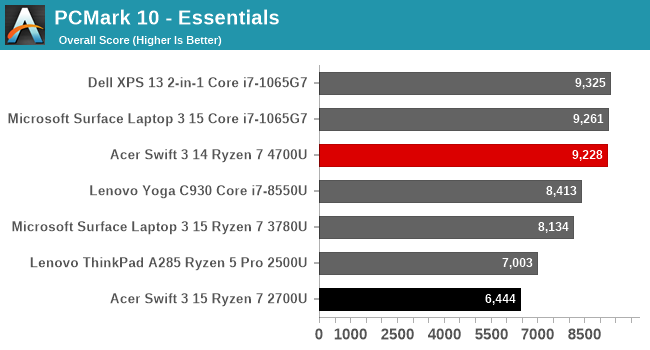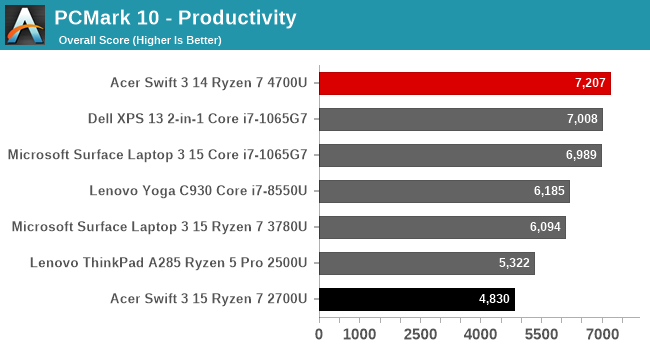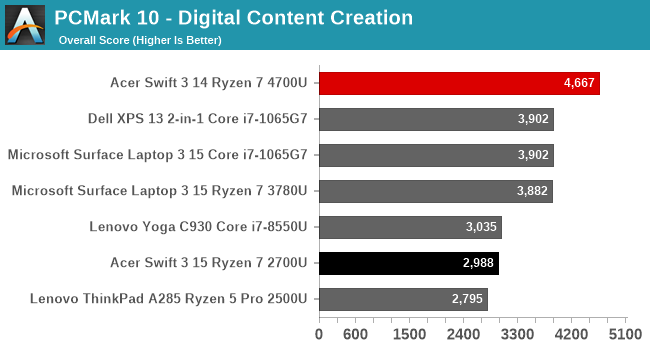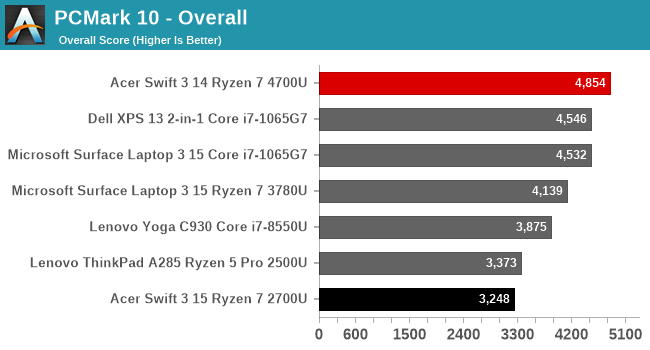 UL's PCMark suite offers some real-world test cases, and tests all aspects of the system, from CPU performance, to GPU, to even app-loading times and disk performance. The Acer Swift 3 performs very well here, especially in the digital content creation sub-tests, where the GPU gets to showcase some of its prowess.
Cinebench R20


AMD has been touting its Cinebench results for some time since their launch of Zen, and for good reason. As a compute-focused test, the Zen 2 cores perform very well here, and having eight physical cores in the multithreaded results really make the Ryzen 7 4700U stand out. SMT has been a great way to get more performance per-core, but there is still no substitute for actual cores.
x264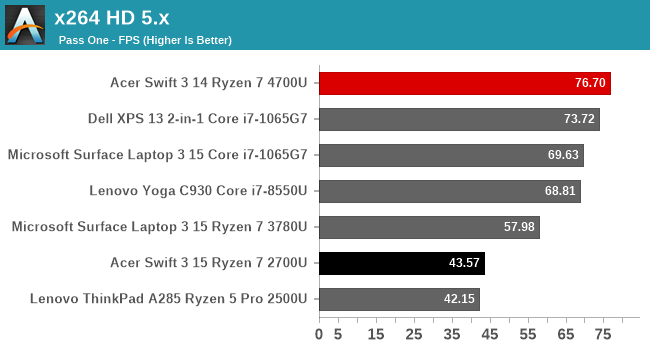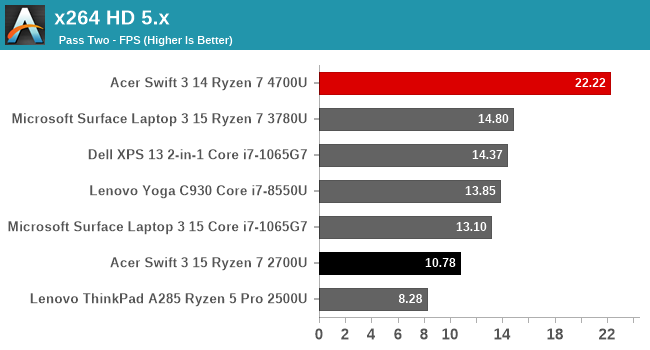 The x264 test transcodes a video using the CPU and has always enjoyed more CPU performance and more CPU cores, so it should not surprise anyone that the Ryzen 7 4700U wins the day here again. Eight cores make short work of this transcode.
Handbrake


Handbrake is arguably the most popular video transcode tool around, and it offers both software-based CPU transcoding, as well as GPU accelerated. On our last Picasso platform, the Microsoft Surface Laptop 3, Handbrake wasn't able to leverage Vega's Video Core Next hardware, however the Acer Swift 3 can, and in both software and hardware encoding, the Renoir based Acer Swift 3 finishes this task very quickly.
7-Zip


7-Zip is a very popular, free file compression and extraction tool, and it also offers a built-in benchmark. AMD's Renoir SoC once again outperforms the rest of the 15-Watt systems here. Tests such as this and transcode do very well with the extra cores provided on the Ryzen 7 4700U.
Web Benchmarks
This will likely be our last review with the older web tests. Web benchmarks are as much about the browser's scripting engine as they are about pure CPU performance, so for consistency we've tested in Microsoft Edge. Now that Edge is being moved to the new Chromium-based version, we'll take this opportunity to replace some of our older tests.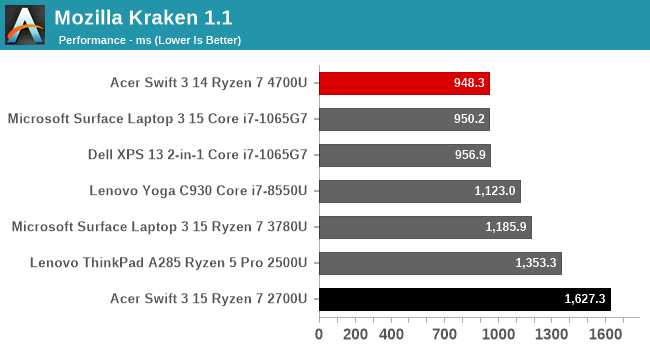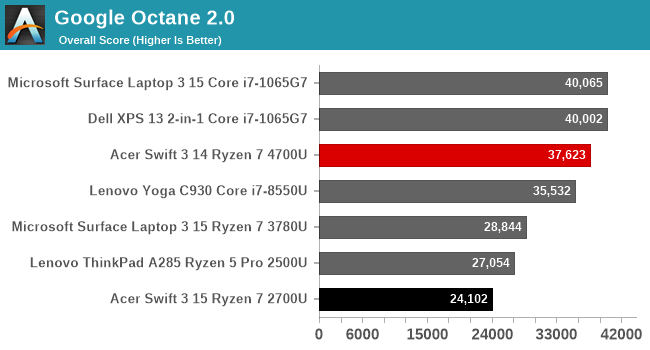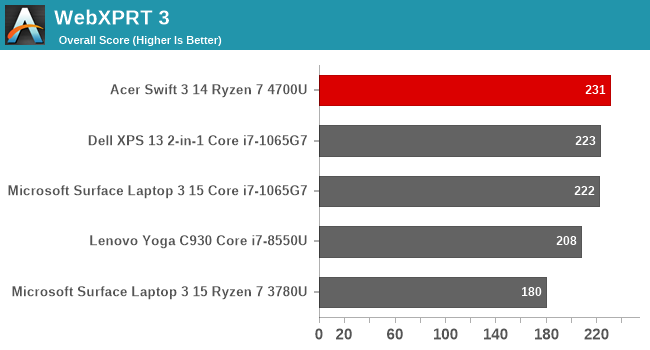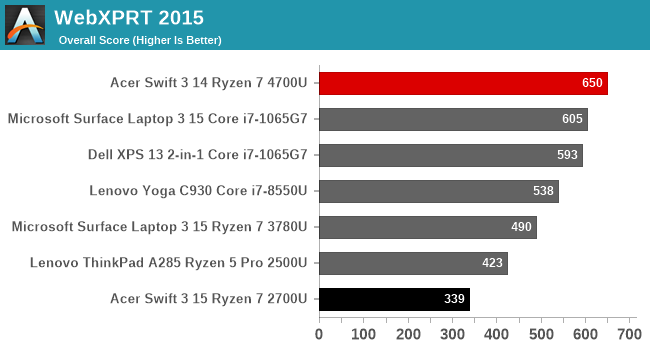 Web tests also tend to be more sensitive to the CPU being able to ramp up its frequency quickly, and that is an area where AMD's systems did not perform quite as well. Luckily for Renoir, those issues are behind AMD, and the Acer Swift 3 performs very well.
Storage
One of the best things about the Acer Swift 3 is how much storage it comes with considering its price point. The review unit offers 512 GB of SSD storage, and although you may expect slower, cheaper SATA storage here, that is not the case. The Acer Swift 3 ships with NVMe PCIe 3.0 x4 storage, and in the case of the review unit, that means a Samsung PM991 SSD inside.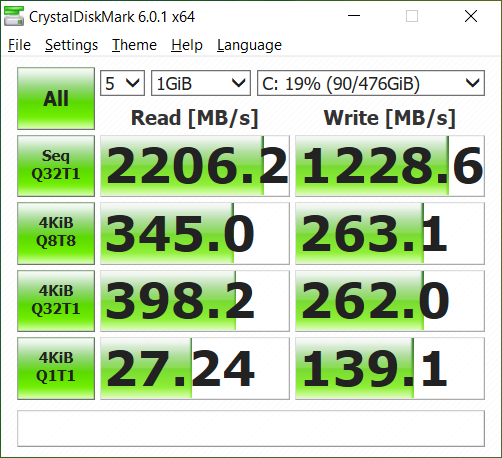 Performance is excellent. Despite this being a budget notebook, the storage options are very welcome. A base model offering 256 GB is a great start, but a proper NVMe SSD as well makes this laptop even more value.
System Performance Conclusion
Although AMD has really made inroads in the desktop space since the launch of Zen, in the laptop space where power is at a premium, what made the early Zen based APUs stand out was not the CPU but the GPU. Since then, Intel released Ice Lake, offering similar GPU performance but with much higher CPU performance. Now that AMD is on their third-generation of Zen-based laptop APUs, that performance lead has all but evaporated. In our SPEC results, Intel still has the single-threaded lead, but AMD more than makes up for that by offering eight CPU cores, compared to just four on Ice Lake. The Ryzen 7 4700U that Acer has fitted into this Swift 3 is likely to be one of the more popular options, and for good reason. Despite it not offering SMT, the performance is fantastic.