ASUS Zephyrus G14: Inside and Out
When we saw the Zephyrus G14 in January as part of the ASUS booth during the CES trade show, it was very clearly going to be one of the highlights of the event. This unit had several things going for it, including a special exclusive lower power 8-core processor from AMD, a small 14-inch form factor with a discrete graphics card inside, a high 120 Hz frame rate Pantone color calibrated display, and a super funky rear panel with 6536 machined holes and 1215 LEDs: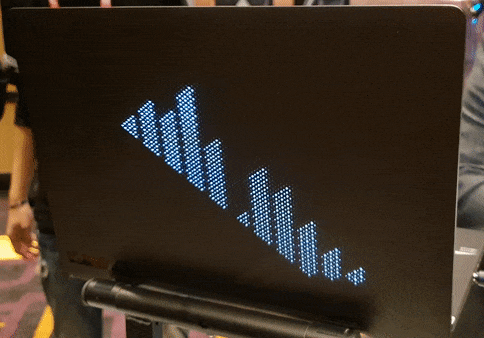 It was easy to get mesmerized by the LEDs. ASUS won a lot of show awards for it. We don't do show awards like that, but we take silly pictures with our name on it.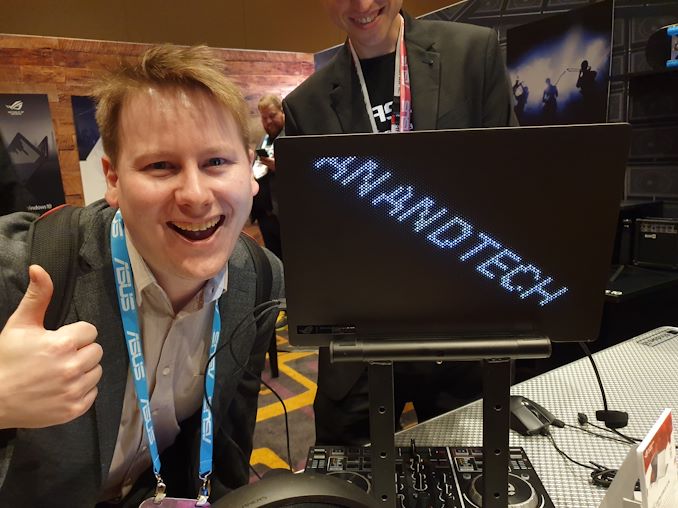 Note, the LEDs are an optional extra. It's called the 'Ani-Me Matrix' lid. Our sample didn't come with it, and as we understand the software is still in the early stages.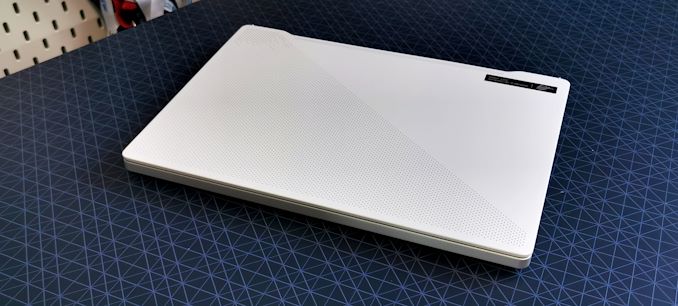 The ASUS Zephyrus G14 is somewhat of a hybrid between a standard 15-inch laptop workhorse and a 13-inch ultraportable, and I don't just mean that because it is a 14-inch design. The size of the device makes it look high end and portable, which instantly makes me think that it's going to be as light as one of my 15 W integrated graphics-only notebooks that I use for events, but it is thicker than average, coming in just under 20 mm in height. That brings about a certain amount of discontinuity (at least, to me) when my immediate feeling looking at the G14 is that I'm going to carry it around all day.

This is the most obvious way you know it's not an ultra-thin system, by way of that power cable connector. This device can take ASUS' own 180 W power brick (20 V at 9 A), with the circular connector, or it can be charged with a 65 W Type-C DC-In charger (20 V at 3.25 A). Obviously the 180 W charger is faster, however the Type-C charging is more universal, and easier to manage on the go when a user has other devices, like a smartphone, that can take the same connector.
On this left hand side of the device, we have that 180 W power connector, a HDMI 2.0b output, and a 3.5 mm audio jack, powered by the Realtek ALC289, which is a common 2.1 audio codec used in notebooks. The USB Type-C on this left side is the charging port, and is actually a USB 3.2 Gen 2 port with DisplayPort 1.4 capabilities as well as 65 W power delivery.

On the right hand side is another Type-C port (this one only does USB 3.2 Gen 2), two Type-A ports (USB 3.2 Gen 1), the vent, and a Kensington lock. Despite the size there is no physical Ethernet port here, with the unit actually using an Intel AX201 Wi-Fi 6 module over PCIe inside.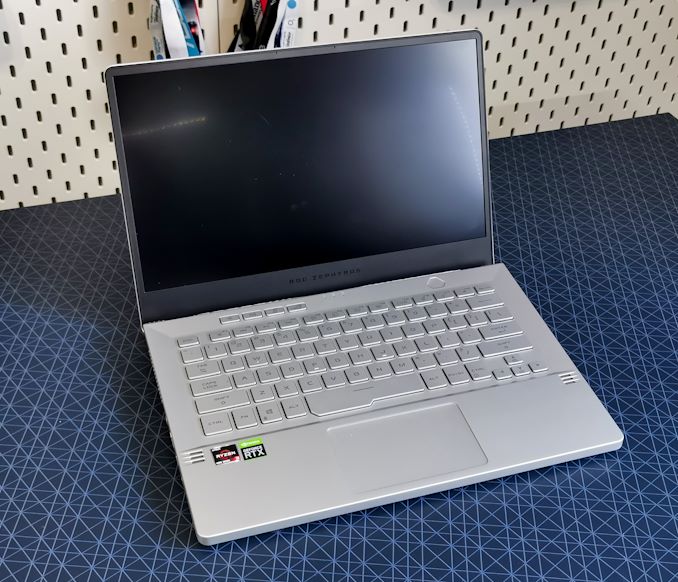 Here is the full frontal view of the system, and in our unit we have a 1080p 120 Hz display that is Pantone color calibrated. ASUS will offer a version with a 4K 120 Hz display, and we see some available for retail in the UK right now with a Ryzen 7 HS processor for around £1600. The astute observers may recognize that there is something missing from the G14 – there is no webcam!
Typically a webcam (even a 720p one) would be standard fare for a device like this, but ASUS has left it out. There is space in that bezel for one, but we believe this is because of the rear panel having those extra holes for LEDs, or that ASUS feels that a hybrid workstation/gaming laptop like this, which might be used for streaming, will be purchased by people with much better cameras. I have noticed online, with the recent increase in working from home, that some users are lamenting the hideously poor quality of laptop webcams compared to, say, the front facing camera on their smartphone – a 720p camera is only 0.9 megapixels, compared to a nice smartphone having anywhere from 8 megapixels to 20 megapixels with a lot of additional AI/bokeh/pixel binning features. In short, modern laptop cameras are in dire need of an upgrade. ASUS gets around this criticism by not having one.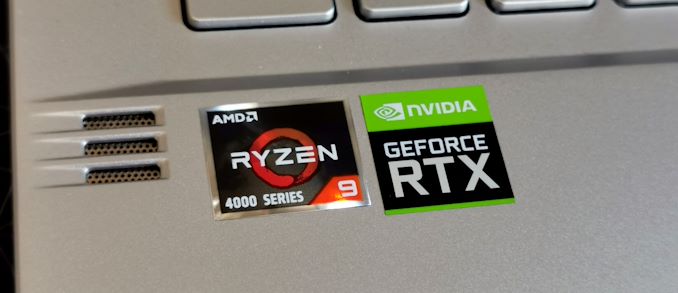 Here are the important stickers, showing Ryzen 9 and GeForce RTX. Inside this chassis, along with the Ryzen 9 4900HS, is the NVIDIA GeForce RTX 2060 with Max-Q design, which is a power limited version of the regular RTX 2060 (we'll see how much of a difference that makes later in the review). All we are missing here is a blue sticker showing the use of Intel AX201 Wi-Fi 6 and Intel 660p NVMe SSD. The speakers are to the left of the stickers, and there is another on the opposite side. I believe these ones on the top are tweeters, and there are another two speakers on the bottom that are woofers. The audio system is powered by Dolby Atmos to give a virtual 5.1.2 channel design.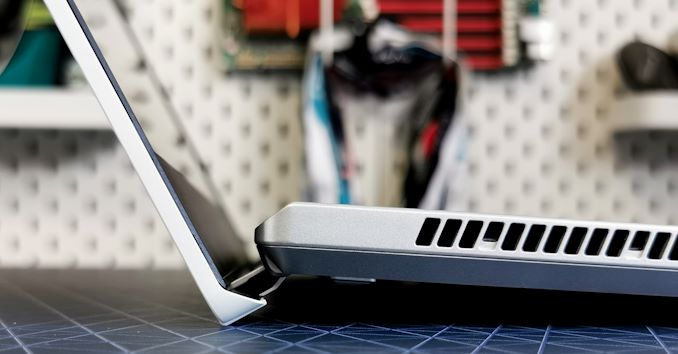 ASUS has equipped the Zephyrus G14 with a tilt-up hinge, such that the device rests on its rubber feet when closed, but will open up with the screen another few millimeters when the screen is open. This is designed to help airflow as the system has dual fans with the airflow coming in from the bottom, and out through the sides and rear.
Going back to the keyboard, there are a few things to highlight.

First are these buttons for audio, but on the right is an ROG button, which in Windows 10 will bring up the Armo(u)ry Crate software. ASUS bundles the installer for Armoury Crate in the BIOS, so if a user flashes the system with their own version of Windows 10, if the Armoury Crate option is enabled in the BIOS it will ask to install it. When Armoury Crate is running, users will be able to see a lot of the sensor data on the system, such as frequencies and fan speeds, but users can also set whether to run the system in one of ASUS' modes, or specify Windows control. Alternatively, users can press that F5+Fn button with the fan to also adjust the ASUS mode, which essentially adjusts the max temperature of the CPU and the fan aggressiveness. There are other options within Armory Crate to set profiles for specific games, or to hook up any Aura Sync enabled devices.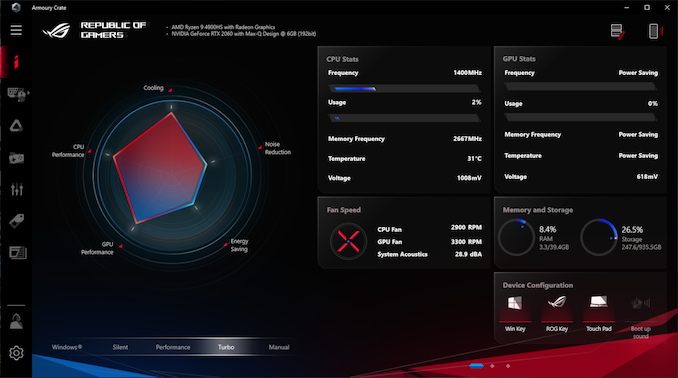 On the right hand side of the keyboard, we have the power button, which doubles up as a fingerprint sensor.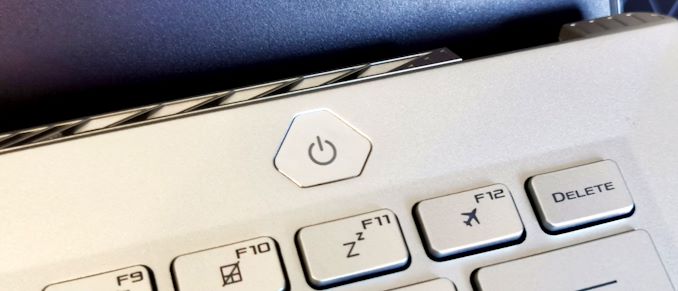 Personally, I prefer power buttons on laptops to be a different key to one on the keyboard, like this one, and definitely not on the sides of the device (I'm looking at you, HP). ASUS ticks both of those boxes, and the sensor under the hood is a Goodix sensor, which has had great success in many Huawei smartphones and notebooks which has always been quick and easy for me. This unit however has given me some issues. I'm not sure if it's because the key is oddly shaped, but I set up my fingerprint to unlock the system and it didn't recognize my print at all to begin with. I learned over the time of testing the device that it only registers when I put my fingerprint on the side, and even then it's only 70% - either I set it up wrong (which has never happened before), or there's something not quite right with the sensor. At this point I'll apply Hanlon's Razor for now.
(It should be noted that while Goodix is usually quite good with letting us know when they're in some new devices, they won't tell us what generation of their hardware is in each one, and from the firmware hooks we have access to, it's actually quite difficult. There's a genuine possibility that ASUS could be using an older Goodix sensor here, like a 1st/2nd Gen, compared to the 3rd/4th generation that we see in the latest Huawei devices.)
Two things left on the keyboard. First are the arrow keys, which are fully separate and equally sized, which all laptops should be. Secondly, I want to point to the space bar.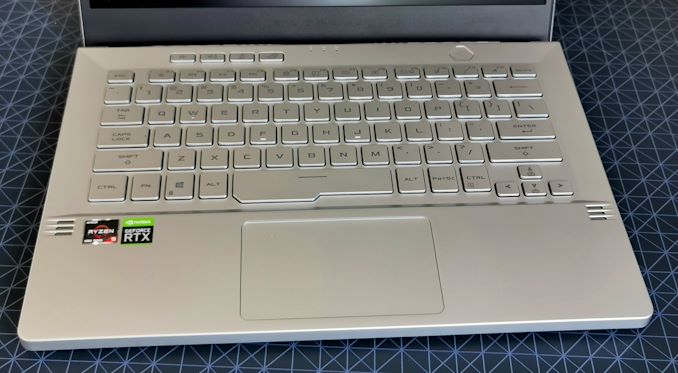 The immediate thing that struck me when opening our review sample is that the space bar is thicker on the left hand size. It isn't completely obvious why, and then it hit me – this is a gaming feature.
For most players, in most games that involve movement, the standard movement keys are W A S D. The standard hand formation here is to have the left hand on these keys – the middle finger on W (which moves down to S when needed), the ring finger on A, and the first finger on D which can also reach to R and F. The little finger then rests on shift or control depending on the game. Where does the thumb rest? On the space bar!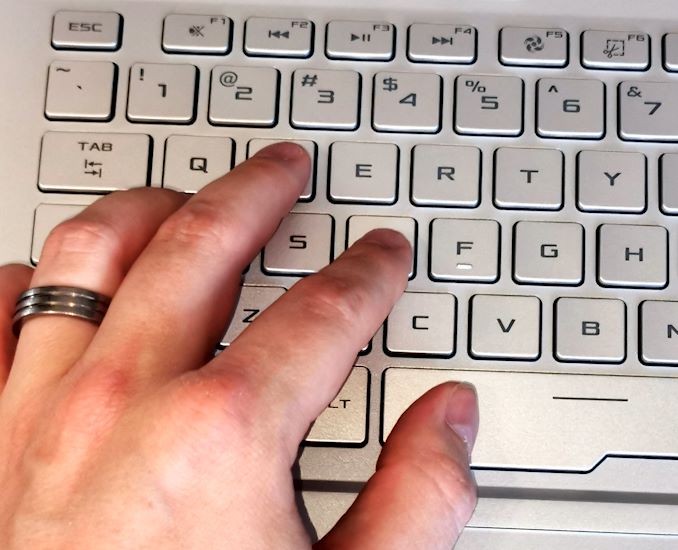 ASUS has increased the dimensions on the first half of the space bar so a user can rest their whole thumb on it. I normally have hand positioning as the photo, with the side of my thumb on the spare bar, and now with this formation I have more freedom to accurately press the button. I would like to know the way that ASUS came to this idea, either through polling its users, questioning gamers, or from some smart engineer inside the company. If it's the latter, that person deserves a bonus. It's a simple addition that seems so obvious in retrospect.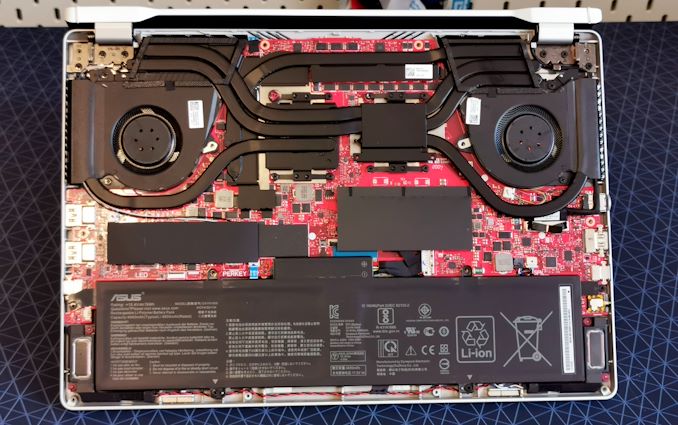 For the internals, we have a bright red PCB. The CPU and GPU are right in the middle, both with heatsinks and heatpipes that go to both of the fans concurrently as they pass through each other. Each fan is given a designation by what it is next to, and note because the size of the device is fairly small, this unit can get quite warm under load, even with the fans set to 100%.
Under the two black flaps are the storage and the memory. The SSD comes with its own heatsink to help with dissipation, and the memory is a single 8 GB DDR4-3200 SO-DIMM in this configuration.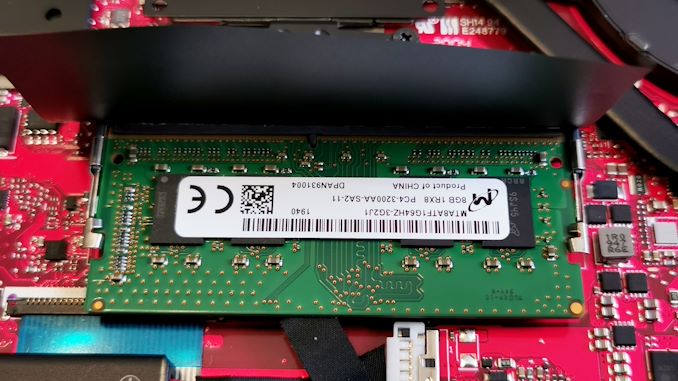 This laptop variation carries a 16 GB total memory, and so we have a situation where 8 GB of the memory is soldered, and the other 8 GB of memory comes from a module. We sourced a 16 GB module of DDR4-3000, and a 32 GB module of DDR4-2666. Both of these modules do work in the system, giving a total of 24 GB and 40 GB respectively, however the whole memory will downclock to DDR4-2666 in both instances. In order to maintain the higher DDR-3200, users will need to acquire modules that offer DDR4-3200 as the base JEDEC SPD of the module. Even then, placing modules of different capacities can have knock on effects with performance and errors, so running them at a slower speed might help with that. We have a page on testing these two memory frequencies later in the review.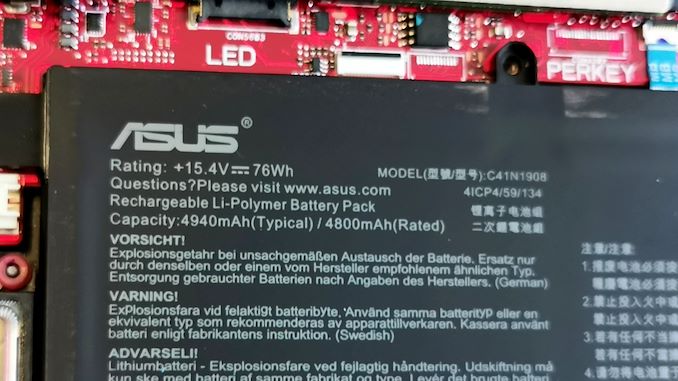 The battery in the laptop is 76 Wh, which is a nice high-capacity battery for this device. Compared to some of the other laptops I have tested, this battery actually has a smaller x-y dimension than I anticipated – it makes up for it by actually being relatively thick. The battery is where most of the weight of the unit is, counterbalanced by those dual heatsink and fans at the top. In total, the laptop is supposed to weigh 1.6 kg (~3.5 lb), or 1.7 kg if the user gets a model with the LED display on the top.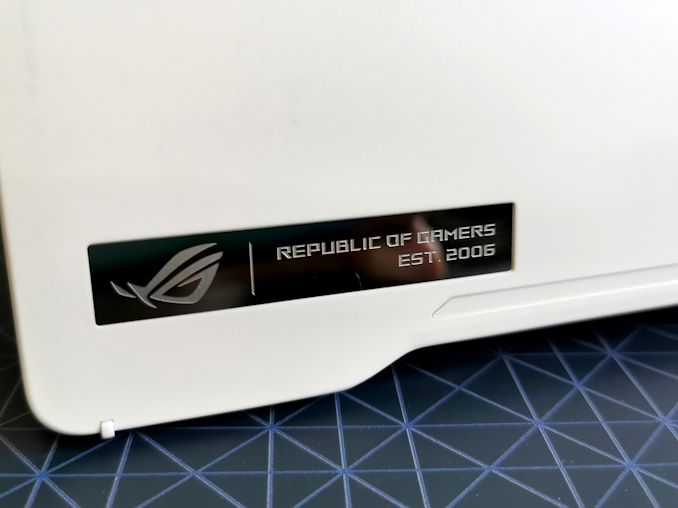 At the top of the page, I stated it was easy to get mesmerized by this system, especially with the AniMe Matrix LEDs. The sample we were given had the machined holes, but not the LEDs. However this white color scheme is a nice differentiating feature to all the brushed metal or black systems on the market.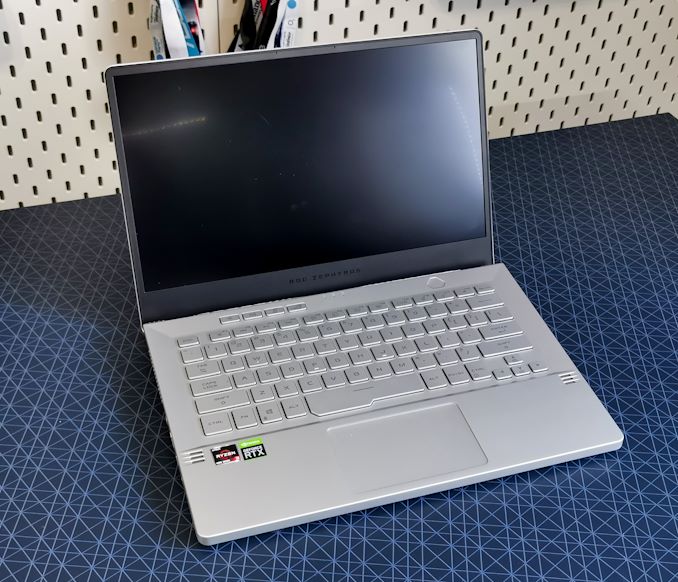 On looks and hardware features, this device feels small and stocky, but not bulky, if that makes sense. When traveling, you can definitely tell the difference between carting around a 13-inch device against a 15-inch device, not only because of the weight but also how it fits in a bag. Even though I've been stuck at home for the last few weeks, I put it in my bag and it feels like a 13-inch when it fits in there, but certainly a bit heavier than a 13-inch (G14 is 1.6 kg / 3.5 lbs) because has a discrete GPU, but not as heavy as a good 15-inch device (Razer Blade 15 is 2.1 kg / 4.63 lbs). It's a device with the power of a 15-inch, the bulk of a 13-inch, and the weight of something in the middle.
The question is whether it can offer the same performance as a 15-inch device. This is ultimately to what end ASUS and AMD are marketing this device.