About 6 months ago, we reported that ATI would be introducing
their first chipset for AMD Athlon 64
. Between that first report and today's introduction of the ATI RX480 chipset, a lot has happened. In round 2 of the A64 chipset wars, the industry moved from the single-channel memory Socket 754 to the dual-channel Socket 939. VIA morphed their successful K8T800 chipset into the K8T800 PRO by adding 1000 Hyper Transport and a PCI/AGP lock. nVidia performed a more massive transformation of their nForce3 chipset, moving from the pedestrian nForce3-150 to the leading-edge nForce3-250 family in May. Clearly, the stakes for a new player in the Athlon 64 chipset market went up as Athlon 64 chipsets evolved.
Fast forward just five months and round 3 begins. nVidia and VIA both introduce PCI Express graphics into the Athlon 64 equation. However, the pioneer for discrete PCI Express graphics has been ATI, so it should come as no surprise that ATI is choosing round 3 to launch their first chipset for the AMD Athlon 64 - the RX480 discrete graphics chipset and the sister RS480 with integrated graphics.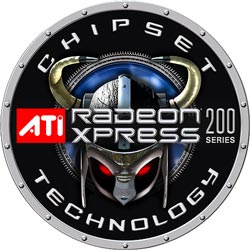 In the larger marketplace, ATI has timed this introduction perfectly. Athlon 64 is now the undisputed performance king among processors, and the retail market share has been growing rapidly for the Athlon 64 processors. Looking ahead, the next year is likely to continue to be a great climate for Athlon 64 processors as Intel regroups for their next CPU introductions. AMD is in the process of successfully moving production to 90nm, which will likely allow even further extension of their performance lead. AMD also seems to have avoided the power and heat problems that have plagued Intel's move of the Pentium 4 to 90nm. Microsoft should finally launch the long-awaited 64-bit version of Windows, which will make Athlon 64 ever more attractive.
All of these market developments are good news for the ATI introduction of their first Athlon 64 chipset -
if
the RX480 can compete effectively with nForce4 and the "as yet unseen" retail K8T890. If the RX480 is competitive or even better than competitive, the introduction of RX480 could be the most significant event of round 3.