The Radeon Xpress Family
The RX480/RS480 is the first ATI chipset for AMD. It is also the first ATI chipset available as a discrete chipset. Previous ATI chipsets have concentrated on integrated graphics for the Intel platform.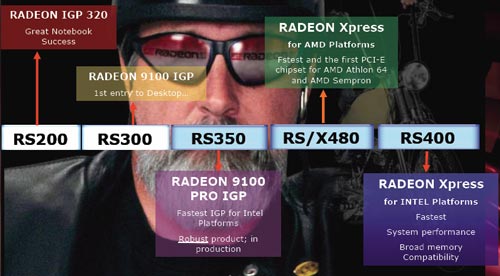 While the previous ATI chipsets brought interesting integrated graphics to the Intel platform, the performance never really threatened Intel's domination of the Pentium 4 chipset market. Without truly competitive performance as a chipset, there was no real reason for a discrete ATI chipset solution for Intel, although each generation of the ATI chipset for Intel brought more competitive performance. ATI firmly believes that RX480 for Athlon 64 has broken through the performance barrier, bringing competitive or better performance to Athlon 64.
To understand the current ATI lineup better, you need to take a closer look at how they will be branded and sold.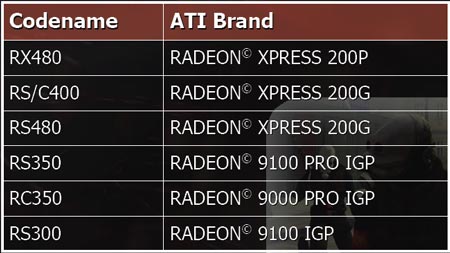 Radeon Xpress is ATI's name for the new PCI Express chipsets. The 480 series is aimed at AMD Athlon 64 and the future 400 series will bring ATI PCI Express to Intel. The current introduction is the A64 chipsets, with the chipsets for Intel targeted for the beginning of 2005. ATI believes clearly that there is a better market for AMD A64 solutions right now, which is why they have concentrated on the chipsets for AMD.

RX480 and RS480 are identical except for integrated graphics. RX480, called Radeon Xpress 200P, is the discrete Athlon 64 solution for PCI Express graphics cards. RS480, marketed as Radeon Xpress 200G, adds integrated DX 9 graphics to the 480 core. Both RX480 and RS480 are currently combined with the SB400 Southbridge.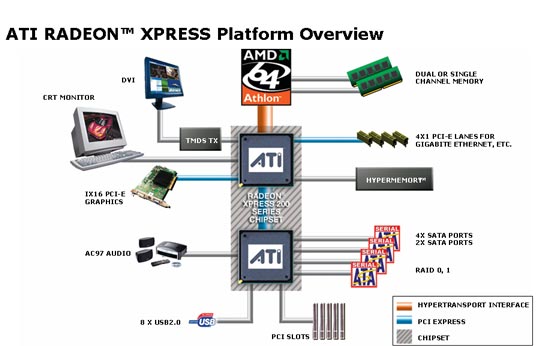 The RX480/RS480 Northbridge supports dual or single channel DDR memory, PCI Express x16 for graphics, and up to 4 PCIe x1 slots. It is interesting that communication between North and South bridges (RX480/SB400) is handled by 2 additional lanes of PCI Express. This bring the total PCI Express lanes to 22. Communication with the CPU is available over a 1GHz (1000MHz) Hyper Transport. RS480 adds integrated DX9 graphics with both VGA and DVI outputs.
The current SB400 south bridge supports 8 USB 2.0 ports, 4 SATA 150 drives, 4 ATA-133 drives, PCI 8-channel AC '97 audio, and up to 5 PCI slots. SATA drives can be combined in RAID 0 and 1 configurations, but RAID 0+1 is not currently supported. The 2-chip design allows ATI to upgrade features just by using a new Southbridge. For instance, an SB450 Southbridge supporting High Definition audio appears on the ATI roadmaps. The SB450 should be available in early 2005.

Optional Integrated Graphics
- Radeon Express 200G adds ATI's first DirectX 9 integrated graphics, which can be supported by both DVI (digital) and VGA (analog) outputs. The graphics core is a modified version of the discrete Radeon X300 core with only two rendering pipelines instead of four. Since the logic core is identical on RX480 and RS480, PCIe x16 support is also available. Graphics outputs from both internal and external graphics can be combined in ATI SurroundView.
LAN
- The Radeon Express 200 series does not provide integrated LAN in the chipset. ATI claims that integrated Gigabit LAN offers no performance or cost advantage compared to Gigabit LAN supported by the PCI Express bus. PCI Express Gigabit LAN can deliver bi-directional 500MB/s total bandwidth per device. Gigabit or 10/100 Ethernet can be supported by the Northbridge PCI Express bus or the Southbridge PCI bus. This should allow manufacturers the option to implement LAN for top performance or for lowest cost.
SLI
- ATI claims that this PCI Express 20-lane design is capable of supporting dual PCIe x8 slots for combining 2 graphics cards in an SLI configuration. Plans are already in place at ATI for an SLI version of RX480 to be introduced in early 2005.