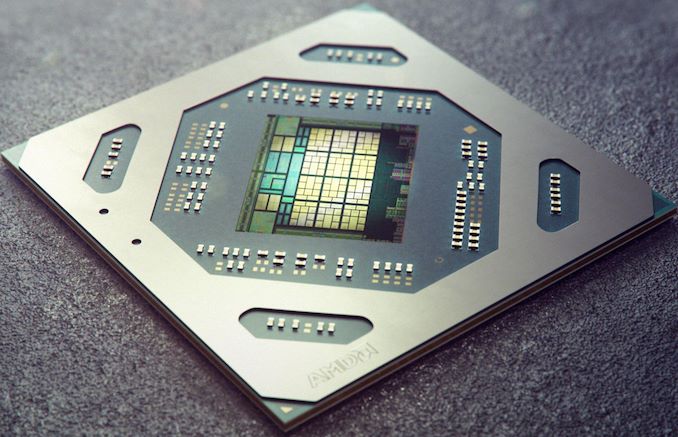 Over the second-half of this year, AMD has been gearing up to cascade their latest Radeon graphics architecture to successively cheaper and more mainstream products. Last month we saw the announcement of the mid-tier Radeon RX 5500 and RX 5500M series for desktop and mobile respectively. And now this morning the company is adding a third tier of Radeon mobile discrete graphics to their lineup, with the addition of the Radeon RX 5300M series.
Revealed alongside today's 16-inch MacBook Pro announcement – with Apple once again getting their own exclusive Radeon Pro SKUs – the 5300M represents the further proliferation of AMD's Radeon RDNA architecture. Based on AMD's Navi 14 GPU, AMD is tapping their (currently) smallest Navi chip to offer a lower performing and presumably lower priced graphics adapter for laptop use.
AMD Radeon RX Series Mobile Specification Comparison
AMD Radeon RX 5300M
AMD Radeon RX 5500M
AMD Radeon Vega Pro 20
AMD Radeon RX 560X
CUs
22
22
20
14/16
Texture Units
88
88
80
64
ROPs
32
32
32
16
Game Clock
1181MHz
1448MHz
N/A
N/A
Boost Clock
1445MHz
1645MHz
1300MHz
1275MHz
Throughput (FP32)
4.1 TFLOPs
4.6 TFLOPs
3.3 TFLOPs
2.6 TFLOPs
Memory Clock
14 Gbps GDDR6
14 Gbps GDDR6
1.5 Gbps HBM2
7 Gbps GDDR5
Memory Bus Width
96-bit
128-bit
1024-bit
128-bit
Max VRAM
3GB
4GB
4GB
4GB
Typical Board Power
?
85W
?
?
Architecture
RDNA (1)
RDNA (1)
Vega
(GCN 5)
GCN 4
GPU
Navi 14
Navi 14
Vega 12
Polaris 11
Launch Date
Q4 2019
Q4 2019
10/2018
04/2018
At a high level, the 5300M is a further cut down version of Navi 14. AMD has held the number of CUs constant at 22 (which was already a cut-down amount from a full chip), and instead they've cut the memory bus instead. By disabling one of the 4 memory partitions, the resulting chip ends up with a 96-bit GDDR6 memory bus, and a proportional drop in memory bandwidth. The end result is that the 5300M gets a maximum of 168GB/sec of memory bandwidth, down from 224GB/sec in 5500M. This also limits the card to 3GB of VRAM, further differentiating the 5300M from the 5500M, and lowering the total bill of materials costs for OEMs.
Otherwise, while the processing core of the GPU hasn't been cut back further in terms of hardware, the 5300M does ship with noticeably lower clocks. The game clock for the new adapter is just 1181MHz, 267Mhz lower than on the 5500M. The net result is that, on paper, shading, texturing, compute, and ROP performance should all be around 82% of 5500M's performance, not counting the hit from the reduced memory bandwidth.
Meanwhile, AMD unfortunately isn't disclosing TDPs for the new mobile part. So it's not clear how much lower (if at all) the power consumption of the 5300M is. The drop in clockspeeds as well as the narrower memory bus should help to reduce power consumption, however there's a wildcard in how much AMD needs to bin for power for their mobile parts.
At any rate, like the Radeon RX 5500M series, the Radeon RX 5300M is officially launching this quarter. With Apple seemingly having first dibs on the Navi 14 silicon, expect to see it show up in other laptops soon.
Source: AMD