Doom3 Low Resolution
Below, you can see how our cards performed under lower resolution on both Windows and Linux. Texture Sharpening was disabled in all tests. Obviously, since we could not run these tests at 16X AF on Linux for all cards, we had to turn the settings down to 8X AF on Windows. (We talk more about the 16X issue in the IQ section of this analysis.) Both platforms are using 4X 9-Tap Gaussian AntiAliasing. All tests were taken with default settings in game (other than resolution).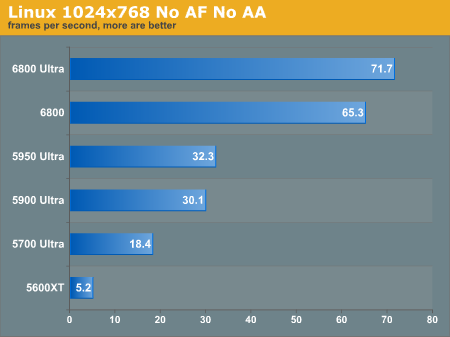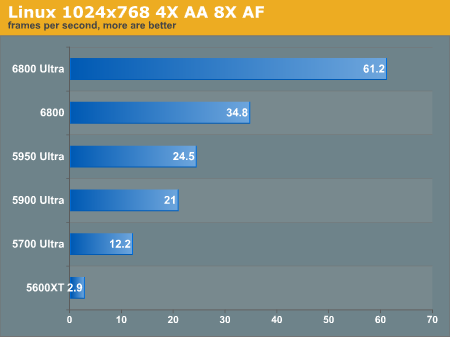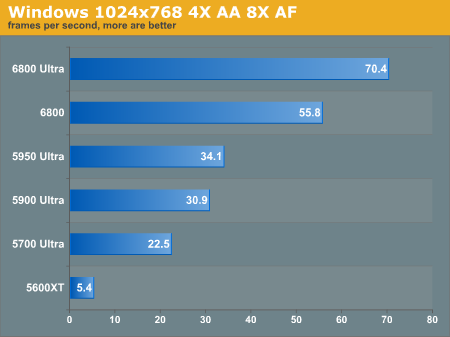 Notes From the Lab
Feel free to check
here
how our Linux testing fared on Windows from the Doom3 launch. Derek uses a slightly faster machine with slightly different testing parameters, but it should give you a general idea of where our results scale on Windows.
Unfortunately, it's fairly ridiculous to think that you will run the game with any of these settings on a 5600XT.
At this point, we are looking at ulterior meanings to Timothee's statement. Performance ranges anywhere from 25% to 15% worse on the Linux platform fairly consistently. Performance looks OK, but we certainly can't expect our Linux platform to outperform Windows in this portion of the analysis.