NVIDIA Updates Low-Latency Mode, Adds Reshade Filter Support & Image Sharpening Becomes a Driver Feature
While not a feature specifically limited to or being introduced particularly introduced for the GeForce GTX 1660 Super series, with their driver shipping out today (441.07), NVIDIA is also releasing some new driver features for all of their recent cards, which should be of interest to gamers interested in controlling latency as well as those interested in post-process filtering.
First off, NVIDIA is updating their ultra-low latency mode to better support G-Sync. This feature was first introduced into the NVIDIA driver stack earlier this year, and at the time it wasn't designed to take into account variable refresh displays. Specifically, it left G-Sync users stock between taking tearing with V-sync off, or taking higher latencies with V-sync on. So, starting with NVIDIA's newest drivers, it can be better combined with G-Sync, allowing the variable refresh aspects of G-Sync to be used in low latency mode to still keep latency to a minimum, all the while v-sync is kept on to avoid tearing.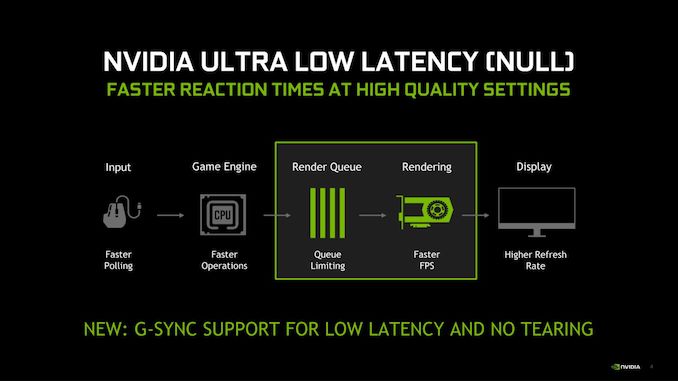 The numbers being distributed by NVIDIA show that the latency with G-Sync + ULL + V-Sync on are comparable to that of V-sync off without G-Sync or ULL turned on, so this essentially allows variable refresh and v-sync to be turned on with no latency penalty, or cutting it down significantly from where it was before.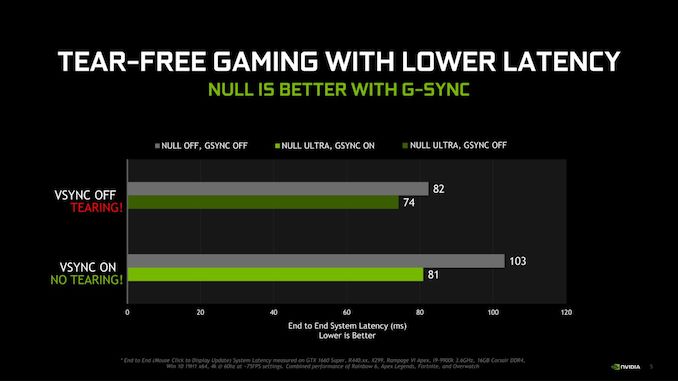 Meanwhile, NVIDIA is also making a couple of image post-processing filter-related changes for their new drivers. Their image sharpening post-process filter, which was introduced a few months ago as part of the Freestyle filter system, has now been promoted to a driver feature. This means that the image sharpening filter no longer requires Freestyle/GeForce experience to use, and, according to NVIDIA, it now works with all DirectX 9, 11, and 12 games, with plans to add OpenGL and Vulkan support soon.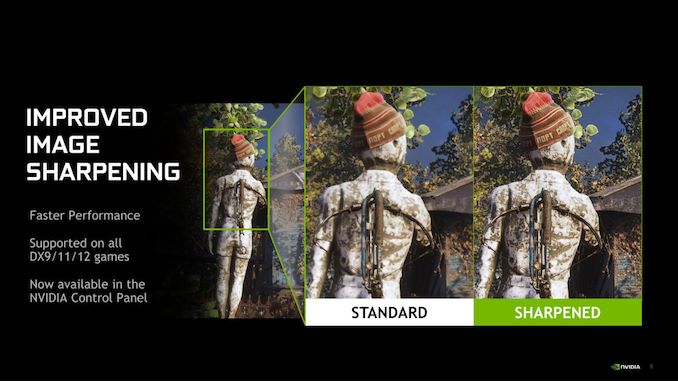 Overall, the control panel-based version of the filter is very similar to the freestyle version of the filter, with adjustments for how strong the sharpening effect is. New to the driver version is the option to allow GPU-upscaling – with the driver upscaling any sub-native resolution to the display's native resolution – with NVIDIA stating that Turing GPUs will also get a 5-tap filter on top of the usual bilinear upscaling. NVIDIA reports that this new version is also faster than the Freestyle version, though they haven't listed any specific numbers.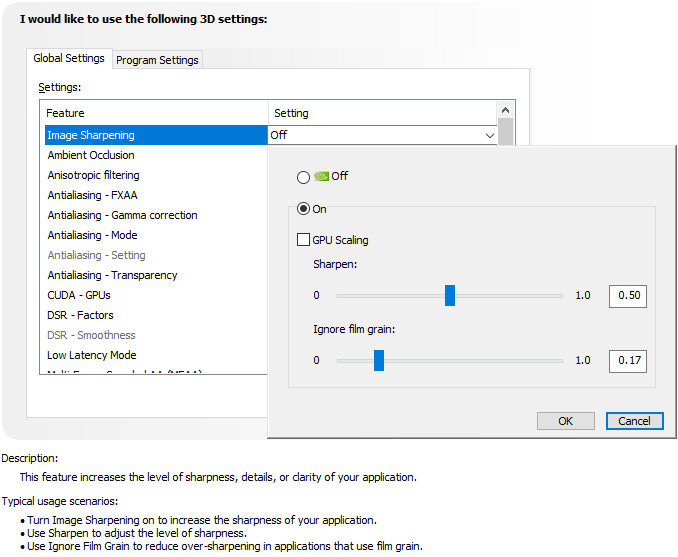 Finally, for even more post-processing options with Freestyle (and Ansel), NVIDIA is adding support for 3rd party ReShade filters. Originally developed as an injector system for adding post-process filters to games – essentially another form of graphics modding – ReShade has been around for several years now. With similar goals as NVIDIA's own Freestyle system, the company has decided to build in support for ReShader filters to Freestyle, allowing users to enable the filters at a driver level rather than injecting them into running games.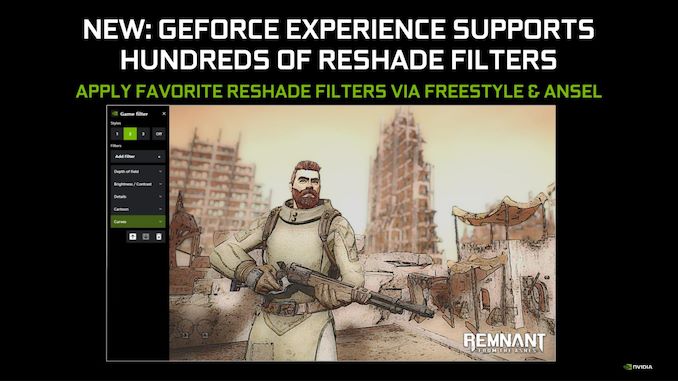 It should be noted, however, that while the basics of ReShade are easy to grasp, the fine print on conditional support is rather extensive. In short, NVIDIA is limiting support for ReShade filters on certain "competitive" games, presumably for cheating/fairness reasons. In the case of those games, only certain official ReShade filters (~30 in all) can be used, and custom filters cannot be used at all. Otherwise, all official and custom filters can be used in non-competitive games.
The Test
As is usually the case for launches without reference hardware, we've had to dial down our EVGA card slightly to meet NVIDIA's reference specifications. So, along with testing it in its as-shipped configuration, it has also been tested with the GPU underclocked by 45MHz, bringing the clockspeeds in line with the reference specs. It's these values we're using for our generic GTX 1660 Super results as well as overall performance commentary.
Meanwhile on the driver front, we're using the latest drivers from both NVIDIA and AMD for their cards. For NVIDIA cards, this is 441.07, and for AMD cards it's AMD's Radeon Software 19.10.2.
CPU:
Intel Core i9-9900K @ 5.0GHz
Motherboard:
ASRock Z390 Taichi
Power Supply:
Corsair AX1200i
Hard Disk:
Phison E12 PCIe NVMe SSD (960GB)
Memory:
G.Skill Trident Z RGB DDR4-3600 2 x 16GB (17-18-18-38)
Case:
NZXT Phantom 630 Windowed Edition
Monitor:
Asus PQ321
Video Cards:
AMD Radeon RX 5700
AMD Radeon RX 590
AMD Radeon RX 580
AMD Radeon R9 380
NVIDIA GeForce RTX 2060 Founders Edition
NVIDIA GeForce GTX 1660 Ti
EVGA GeForce GTX 1660 Super SC Ultra
NVIDIA GeForce GTX 1660
NVIDIA GeForce GTX 1060 6GB Founders Edition
NVIDIA GeForce GTX 1060 3GB
NVIDIA GeForce GTX 960
Video Drivers:
NVIDIA Release 441.07
AMD Radeon Software Adrenalin 2019 Edition 19.10.2
OS:
Windows 10 Pro (1903)