Introduction
Until now, we haven't had the pleasure of playing with a midrange part based on current generation technology. At present, those who have wanted good performance at lower prices have gone with older cards that have fallen in price. This is all well and good, but consumers lose out on all the new and improved features of the latest architectures when buying high end cards of a previous generation over the midrange cards built with current technology. This is especially pertinent in light of NVIDIA's Shader Model 3.0 support. Generally, anything that can be done in SM3.0 can be done in SM2.0, but the advantage is code complexity and (sometimes) performance improvements. We've already seen examples of this in our
SM3.0 analysis under FarCry
.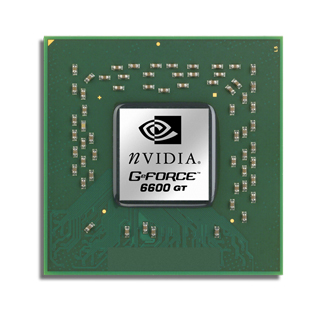 The NV43 GPU behind the 6600 GT
Also with the new 6600 line of cards, NVIDIA is bringing out their first native PCIe line of GPUs. These should quickly be bridged back to AGP (we are told), and the sooner we see the AGP version the better. Even if PCI Express platform market share were better right now, the niche the 6600 series of cards proposes to fill is one that could appeal to everyone who uses a computer. The keys behind the 6600 series (aside from feature set) are performance and price point. All of the aspects of the 6600 series fall in line to offer a card that promises amazing value.
But we don't care about promises here. We will take a handful of the latest and greatest games across the spectrum (with a heavy focus on PS2.0), and we'll see how well the newest member of the NVIDIA family performs. As far as competition goes, we'll stack it up against current and previous generation ATI and NVIDIA cards and we'll include ATI's current midrange PCIe card, the X600XT. This isn't supposed to be a direct comparison, as the X600 is still based on previous generations ATI technology. We will make a bigger deal of the ATI/NVIDIA comparison when we have a midrange R4xx desktop part in our hands.