High-Tech Mid-Range
The 6600 series of GPUs (NV43) are based on the NV40 core architecture. The entire feature set from the 6800 line is carried over with only a few exceptions. First, the memory bandwidth of the card is cut from 256 down to 128. This should have a fairly large impact on AA/AF performance and other very graphics memory intensive operations. The second adjustment NVIDIA includes in NV43 is a reduction in the maximum number of supported pixel pipelines. 6600 series cards have 8 pixel pipelines. This is half the max of the NV40 core.
Of course, we can also look at NV43 as the same number of pipelines as a 9800XT, and twice the pipelines in a 5950 Ultra. This, and the 500 core and 500 memory clock speeds, make the 6600 GT a very formidable contender on paper. For anyone interested, AnandTech has recently published an
article detailing the theoretical maximums
(among other things) of just about every ATI and NVIDIA card since Radeon and GeForce were first introduced. Higher theoretical fill rates and processing power are always nice things to see, but can the card deliver?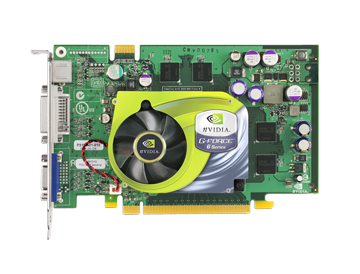 The 6600 GT also features one of the most exciting aspects of the NV4x series of GPUs: SLI. We've covered
NVIDIA's take on SLI
before, and we are happy to see it making its way down the line of NV GPUs. Obviously, one would not get the same power from 2x $200 cards than from 2x $500 cards, but dropping the price on an SLI capable card is really opening the door to those who would like to see some sort of upgradeability maintained in today's ever changing scene.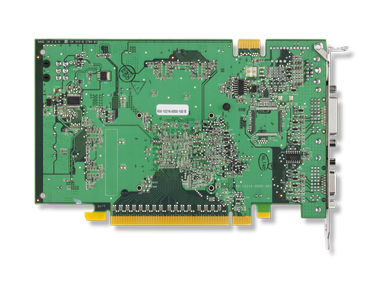 We haven't yet gotten our hands on a regular 6600, but traditionally, the $200 parts have been the sweet spot for price/performance ratios. That's not to say that the 6600 won't be a good deal, but NVIDIA will have to be careful to push clock speeds that don't offer a (much?) lower value. We would have dropped the clock on our 6600 GT to match 6600 speeds, but they use different memory types. We'll have to wait until we can get our hands on one of those to see some performance numbers.
It is worth mentioning that neither the 6600 nor the 6600 GT require an external power source. That isn't to say that they are less power hungry than an AGP card that requires external power, but that the PCI Express slot supplies enough voltage to the card that it doesn't need any more juice. PCI Express is designed to be more robust in that area than AGP.
There's not much else to say other than to reiterate that the 6600 series sport the same feature set (barring the exceptions mentioned) as the
original NV40 GPUs
. So, without further ado, we present the benchmarks.