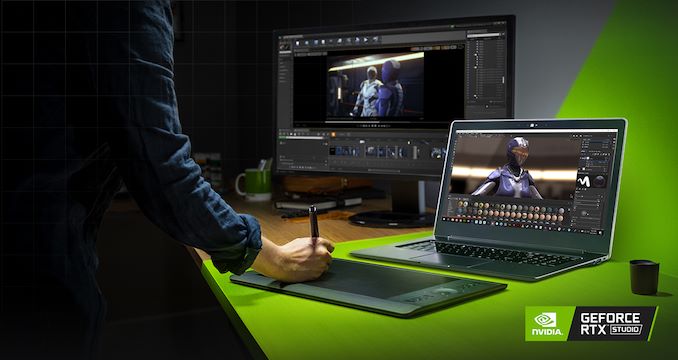 As part of their Computex press briefing this afternoon, NVIDIA is taking the wraps off of a new laptop branding program, which they are calling NVIDIA Studio. Under the program, laptops that meet NVIDIA's minimum specifications – which include a high-end CPU and, of course, a high-end ray tracing-capable NVIDIA GPU – will be able to participate in the NVIDIA Studio program and carry the RTX Studio badge. The Studio branding program is aimed at content creators, with NVIDIA and its partners looking to simplify the process of promoting and marketing high-performance laptops that are a good fit for content creation tasks by giving them a distinct brand.
Under the terms of the NVIDIA Studio program, participating laptops will have to meet a list of minimum system requirements. It should be noted that this program is not automatic – that is, not every laptop that meets these specifications is automatically a Studio RTX laptop – but rather this is an opt-in program for laptop vendors.
NVIDIA Studio Branding Minimum Specifications
Component
Min Spec
CPU
Intel Core i7 (45W H-Series)
GPU
NVIDIA GeForce RTX 2060 or
NVIDIA Quadro RTX 3000
RAM
16 GB
Display
1080p or 4K
100% sRGB, 300 nits, DeltaE <2
Storage
512 GB SSD
Other
Max-Q Design
In short, the minimum specifications look a lot like a modern high-end laptop such as a Dell XPS 15 or Razer Blade. The CPU needs to be at least a 45W Intel Core i7 CPU – lower TDP i7s would have notably fewer cores and lower performance – while on the GPU side the system must include an NVIDIA GPU that's capable of hardware accelerated ray tracing. This means at least a GeForce GTX 2060, or one of NVIDIA's new mobile Quadro RTX 3000 parts. The rest of the package is relatively straightforward, with lots of RAM, an SSD that's at least decently sized, etc. And, while not explicitly noted in the specifications, the hardware requirements all but ensure that these are at least 15-inch laptops, with some 17-inch laptops also receiving RTX Studio branding.
Laptops that meet these specifications and are submitted to NVIDIA to participate in the program will, in turn, get to carry the RTX Studio branding. Note that because the Studio program includes both GeForce and Quadro parts, the branding will too. There are both Quadro RTX Studio and GeForce RTX Studio badges to match the underlying GPU. And all of the usual feature differences between the Quadro and GeForce families remain.
All told, NVIDIA is kicking off this branding program with 17 laptops. All of the usual suspects will be participating in the program, including Acer, ASUS, Dell, GIGABYTE, HP, MSI and Razer. NVIDIA isn't setting a minimum price here, but their press release does note that these laptops start at $1,599, and, depending on the configuration, can go much (much) higher.
As an aside, I do get the impression that NVIDIA and its partners are gunning for the 15-inch MacBook Pro here. In NVIDIA's presentation and their press release, they are consistently comparing RTX Studio laptops to Apple's famous high-end laptop, which has long been a mainstay of the professional community – and famously only uses AMD GPUs. With Apple struggling in this space due to factors such as keyboard issues and a general dissatisfaction with Apple pro software development, it may be that NVIDIA and its partners smell blood in the water.
With Intel's recent CPU launch, and NVIDIA launching their new Quadro RTX GPUs today, the first RTX Studio laptops are expected in June.
SDKs and Creator Ready Drivers Aligned Under Studio Brand
Along with the RTX Studio laptop branding initiative, NVIDIA is also making some changes to how their SDKs and drivers are named to align them with the new NVIDIA Studio brand.
According to NVIDIA, a portion of their SDKs and libraries will be moved under the Studio umbrella, similar to how NVIDIA has moved some of its machine learning SDKs under the CUDA-X umbrella. We don't have a list at this time, but it looks like these are going to be content creation-related rendering and display SDKs.
Meanwhile the NVIDIA Creator Ready driver program, which was just launched a couple of months ago, is also getting rolled into the new Studio program. They will now be called Studio Ready drivers. The nature of the driver program hasn't changed – these are more heavily tested drivers whose release cadence is aligned with major creative application releases – however their branding has. So as before, the goal here for NVIDIA is to offer users a series of drivers that are better tested under content creation applications, and to not release them nearly as frequently as the company's gaming-focused Game Ready drivers; according to NVIDIA, Studio Ready drivers will always have a matching Quadro driver release. This also means the supported GPUs remain unchanged, covering all NVIDIA GeForce GTX/RTX, Quadro (RTX), and Titan cards starting with the Pascal architecture.
Want to keep up to date with all of our Computex 2019 Coverage?

Laptops

Hardware

Chips
Follow AnandTech's breaking news here!
Source: NVIDIA