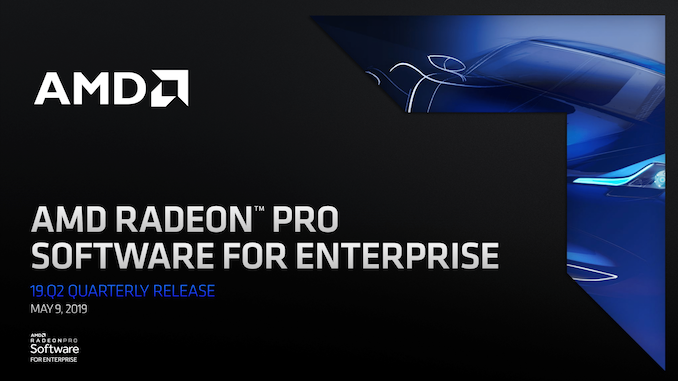 AMD this week has released their Radeon Pro Software for Enterprise 19.Q2 WHQL, bringing support for the Windows 10 May 2019 Update due later this month, as well as Windows Server 2019. More notably, the software package brings even more prosumer versatility, as Radeon Pro cards are now able to access Radeon Software Adrenalin 2019 Edition and its day-0 game optimizations.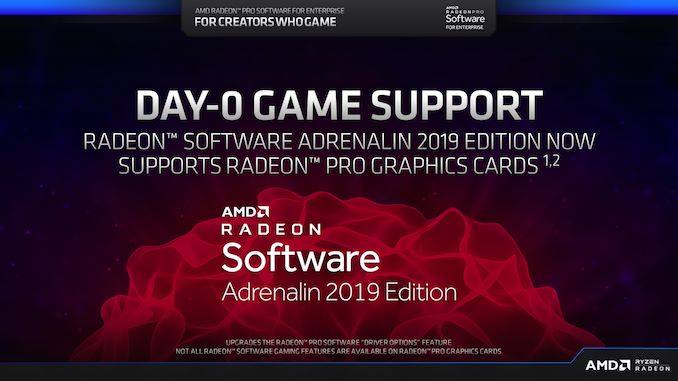 Where the previous 19.Q1 release announced limited Radeon Pro Software compatibility for certain Radeon consumer cards, today's 19.Q2 returns the favor, with Radeon Software Adrenalin 2019 Edition now supporting Radeon Pro cards. This feature supplants the existing "Driver Options" feature, and the optimal use-case of both playing and developing games goes hand-in-hand with AMD's prosumer-oriented Radeon VII. Though to note, Radeon Pro cards running on Radeon Software Adrenalin 2019 Edition will have limited-to-no access to consumer gaming features, with Enhanced Sync, WattMan, Chill, Overlay and performance monitoring among the inaccessible features. Instead, the software will still keep the Pro UI and support for workstation features, but naturally the driver will not have the ever-important professional ISV certifications.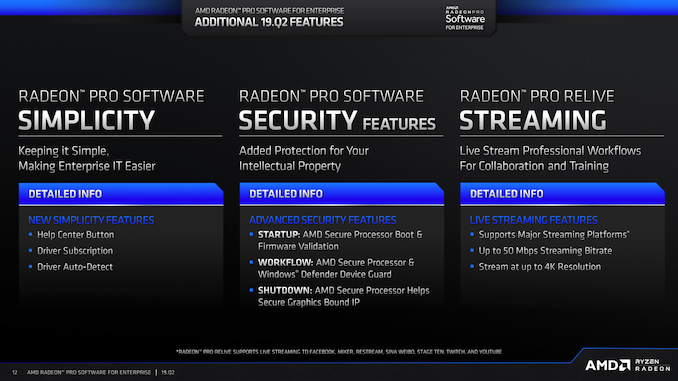 Elsewhere, Radeon Pro ReLive now has streaming support, while the interface has some ease-of-use additions: a Help Center button linking to the Radeon Pro Software Help Center, and Driver Subscription for news. Coming soon is Driver Auto-Detect to automatically downloads and install the latest updates. More on enterprise matters, their Day Zero Certification Program has continued for professional ISV software, now with over 750 application certifications since the initiative started in November 2018.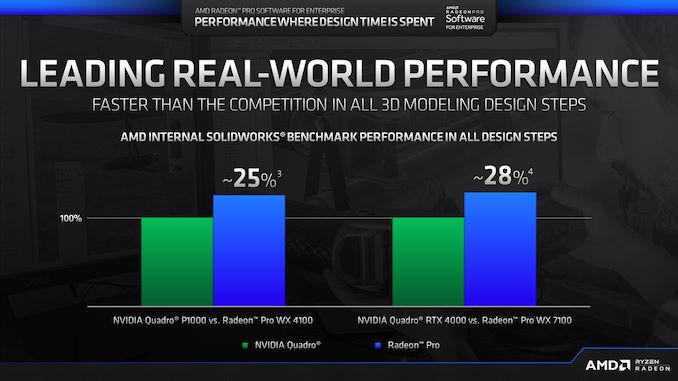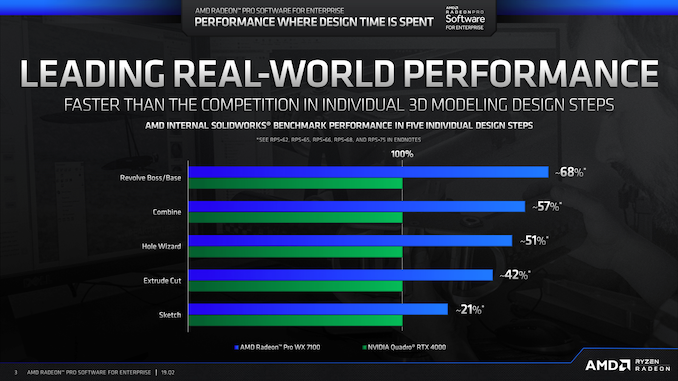 In terms of performance improvements, AMD compares their Radeon Pro Software Enterprise to NVIDIA's Quadro Optimal Driver for Enterprise, looking at an internal Solidworks test, a multi-tasking test of SPECviewperf 13 "medical-02" with Prime95 CPU "stress test" in the background, OCUS v6.2 for PTC Creo, and SPECapc for Siemens NX 10.0.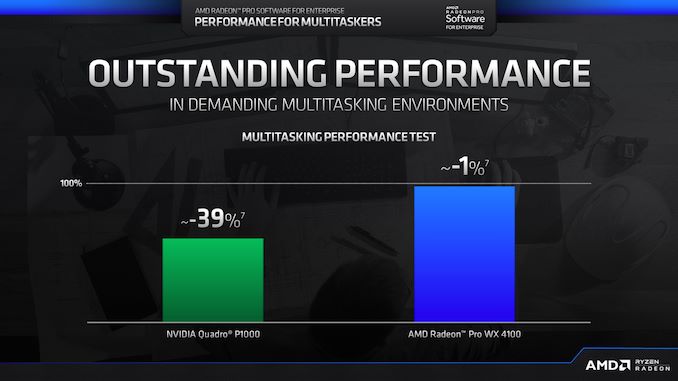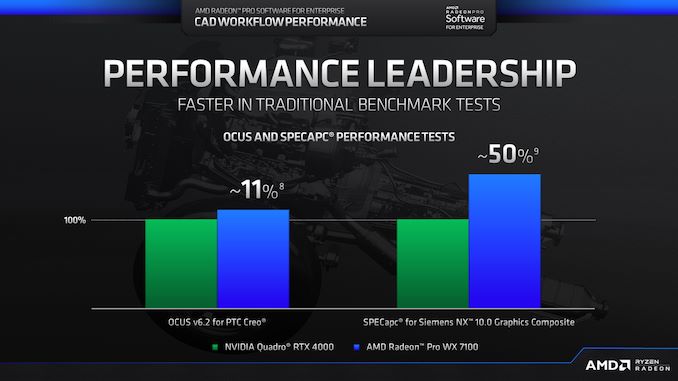 Additionally, this week also saw the release of Radeon Pro Software for Enterprise 19.Q2 for Linux.
Bugfixes and Resolved Issues
As expected, 19.Q2 also comes with fixes for the following issues:
Issue observed with some monitors 4K@60Hz and RGB 4:4:4 being unable to see 10bit pixel settings
Issues observed with overview tab in Radeon Pro Settings
Pop-up errors observed with Radeon Pro Settings in Windows 7 configuration
Issues regarding color corruption in Photoshop CC when enabling 30-bit
Known Issues
For 19.Q2, AMD notes that MGPU SLS is discontinued and is not supported, and that XConnect does not support Vega M GL. In addition, as consumer products Radeon parts supported in 19.Q2 have not gone through AMD's professional 'Enterprise Quality' testing.
10-bit enabled displays may show some issues while discarding a 2x1 Eyefinity SLS configuration in Radeon Pro Settings
Platform Compatibility may not show on some of the mobile platform configurations
Some users may experience issues like color corruption while creating/disabling SLS or hot plugging/unplugging the display
Some rendering issues may be observed in a multi-display scenario with VMware while hot plugging displays
The updated drivers for AMD's professional workstation GPUs are available online through AMD's graphics driver download page. More information on this update and further issues can be found in the Radeon Pro Software for Enterprise 19.Q2 release notes.
Source: AMD