GIGABYTE Z390 Aorus Pro WIFI Conclusion
As it's been mentioned numerous times throughout this review, the GIGABYTE Z390 Aorus Pro WIFI sits in a highly competitive segment with a variety of models in the $180-200 price bracket. GIGABYTE themselves have three models in this segment with this model at $200, the non-Wi-Fi Z390 Aorus Pro ($190) and the GIGABYTE Z390 Aorus Elite with a slightly cheaper price of $180. One of the main benefits and what sets it aside from its other models of the Z390 Aorus Pro WIFI is the inclusive Intel 9560 802.11ac MU-MIMO Wi-Fi adapter which also provides Bluetooth 5 connectivity.
Analyzing the performance in our benchmarking suite, the GIGABYTE Z390 Aorus Pro WIFI has its strengths and weaknesses. The positive aspects include competitive computational performance in CPU focused tests, with very good performance in our non-UEFI POST test; the Z390 Aorus Pro WIFI has the 2nd fastest POST time of any LGA1151 we've tested so far. While it's not a major concern, the DPC Latency performance out of the box is the worst from any LGA1151 board on test and the Z390 Aorus Pro WIFI isn't exactly power efficient either; not in comparison to other models we've previously tested. Stock memory performance was a little underwhelming too, but in line with certain performance brackets for Intel's 300-series.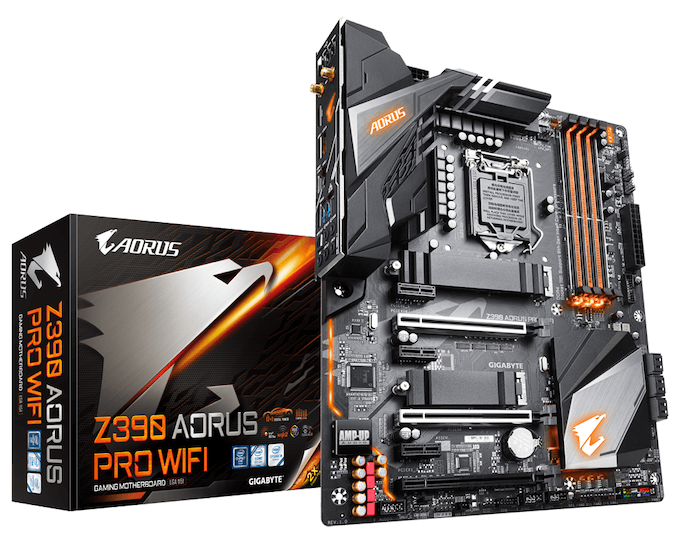 On the overclocking front, the GIGABYTE Z390 Aorus Pro WIFI has a decent power delivery in a 2x6+1 configuration which is spearheaded by an Intersil ISL69138 78-channel PWM controller. Our experience with the Z390 Aorus Pro WIFI was also notably better than we had with the Z390 Aorus Pro Master when it came to the settings, especially given the CPU VCore sensor on the Z390 Pro WIFI is a lot closer to the true values than the more expensive Master. The overall performance when overclocking with the GIGABYTE Z390 Aorus Pro WIFI was somewhat underwhelming given the componentry on the power delivery and we only managed to achieve 5.0 GHz with a CPU VCore of 1.35 V; for reference we only needed 1.30 V on the Z390 Aorus Master for the same overclock with our Intel Core i7-8700K, albeit with a more aggressive LLC profile enabled.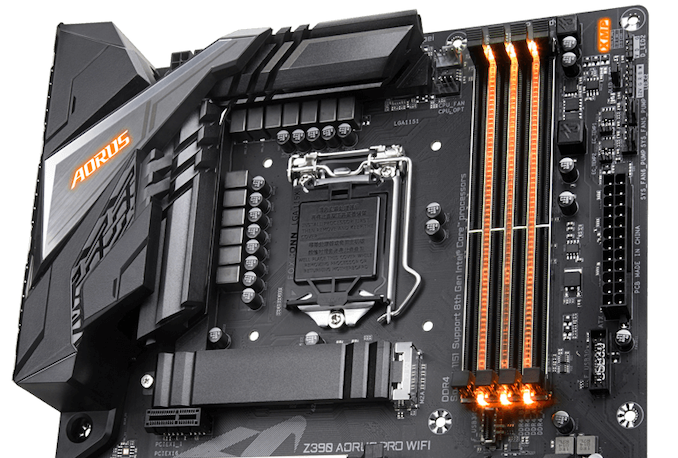 Turning focus to the cooling and the power delivery heatsink is certainly up to the task with a solid, yet weighty aluminium heatsink. Also located around the edging of the boards PCB is a total of eight 4-pin fan headers which is impressible for a board costing $200; this is something a user would expect from a $400+ model and GIGABYTE could potentially slip it more into the marketing materials.
The rear panel offers an acceptable array of connections which includes two USB 3.1 G2 Type-A, one USB 3.1 G2 Type-C, three USB 3.1 G1 Type-A and four USB 2.0 ports. A handy HDMI 1.4 video output is also featured on the panel and the Z390 Aorus Pro WIFI benefits from a pre-attached rear panel shield. A single LAN port is powered by an Intel I219V 1 GbE NIC and there are two antenna connectors for the Intel 9560 802.11ac Wave2 Wi-Fi which uses the Z390's CNVi.
Conclusion
For a motherboard at $200 and when on offer, between $185 and $190, the GIGABYTE Z390 Aorus Pro WIFI offers a good controller set, a decent power delivery and is focused around the networking capabilities. For users not too fussed about wireless connectivity, there is a non-Wi-Fi version of this board, the GIGABYTE Z390 Aorus Pro which has a cheaper price of $180. From an investment standpoint, the extra cost for the WIFI model is a prudent one and the cost for a similar Wave2 capable expansion card would almost certainly cost more.
Nonetheless, the GIGABYTE Z390 Aorus Pro WIFI has a nicely styled aesthetic and combined with an EMI shielded Realtek ALC1220-VB HD audio codec, two addressable RGB LED and eight 4-pin fan headers, it solidifies itself as a solid sub-$200 ATX model in one of the most competitive price points on the whole of the Z390 chipset.