Overclocking
Experience with ASRock X399 Phantom Gaming 6
Even though the ASRock X399 Phantom Gaming 6 is targeting gamers and users looking for an entry-level Threadripper motherboard, there is some plenty of appeal for enthusiasts looking to overclock. Now it has to be noted that the X399 Phantom Gaming 6 has its power rating capped to support Threadripper processors with a TDP up to 180 W, but this doesn't detract from the quality and the 16-core Threadripper 2950X is still a high-end option. The ASRock X399 Phantom Gaming 6 is more than equipped to handle its power and push it a bit further within the limitations of the silicon.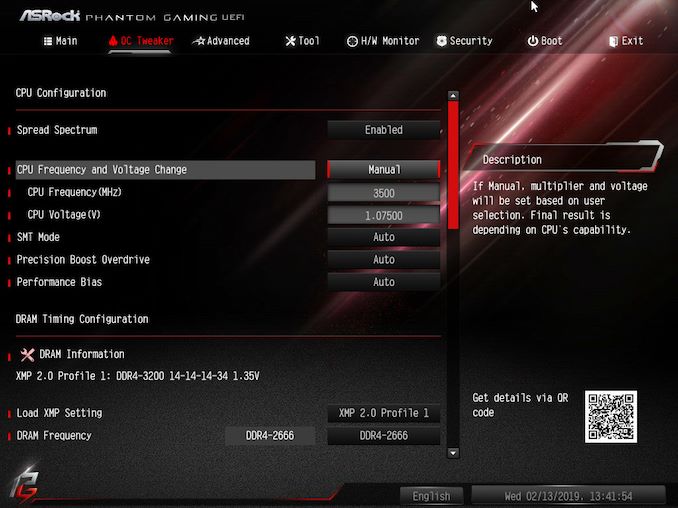 Overclocking in the BIOS with ASRock motherboards is an easy task if one is familiar with tweaking the core settings such as CPU frequency, CPU voltage and DRAM settings. Applying the XMP 2.0 memory profiles is a case of selecting the profile from a short drop-down menu under 'Load XMP Setting'. Focusing on ASRock Phantom Gaming firmware, all the overclock settings are listed within the OC Tweaker section.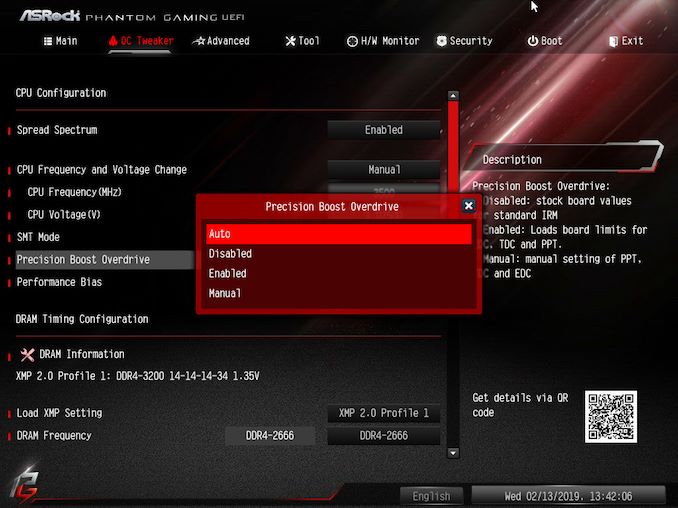 The AMD Threadripper 2950X does have limited overclocking headroom and not just from the high 16-core count - the Zen+ architecture for the better part on average silicon isn't known for reaching super high frequencies. With the second generation of Threadripper processors, a lot of the extra performance can come from the Precision Boost Overdrive option. This uses system limits on temperature, VRM current and the PPT limits to attempt to overclock the processor, meaning a better cooler can do wonders here.. We've tested with precision boost enabled and disabled, as well as auto to conclude whether it is enabled on the X399 Phantom Gaming 6 by default.
All the overclocking settings that are needed are easily located and the firmware is as simple as it gets - there is no EZ Mode, but the OC Tweaker isn't split into subsections and it's all in one place. Setting manual overclocks can be done on the processor by simply adjusting CPU frequency and CPU voltage; it's unlikely that more is needed and while the 6+2 power delivery might be underwhelming for the 250 W TDP chips, it's more than enough for the Ryzen Threadripper 2950X with 180 W.
Methodology
Our standard overclocking methodology is as follows. We select the automatic overclock options and test for stability with POV-Ray and OCCT to simulate high-end workloads. These stability tests aim to catch any immediate causes for memory or CPU errors.
For manual overclocks, based on the information gathered from previous testing, starts off at a nominal voltage and CPU multiplier, and the multiplier is increased until the stability tests are failed. The CPU voltage is increased gradually until the stability tests are passed, and the process repeated until the motherboard reduces the multiplier automatically (due to safety protocol) or the CPU temperature reaches a stupidly high level (100ºC+). Our test bed is not in a case, which should push overclocks higher with fresher (cooler) air.
Overclocking Results
The two biggest limitations when overclocking a processor such as the 16-core AMD Ryzen Threadripper 2950X are thermals and silicon quality. In the case of our 2950X sample, we managed to hit a maximum of 4.2 GHz with a core voltage of 1.425 V - with Vdroop this was 1.408 V under load. Touching on the VDroop, it wasn't too bad from between 3.9 GHz and 4.1 GHz with an addition of around 0.01 V extra than was set in the BIOS. At 4.3 GHz it reversed roles and undervolted by nearly 0.02 V; this didn't make us overclock unstable as such, but it could have done on a lesser quality board. Even though the ASRock X399 Phantom Gaming 6 is currently one of the cheapest offering on the chipset, it's 6+2 power delivery does a good job. It is however easy to understand why it's locked down to support 180 W chips and not go beyond; it's good for 180 W, but it probably wouldn't be as reliable for 250 W.

There aren't any overclocking presets to choose from, with the exception of the Performance Bias Config 1 setting. From our testing, it didn't actually perform much more than stock settings in POV-Ray and thermally, it performed much worse. The CPU VCore load voltage jumped from 1.216 V at default settings, all the way to 1.264 V without that much extra performance to show for it. From our testing, the ASRock X399 Phantom Gaming 6 has Precision Boost Overdrive set to automatic by default (which is actually disabled) and extra performance can be gained from turning this on; it does draw more than 100 W more power and runs around 15°C higher, but it seems worth it.