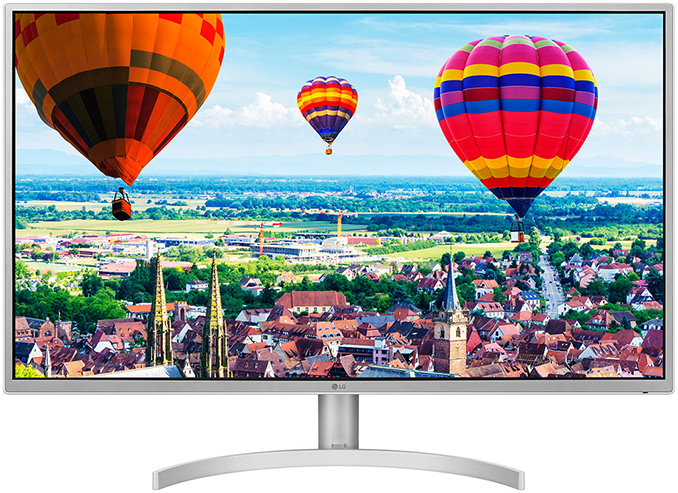 LG has introduced its new entry-level display designed for the mainstream market but supports a number of premium features such as AMD's FreeSync dynamic refresh rate tech. The 32QK500-W relies on an IPS panel and features a larger size and a higher resolution than most monitors in the ~$300 class.
High-end displays for enthusiasts and gamers evolve at a rather rapid pace with improved and larger models introduced every year. On the other hand, workhorses used for everyday work and play are updated on a much longer cadence. In fact, the most popular LCD models on the market still feature 23.5-inch to 27-inch 8-bit Full-HD panels and do not support any modern technologies. While not being a high-tech breakthrough, LG's 32QK500-W changes what we come to expect from a budget monitor produced by a renowned brand.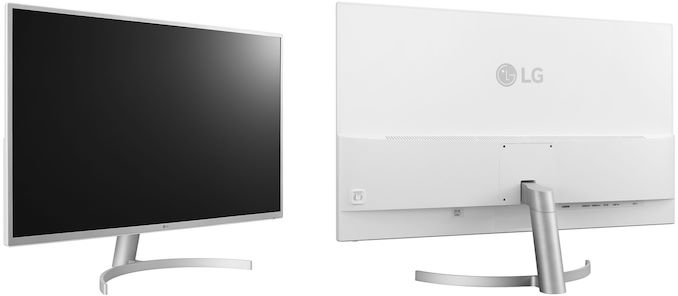 The 32QK500-W relies on an 8-bit + FRC 31.5-inch IPS panel with a 2560×1440 resolution, 300 nits brightness, 1000:1 contrast ratio, 75 Hz refresh rate (with FreeSync), an 8 ms response time, and 178°/178° viewing angles. The monitor can display 1.07 billion colors (a rare feature in this class) and is rated at 72% NTSC CIE1931 (roughly equals to 100% sRGB).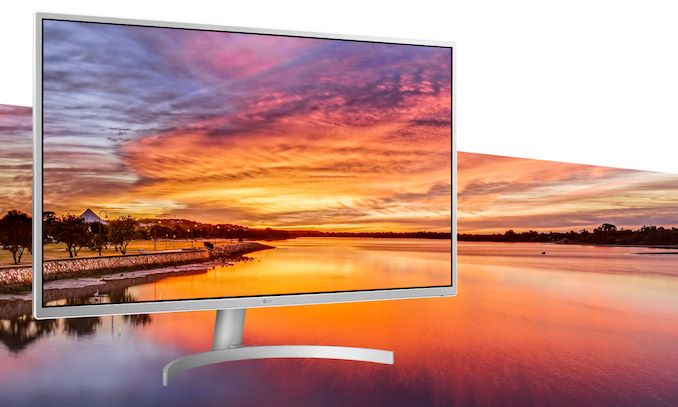 Being aimed at SOHO market, the LG 32QK500-W does not omit gaming features. In addition to already mentioned AMD FreeSync (works only over HDMI), the monitor also supports LG's Dynamic Action Sync that skips some of the internal image processing to cut down input lag when activated. There is also the Black Stabilizer motion blur reduction tech that makes fast-paced scenes look sharper by inserting a black image between frames (though it remains to be seen how well it is going to work with a 75 Hz panel), and the Crosshair overlay to simplify lives of FPS gamers.
As far as connectivity is concerned, the LG 32QK500-W has one DisplayPort, one Mini DisplayPort, and two HDMI inputs. In addition, the display has a 3.5-mm audio connector for headphones.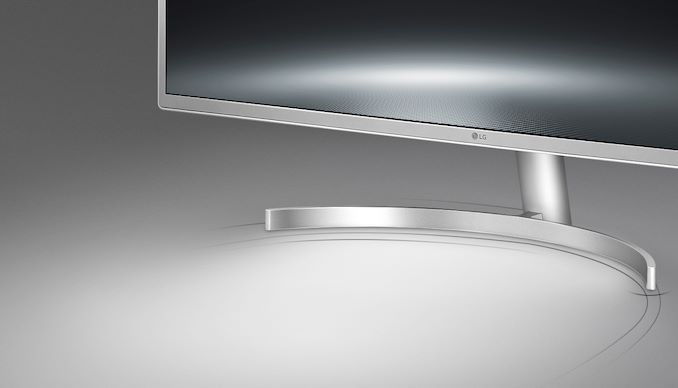 Like premium monitors from LG, the 32QK500-W features the company's stylish Edge-ArcLine stand that in the case of the particular display enables to adjust tilt. Alternatively, the stand can be detached and the LCD mounted to the wall using VESA 100x100 mm mounting holes.
Specifications of the LG 32QK500-W 31.5-Inch Display
32QK500-W
Panel
31.5" IPS
Native Resolution
2560 × 1440
Maximum Refresh Rate
75 Hz
Dynamic Refresh Rate
AMD FreeSync
Response Time (Grey-to-Grey)
8 ms
Brightness
300 cd/m²
Contrast
1000:1
Viewing Angles
178°/178° horizontal/vertical
Pixel Pitch
0.2727 × 0.2727 mm
Pixel Density
93 PPI
Color Gamut
99% sRGB (tbc)
72% NTSC CIE1931
Inputs
1 × DisplayPort
1 × Mini DisplayPort
2 × HDMI
Audio
3.5-mm headphone jack
Stand
Can adjust tilt
Power Consumption
Standby
0.5 W
Typical
46 W
Maximum
50 W
The LG 32QK500-W is currently listed at many of the company's websites around the world. Considering the fact that the product does not feature any unproven technologies, it is likely that the display will hit the market shortly. The price of the new unit in Japan is estimated to be ¥34,800 ($307) without tax, so it is safe to say that the monitor will retail for $299 in the US.
Related Reading