Introduction
The major trend in computing as of late has been toward parallelism. We are seeing Hyperthreading and the promise of dual core CPUs on the main stage, and
supporting technologies like NCQ
that will optimize the landscape for multitasking environments. Even multi-monitor support has caught on everywhere from the home to the office.
One of the major difficulties with this is that most user space applications (especially business applications like word processors and such) are not inherently parallel. Sure, we can throw in things like check-as-you-type spelling and grammar, and we can make the OS do more and more things in the background, but the number of things going at once is still relatively small.
Performance in this type of situation is dominated by the single threaded (non-parallel) case: how fast the system can accomplish the next task that the user has issued. Expanding parallelism in this type of computing environment largely contributes to smoothness, and the perception that the system is highly responsive to the user.
But since the beginning of the PC, and for the foreseeable future, there is an aspect of computing that benefits almost linearly with parallelism: 3D graphics.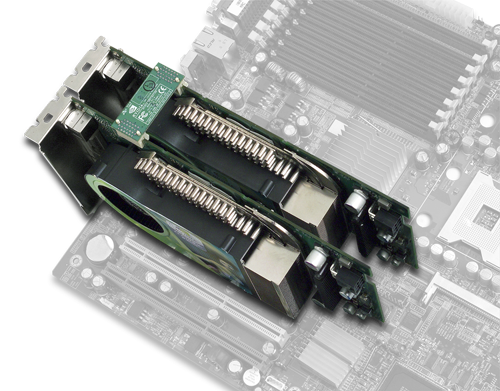 NVIDIA 6800 Ultras connected in parallel.
For an average 3D scene in a game, there will be a bunch of objects on the screen, all which need to be translated, rotated, or scaled as per the requirements for the next frame of animation of the game. These objects have anywhere from just a few to thousands of triangles that make them up. For every triangle that we can't eliminate (clip) as unseen, we have to project it onto the screen (from back to front objects which are further from the viewer are covered by closer ones).
What really puts it into perspective (pardon the pun) is resolution. At 1600x1200, 1,920,000 pixels need to be drawn to the screen. And we haven't even mentioned texture mapping or vertex and pixel shader programs. And all that stuff needs to happen in less than 1/60th of a second to satisfy most discriminating gamers. In this case, performance is dominated by how many things can get done at one time rather than how fast one thing can be done.
And if you can't pack any more parallelism onto single bit of silicon, what better way to garner more power (and better performance) than by strapping two cards together?