Scalable Link Interface
As we first saw during Computex this year, the enigmatic NV45 had a rather odd looking slot-like connector on the top of the card. We assumed that this connector would be for internal NVIDIA purposes, as companies often add testing and diagnostic interfaces to very early hardware. As it turns out, this is NVIDIA's Scalable Link Interface connector.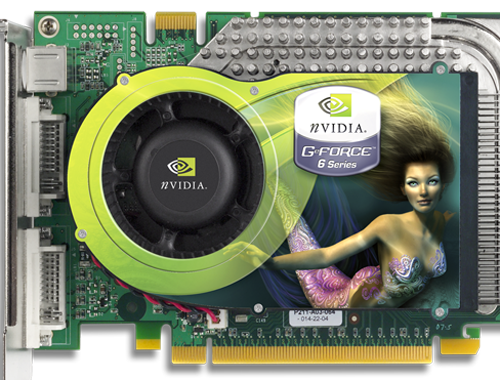 Notice the gold connector at the top of the card.
In order to make use of NVIDIA's SLI technology, two NVIDIA cards are placed in a system (which requires 2 PCIe x16 slots - more on this later), and the cards are linked together using a special piece of hardware. Currently, this communications hardware is a small PCB with a slot connector at each end. No pass through cable is needed, and one video card acts as the master (connected to the monitor) and the other is the slave.



SLI PCB top view.



SLI PCB bottom view.
When asked whether it would be possible to connect the cards together with something along the lines of a cable, NVIDIA indicated that the PCB approach had afforded them superior signaling qualities, but that they continued to look into the viability of other media. As this is new technology, NVIDIA is slightly weary of sharing some of the lower level details with us. We asked whether their SLI uses a serial or parallel interface (usually fast parallel interfaces are more sensitive to signal routing), but we were told that they may or may not be able to get back to us with that information. Either way, this is going to have to be a very high bandwidth connection as it's over this path that the GPUs will communicate (this includes sending framebuffer data for display).
As previously mentioned, this setup requires having 2 PCIe x16 slots available on one's motherboard. Not only is this going to be difficult to come by in the first few months of PCIe motherboard availability, but currently, none of Intel's chipsets support more than 24 PCIe lanes. The current prototypes of motherboards with two PCI Express x16 slots are actually only using one PCI Express x16 interface and one x8 interface, simply with an x16 connector (so it's physically an x16 slot, but electrically, an x8 slot). This reduces the bandwidth available to the 2GB/s up and down (which is still more than AGP 8x can handle). That's not to say that PCIe bandwidth is necessary for gaming at the moment. The real problem is that there would be no other PCIe slots available for expansion cards. But x1 and x4 PCIe expansion cards haven't been making many waves, so until chipsets support more than 24 PCIe lanes and more PCIe expansion cards come out, it might be possible to get away with this.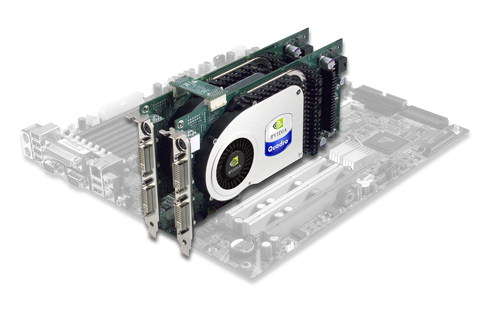 NVIDIA Quadro connected in SLI configuration.
Until now, we've just mentioned NV45 as supporting this, but NVIDIA seems to be indicating that all their PCIe cards will have the capability to run in SLI configurations. This includes the Quadro line of workstation graphics cards. This is very interesting, as it shows NVIDIA's commitment to enhancing performance without degrading quality (CAD/CAM professionals can't put up with any graphical artifacts or rendering issues and can always use more graphics power).
But let's move on to the meat of the technology.