AnandTech Storage Bench - Heavy
Our Heavy storage benchmark is proportionally more write-heavy than The Destroyer, but much shorter overall. The total writes in the Heavy test aren't enough to fill the drive, so performance never drops down to steady state. This test is far more representative of a power user's day to day usage, and is heavily influenced by the drive's peak performance. The Heavy workload test details can be found here. This test is run twice, once on a freshly erased drive and once after filling the drive with sequential writes.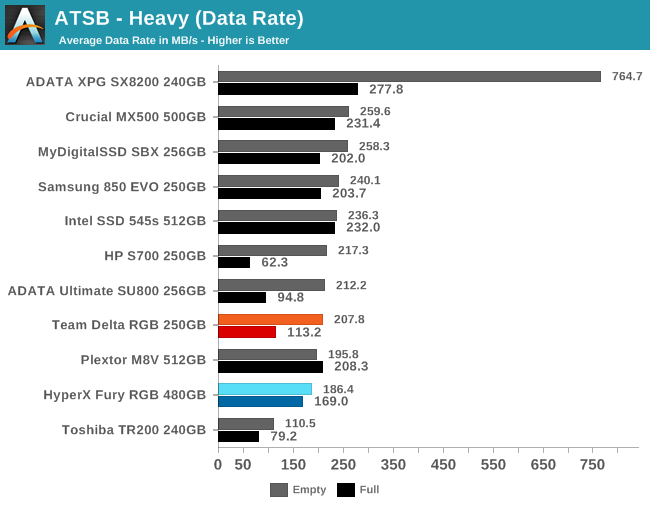 The Team Delta RGB and ADATA SU800 perform about the same overall when the Heavy test is run on an empty drive, but when the drives are fill the Delta RGB has a small but clear advantage. Moving up to a high-end SATA drive, a NVMe drive or just doubling the capacity has a big impact on full-drive performance, but only a high-end NVMe drive makes a big difference on fresh out of the box performance.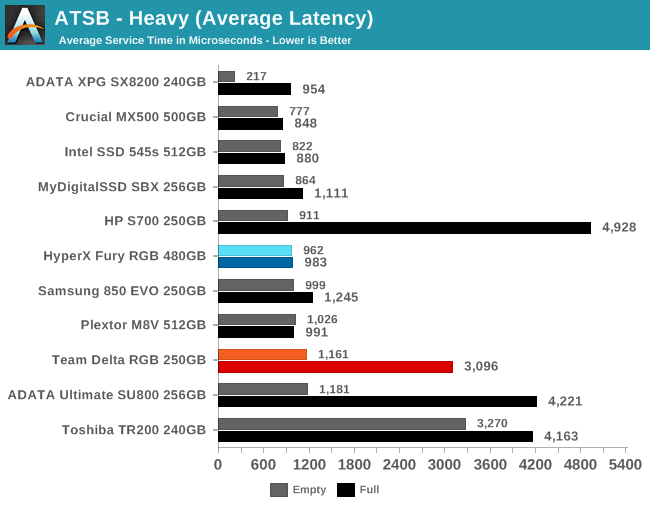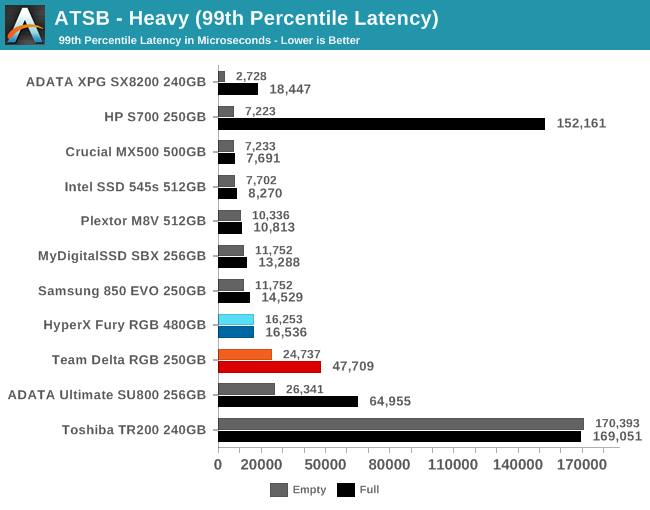 The Delta RGB and the other two drives with Micron 32L TLC stand out for their very high average and 99th percentile latency during the full-drive test runs, as compared with either the Samsung SATA drives of similar capacity or the larger mainstream drives, but they're not as bad as the DRAMless drives like the Toshiba TR200.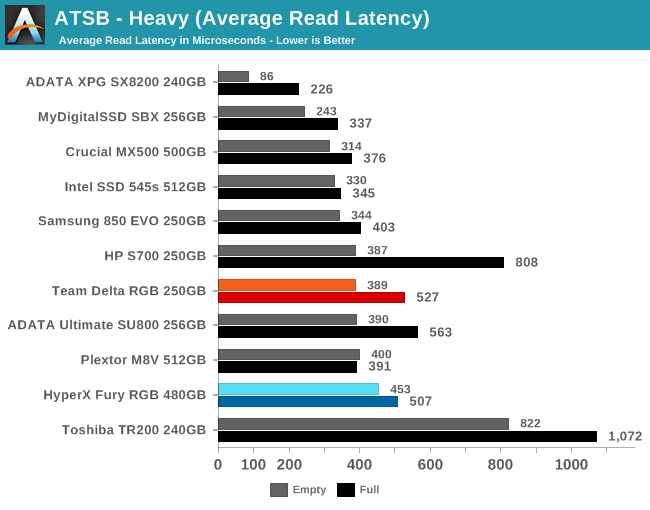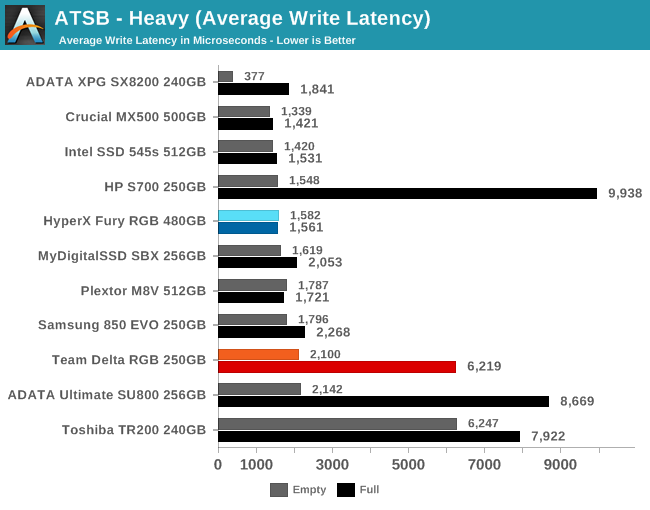 The average read latency from the Delta RGB is a bit on the high side, but the difference from the fastest SATA drives is not huge. The average write latency does stick out as a problem when the Delta RGB is full, but the ADATA SU800 and the two DRAMless SATA drives are worse still.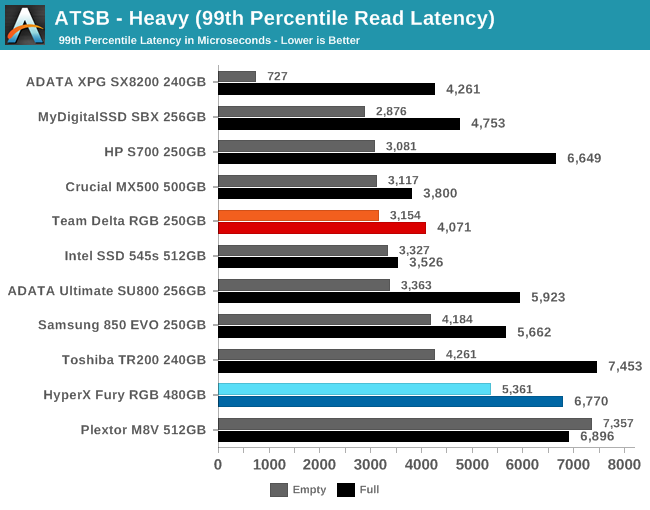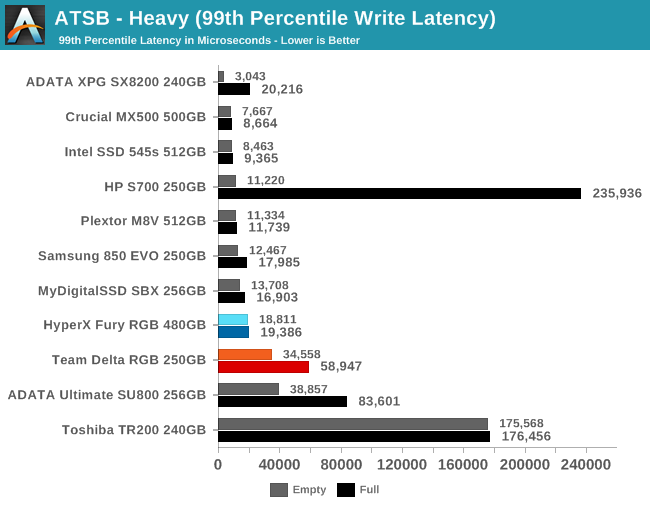 The 99th percentile read latencies from the Delta RGB are pretty good for this class of SSD and aren't all that different from the larger mainstream TLC drives. The write latency is where the Delta RGB is clearly capable of the occasional serious stall, but it's not as big a problem as for the DRAMless drives.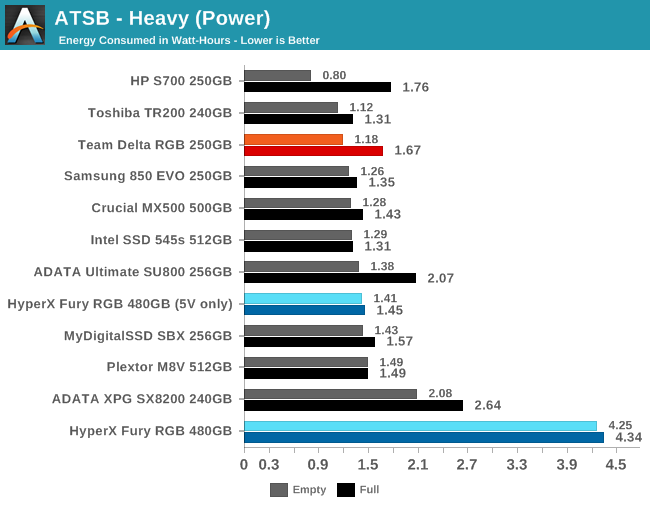 The Delta RGB uses a bit less energy than most SATA drives in this capacity class to complete the Heavy test's empty-drive run, but when the test is run on a full drive the much lower performance of the Delta RGB drives up total energy consumption significantly.