FarCry Performance
This game captures brilliantly the look of an island paradise. Most amazing is the water, with its rich color, reflections, translucence, and ripples that break very naturally against the pure white sand of the islands. Equally amazing is the detail in the shadows on your gun as you pass through the dense jungle foliage. The Character models and structures are great, but set in such a rich environment almost seem dull. Weapon effects are very impressive however, but not over-the-top. The realistic explosions fit perfectly into the unique setting.
The 1.1 patch of this game makes note of the fact that PS3.0 is implimented on the NV40 path. We have (as of yet) been unable to determine exactly what function PS3.0 is serving. Maybe it's something useful like branching, or maybe it's marketing speak (technically fp32 is a PS3.0 requirement). We just won't know until we can get ahold of the developers.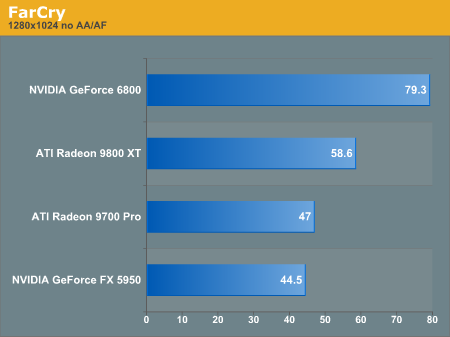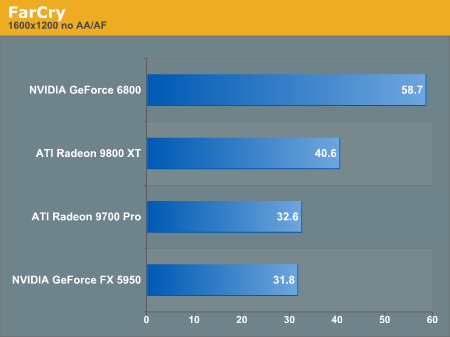 Another example of the scalability of the 6800 shows is that when moving from 12x10 to 16x12 without AA or AF, we can see a 10% increase in performance lead over the card's nearest competitor.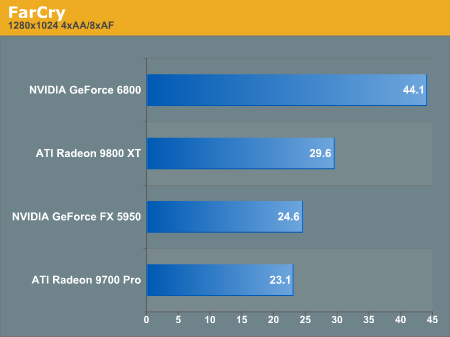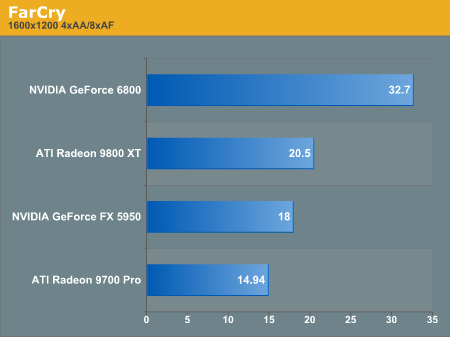 We see the same scaling pattern here with the 6800 reaching a 60% performance improvement over the ATI Radeon 9800 XT at 1600x1200 with 4xAA and 8xAF.
Even more impressive is the fact that we were able to run the GeForce 6800 Ultra at playable frame rates at 2048x1536 with 16xAF (it didn't like enabling even 2xAA - this could either be a hardware or driver limitation, but we just won't know until the driver is more refined). Our demo we used ran between 30 and 40 fps and averaged 34. The game was very playable and very beautiful. It not only seems like we need a new power supply to run the card, but a new monitor to display the ultra high resolutions the card can render playable.