Kingmax DDR500 Hardcore Memory
Certainly, the flagship for Kingmax Hardcore Memory is their DDR500. While Kingmax calls their memory chips "tiny BGA", most in the industry refer to the small BGA chips as "Micro BGA". In the past, Kingmax has had a close relationship with Micron as a supplier, but we do not know who is supplying micro BGA chips for this new high-speed memory. Micron, PCS (an independent foundry), and ProMOS (Mosel) are all suppliers of micro BGA. Kingmax provided a matched pair of 512MB modules.

Kingmax, like other memory manufacturers, apparently purchases memory blanks and then bins the tiny BGA memory by performance.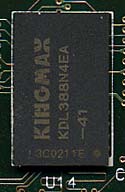 Chips are then labeled with the best chips slotted for DDR500 modules. The memory chips in 500 are rated 4.1 ns by Kingmax.
Kingmax DDR500 Specifications
 Kingmax DDR500 Memory Specifications
Number of DIMMs & Banks
2 DS
DIMM Size
Total Memory
512 Mb
1 GB
Rated Timings
3-4-4-8
Rated Voltage
2.6V +/- 0.1V
We confirmed the SPD timings to be set at 3-4-4-8. Kingmax claims on their website that Hardcore Memory is tested in both single-channel and Dual-Channel modes on Intel, and the memory is stated to be fully compatible with both Intel and AMD, including Athlon 64.
While Kingmax rates the DDR500 modules at 2.6V +/- 0.1V, we had no problem running the memory at 2.85V, though it rarely improved performance except at the highest overclocks. It is also worth noting that chip specifications on the Kingmax website show that the chips themselves are rated for voltages as high as 3.5V. This will not matter to most users, but it may be important to hardcore overclockers.