Kingmax DDR466 Hardcore Memory
DDR466 was also provided as a matched pair of 512MB modules.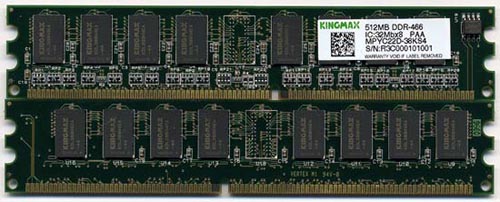 Except for the speed rating of the DIMMs, the Kingmax 466 and 500 modules are exactly the same.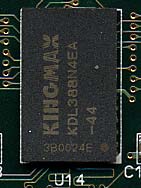 Apparently, chips for the next bin level are used for DDR466. As you can see, the memory chips are rated and labeled 4.4 ns by Kingmax. This is consistent with a DDR speed rating of 466.
Kingmax DDR466 Specifications
Kingmax DDR466 Memory Specifications
Number of DIMMs & Banks
2 DS
DIMM Size
Total Memory
512 Mb
1 GB
Rated Timings
3-4-4-8
Rated Voltage
2.6V +/- 0.1V
Kingmax 466 Hardcore memory is rated at the same voltage and timings as their DDR500. We were a little surprised that Kingmax did not choose to rate DDR466 for a bit faster timings than their DDR500. However, in the past, Kingmax has been very conservative in their memory specifications. Generally, they claim that the rated timings are the worst you will see on their memory, with most DIMMs performing significantly better than specifications.