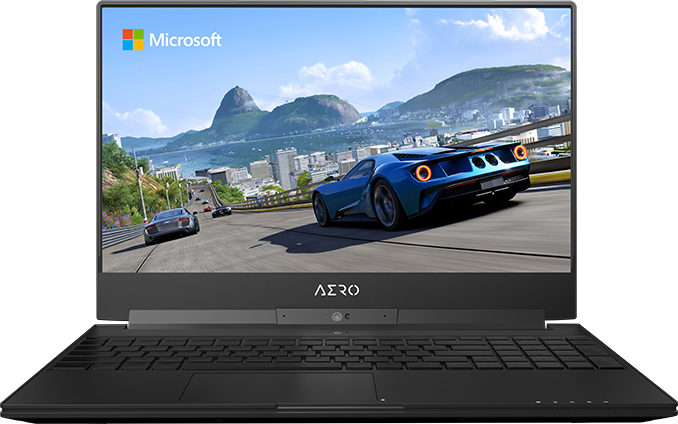 Among the many laptops getting refreshed this morning, GIGABYTE has introduced upgraded versions of its Aero 15-series gaming laptops. The new notebooks retain a relatively compact form-factor, but feature Intel's latest six-core Core i7-8750H processors and new display panels with a 144 Hz refresh rate. In addition, the company will offer an Aero 15 laptop with an UHD monitor for demanding clients.
GIGABYTE introduced its Aero 14 laptops in 2016, bringing together high performance and compact dimensions. Early this year the manufacturer launched Aero 15 machines that retained a relatively low weight and z-height, but contained a larger LCD and a faster GPU. On Tuesday, about four months after the launch of the original Aero 15, GIGABYTE is introducing upgraded versions of its 15.6-inch gaming notebooks: the new machines are based on Intel's latest mobile platform featuring six-core Core i7-8750H processora and new display panels with 5-mm bezels. The more affordable GIGABYTE Aero 15 will come with 15.6-inch FHD LCDs featuring a 144 Hz refresh rate, whereas the top-of-the-range SKU will be outfitted with a 15.6" UHD panel that covers 100% of the AdobeRGB color gamut. All new systems will be equipped with 16 GB of RAM and 512 GB M.2 SSDs (with a PCIe or a SATA interface, depending on the model). Just like the original Aero 15, the upgraded units use NVIDIA's GeForce GTX 1060 or GeForce GTX 1070 GPU with Max-Q tuning to ensure a thin z-height and a long battery life.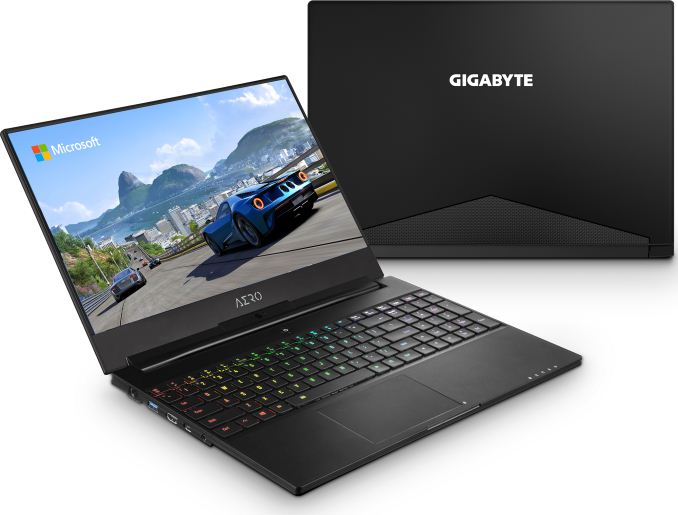 Since the new Aero 15 v8 notebooks share the chassis with their predecessors, I/O capabilities of the new laptops are the same as those of the original PCs: 802.11ac Wi-Fi, Bluetooth, a GbE port, a Thunderbolt 3 header, three USB 3.0 Type-A connectors, one HDMI output, a webcam (located on the bottom of the display bezel), an SD card reader, an RGB-backlit keyboard and so on.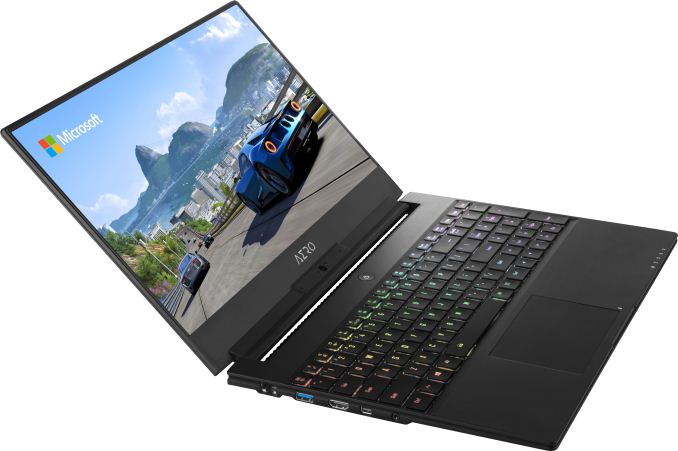 As the name suggests, GIGABYTE's Aero 15 is supposed to be thin and light: the system is indeed 19.24 mm (0.78 inch) thick and weighs 2.1 kilograms (4.62 pounds), which is thinner and lower than compared to mainstream 15.6-inch PCs for gaming. The notebooks come with a 94 Wh battery, thus should provide a rather decent battery life.
Specifications of GIGABYTE AERO 15 v8 Notebooks (U.S. Models)
Aero 15W
v8-BK4
Aero 15X
v8-BK4
Aero 15X
v8-BK4K4P
Display
Diagonal
15.6"
Type
IPS
Resolution
1920×1080
3840×2160
Refresh Rate
144 Hz
?
CPU
Core i7-8750H (6C/12T, 2.2 GHz - 4.1 GHz, 9 MB, 45 W TDP)
Graphics
NVIDIA GeForce GTX 1060
6 GB of GDDR5
NVIDIA GeForce GTX 1070
8 GB of GDDR5
Max-Q tuning
RAM
16 GB DDR4-2666
Storage
512 GB SATA M.2 SSD
512 GB PCIe 3.0 x4 M.2 SSD
Wi-Fi
802.11ac Wi-Fi
Bluetooth
Bluetooth 4
Ethernet
GbE
USB
3

× USB 3.0 Type-A

Thunderbolt 3
1

× TB3/USB 3.1 Type-C

Display Outputs
1

× HDMI 2.0

b
1

× mDP 1.4

Keyboard
RGB-backlit keyboard
Other I/O
Microphone, stereo speakers, audio jack, webcam
Battery
~94 Wh Li-Po battery
Dimensions
Width
355.6 mm | 14 inches
Depth
249 mm | 9.8 inches
Thickness
19.83 mm | 0.78 inches
Weight
2.1 kilograms | 4.62 lbs
Price
$1,999
$2,299
$2,499
When it comes to pricing and availability, GIGABYTE plans to offer three SKUs of the Aero 15 v8 in the U.S. The most affordable model with NVIDIA's GeForce GTX 1060 will retail for $1,999, a more sophisticated machine with the GeForce GTX 1070 Max-Q will cost $2,299, whereas the most advanced SKU with an UHD LCD will be priced at $2,499.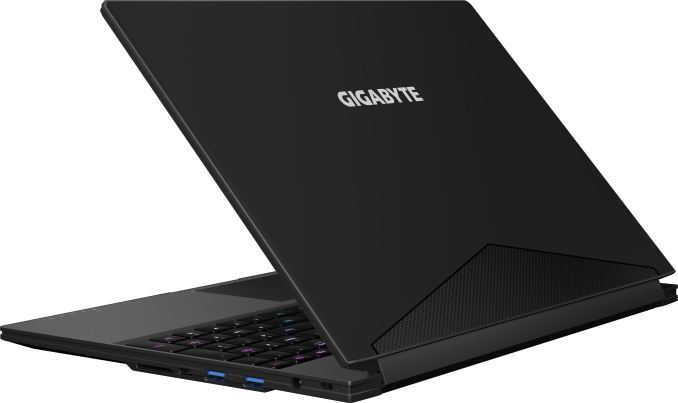 Related Reading: