Miscellaneous Aspects and Concluding Remarks
The NUC8i7HVK is a unique product in the market. Never has any vendor managed to cram in this amount of graphics and computing prowess in such a form factor. Intel has managed to do it, and it is mainly due to the out-of-box thinking that led to the creation of the Kaby Lake-G (KBL-G) family of products. Without KBL-G's capabilities, this product would have simply not been possible without some kind of compromise. KBL-G's integration of the discrete GPU die, its HBM2 memory, and the CPU die in a single package results in a shared thermal load. This, in turn, allows the processor to operate at a much higher TDP level compared to how it would as a standalone processor in a system with a discrete GPU on the board.
A SFF Enthusiast's Dream...
The NUC8i7HVK hits the ball out of the park on a number of fronts. There is no other mass-market SFF PC with a larger number of simultaneously active display outputs. The NUC8i7HVK supports six across a variety of interfaces (Thunderbolt 3 / USB Type-C, mini-DP, and HDMI). The wealth of I/O available is unparalleled in a PC with this form factor. Dual Thunderbolt 3 ports that allow connection of docks and other Thunderbolt 3 peripherals downstream, and a HDMI port in the front panel is icing on the cake.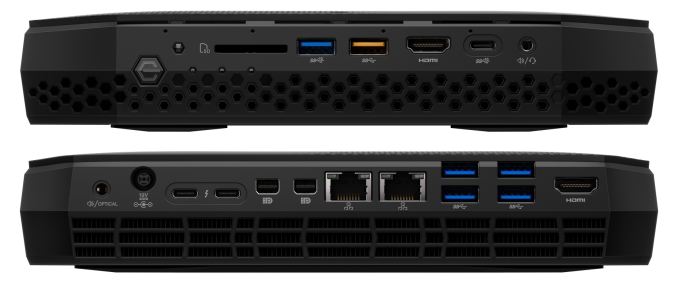 NUC8i7HVK I/O Distribution across Front and Rear Panels
In the CPU-bound tasks, operating at a 65W TDP makes the Hades Canyon NUC perform much better than the Skull Canyon NUC with a similar form factor. The addition of a discrete GPU that, by itself, has a 60W+ power budget (compared to the 100 W package TDP) ensures that the NUC8i7HVK is VR-ready. In our real-world gaming benchmarks, the Hades Canyon NUC performed around 4x - 10x better than the Skull Canyon NUC. The efficiency in the distribution of the available power budget between the discrete GPU and the CPU has not been seen in any other computing system till now.
Enthusiasts will also appreciate the overclocking capabilities (on the CPU, GPU, and the DRAM), a feature never seen before in machines with a similar form-factor. The NUC8i7HVK has no trouble operating with SO-DIMMs that advertise default operating speeds as high as 3200 MHz, even though the rated base speed is only 2400 MHz.
But With Trade-offs...
While Hades Canyon has its strengths, it does fall a bit short of perfection due to its disappointing performance in our evaluation of it as a 4K HTPC.
Intel's decision to route all six display outputs to the vastly faster and generally more capable Radeon RX Vega M GPU makes perfect sense for a desktop. But the one area where AMD's latest GPU still trails Intel is in the media decode block. The Vega GPU can't decode VP9 Profile 2 - so no YouTube HDR support - and more importantly it doesn't support the Protected Audio Video Path technology required for UHD Blu-ray playback. The latter unfortunately came as a bit of a surprise to even some at Intel, as the company was claiming as recently as CES 2018 that the Hades Canyon platform would support UHD Blu-ray playback.
I've also been encountering some strange stability issues with the new NUC on video playback. Hardware-accelerated decoding with both Kodi 17.6 and VLC 3.0.1 triggered random freezing, something that I never encountered in doing the same tests elsewhere. As a result while Hades Canyon is still a decent enough HTPC option with its 4K Netflix HDR support - and hopefully one that can get a bit better with software updates - dedicated HTPC enthusiasts will find that it doesn't quite scratch that itch as it should, and that there are better options out there.
And while we're at it, while not showstoppers, some of Intel's controller and routing choices for what is a flagship system come off as odd. It is not clear why Intel has opted to go with the older generation Wireless-AC 8265 WLAN card instead of the current generation Wireless-AC 9260 with 160 MHz-wide channel support and Bluetooth 5. It is also not clear why the two Thunderbolt ports are sourced from the PCH's PCIe lanes and not directly from the CPU, particularly when we have the SDXC controller directly hooked up to the CPU's PCIe lanes.
Most users would never feel the impact of these decisions, but these are easy, obvious improvements Intel could have made that I'm surprised they didn't. But on the plus side, this gives the other SFF PC makers in the world a blueprint for how to improve on Hades Canyon, if they'd like.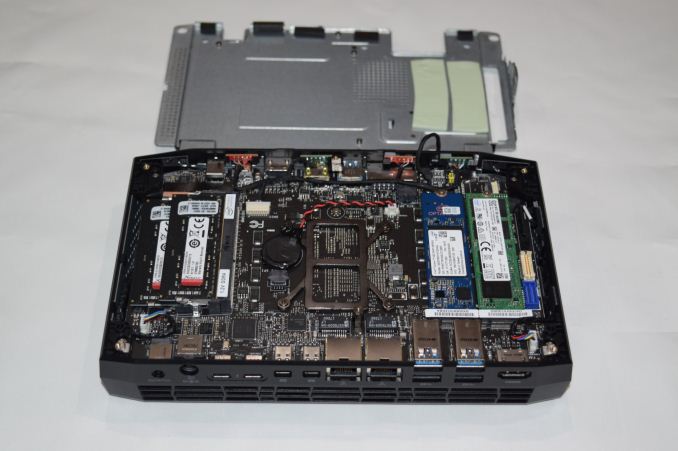 Final Words
Coming to the business end of the review, we tackle the pricing aspect first. The NUC8i7HVK is priced at $999. This is par for the course when it comes to SFF systems with discrete GPUs. We have evaluated multiple such systems in the last couple of years - the Zotac ZBOX MAGNUS EK71080, EN1080K, and the EN1080 were launched at $1500, $1900, and $2000 respectively, and the GIGABYTE GB-BNi7HG4-950 was launched at $1000. In our opinion, the launch MSRP of $999 for the NUC8i7HVK is completely justified in light of the features offered and the pricing of comparable SFF PCs.
The Hades Canyon NUC generated a lot of excitement and raised expectations after its launch at the 2018 CES. And after taking it for a test drive, it lives up to a lot of the promises Intel has made thanks to the balance between performance and its small form factor. With that said, as a self-avowed HTPC enthusiast the lackluster media support disappoints me - and it will keep Hades Canyon from being the ultimate HTPC as it should be - so this is the one area where Intel has dropped the ball. There are plenty of other HTPC options, but the search for the singular no-compromises HTPC will go on.
Overall then, the system is easy to recommend for consumers who value a portable VR-ready gaming solution with a high-performance CPU, or indeed anyone that needs a powerful SFF PC that doesn't have to make a static trade-off between CPU performance and GPU performance. There are PCs have much better graphics and CPU performance, but, they are priced a lot higher and don't have the same portability or I/O richness as the NUC8i7HVK. And that really is what makes Hades Canyon shine: it's a major leap in performance over past Intel NUCs, and at this point in time there's nothing else on the market that's going to be able to match its performance and features in such a small form factor.