Power Management
Real-world client storage workloads leave SSDs idle most of the time, so the active power measurements presented earlier in this review only account for a small part of what determines a drive's suitability for battery-powered use. Especially under light use, the power efficiency of a SSD is determined mostly be how well it can save power when idle.
SATA SSDs are tested with SATA link power management disabled to measure their active idle power draw, and with it enabled for the deeper idle power consumption score and the idle wake-up latency test. Our testbed, like any ordinary desktop system, cannot trigger the deepest DevSleep idle state.
Idle power management for NVMe SSDs is far more complicated than for SATA SSDs. NVMe SSDs can support several different idle power states, and through the Autonomous Power State Transition (APST) feature the operating system can set a drive's policy for when to drop down to a lower power state. There is typically a tradeoff in that lower-power states take longer to enter and wake up from, so the choice about what power states to use may differ for desktop and notebooks.
We report two idle power measurements. Active idle is representative of a typical desktop, where none of the advanced PCIe link or NVMe power saving features are enabled and the drive is immediately ready to process new commands. The idle power consumption metric is measured with PCIe Active State Power Management L1.2 state enabled and NVMe APST enabled.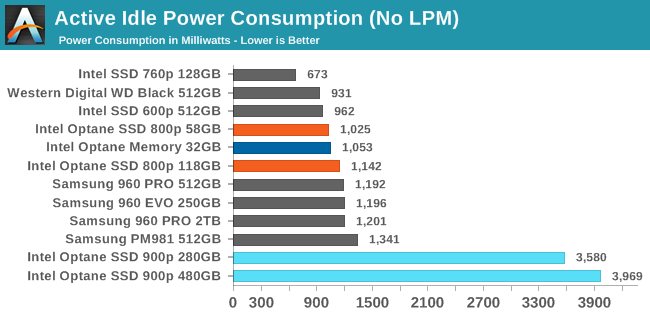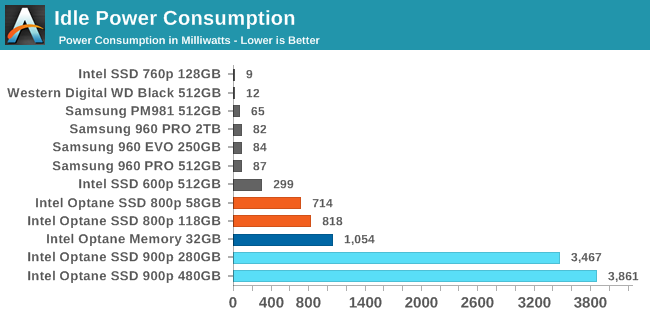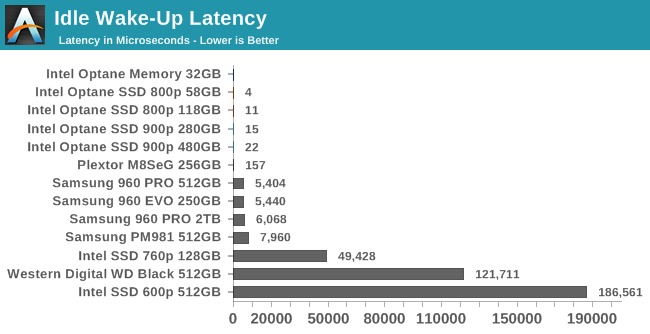 The Optane SSD 800p has a bit of an unusual suite of power management capabilities. Previous Optane products have not implemented any low-power sleep states, giving them quite high idle power consumption but entirely avoiding the problem of latency waking up from a sleep state. The 800p implements a single low-power sleep state, while most NVMe SSDs that have multiple power states have at least two or three idle states with progressively lower power consumption in exchange for higher latency to enter or leave the sleep state. On the other hand, the 800p has three tiers of active power levels, so devices with strict power or thermal limits can constrain the 800p when properly configured.
Unfortunately, our usual idle power testing method didn't work with the 800p, leading it to show only a modest reduction in power rather than a reduction of multiple orders of magnitude. This may be related to the fact that the Optane SSD 800p indicates that it may take over a full second to enter its idle state. This is an unusually high entry latency, and something in our system configuration is likely preventing the 800p from fully transitioning to idle. We will continue to investigate this issue. However, based on the specifications alone, it looks like the 800p could benefit from an intermediate idle state that can be accessed more quickly.
(I should mention here that the last Intel consumer SSD we reviewed, the 760p, also initially showed poor power management on our test. We were eventually able to track this down to an artifact of our test procedure, and determined that the 760p's power management was unlikely to malfunction during real-world usage. The 760p now ranks as the NVMe SSD with the lowest idle power we've measured.)