Introduction
Several months ago, we took a first look at an LCD that brought 1600x1200 resolutions down to an affordable level. The Dell 2001FP gave us a whole new look at what an LCD should do, without sacrificing design or performance.
This week we have a monitor that has been around for a while, the Samsung 213T. However, just because it was available last year does not make it any less potent for consumer use. In some ways, now that the 213T has been on hand for some time, it may be more competitive in our cost analysis. Samsung has a strong history of delivering solid monitors; in less than 18 months we have seen 2 19" LCDs, various CRTs and several 17" units. The 213T is the ultra high end unit in this product lineup, targetted specifically for workstation and high end users.
Earlier this year, we had several requests to follow up our 2001FP analysis with Samsung's similarly sized 213T. Originally, we heard mixed results concerning the first few units to hit the streets; bad red color replication and problems with screen uniformity. We undertook this review with particular attention to those two problems to see if our sample had those same imperfections.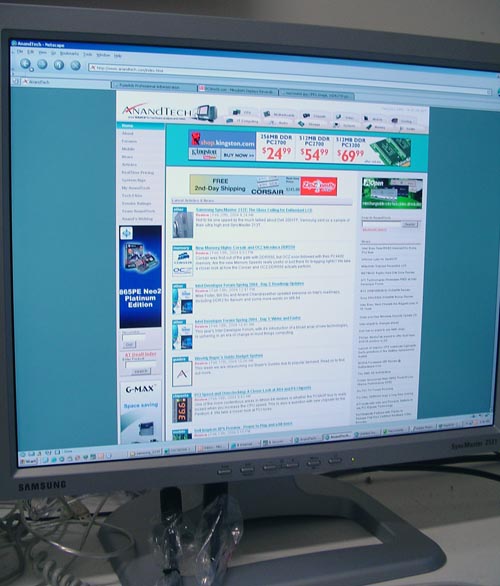 Click to enlarge.